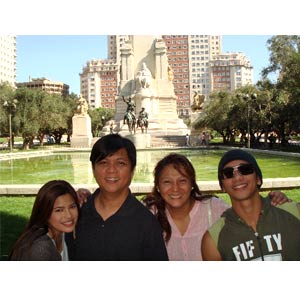 ---
In memory of the lone Filipino killed in the terroristbombing of commuter trains in Madrid, Spain, Maalala Mo Kaya airs aspecial episode tonight, October 26.
ABS-CBN's anthology show tells the bittersweet story ofRex Ferrer, a migrant of Spain and a victim of the terrorist train bombing,whose death brought about the union of his family. When a series of coordinatedbombings took place on March 11, 2004, one of the casualties was Rex Reynaldo Ferrer of Santiago, Isabela.The 21-year old Filipino was one of the 200 people killed in the explosions,which injured 1,600 persons of different nationalities.
Rex(Jhong Hilario) was a reluctant migrant brought to Madrid by his parents,together with his sister Liezel (Denise Laurel). He was having a hard time adapting to Spain's lifestyle, causinghis conflict with his mother Anita (Cherry Pie Picache). Nevertheless, Rexadapted to the system and healed his relationship with his mother. But thisblissful event ended unexpectedly when Rex became one of the victims ofterrorist attacks in Madrid. Now the family had to cope with their loss as theyheaded back to the Philippines, leaving Rex's memories in Madrid.
ADVERTISEMENT - CONTINUE READING BELOW
Accordingto a report written by the Department of Foreign Affairs, Rex lived with his parents in Torrejon,approximately 50 kilometers from Madrid. As told by his parents to Embassyofficials, he was on his way to Madrid to attend a church meeting thatmorning. He was a member of the Iglesia ni Cristo. He had been livingin Spain for seven years and had acquired Spanish citizenship in 2003.
Director: Jeffrey Jeturian
Writer: Dado Lumibao
Cast: Jhong Hilario,Denise Laurel, Cherry Pie Picache, Nonie Buencamino
Thisepisode will be shown as abirthday presentation of Maalala Mo Kaya host Ms. Charo Santos-Concio tonight,October 26, on ABS-CBN's Primetime Bida.