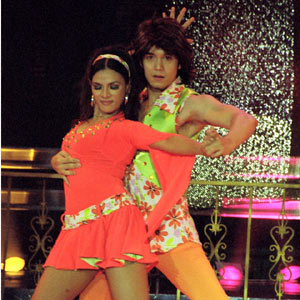 ---

One celebrity and his/her partnerwill get another chance to compete in ABC-5's Shall We Dance: The CelebrityDance Challenge. Tonight, October 28, the judges will reveal their chosenwildcard pair. This lucky pair will compete in the finals night on November 4against batch 4a champ Paolo Ballesteros and partner Donna Bidua and against batch 4bwinner Uma Khouny and partner Victoria Huyatid.

The wildcard pair is chosen bythe three resident judges Regine Tolentino, Audie Gemora, and Edna Ledesma fromthe two batches of contestants who competed for the last two Sundays in ShallWe Dance. Who among Kat Alano, Bentong, Chx Alcala, and Mikee Lee will makeit to the finals on November 4? Find out tonight when SWD airs on ABC-5 at 9 p.m.

Also this Sunday, we'll take asneak peek into the finals night—how the three celebrityfinalists are preparing for the big night and what the judges have to say abouteach of them.


ADVERTISEMENT - CONTINUE READING BELOW
Between Paolo and Uma, Paolo hasthe edge, based on his last performance. The judges were so impressed with hisvery smooth swing number, they couldn't find a single negative comment on his performance. Paolo memorized the dance routines by heart andhe looked like a pro in ballroom dancing.

Uma, on the other hand, also gotgood reviews from the judges but judge Regine and Edna emphasized that theyexpected more from him. The judges somehow knew that Uma was not executing his routine with gusto, and so the dance seemed half-baked. But he promisedthem he would give his all in the finals; he even asked if he could dobelly dancing instead of ballroom so that he could show off his dancing prowess.We'll see if Uma's request will be granted.
The wildcard pair should beready to face their two strong competitors. What better way thanto be really competent and focused on the game? If the judges saw them fit for the finals, the still unknown duo must have shown them moves that are out of the ordinary.


ADVERTISEMENT - CONTINUE READING BELOW
Another revelation this Sunday has to do with the text-voting component of the show. Text voting startsa week prior to the finals but the October 28 episode has a different system.SWD host Lucy Torres-Gomez will announce what will happen, so make sure youdon't miss a beat in Shall We Dance, Sunday night at 9 p.m. on ABC-5.