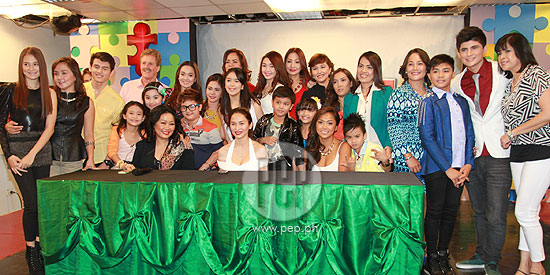 ---

Behind every successful star is a supportive parent. This is the premise of GMA-7's newest parent-kid reality show, Anak Ko Yan!
Hosted by Jennylyn Mercado—with Dulce as singing coach and Rochelle Pangilinan as dancing coach—the weekday morning show starts airing on August 26.
The show's timeslot will directly compete with ABS-CBN's game show Minute To Win It, which is hosted by Luis Manzano, Jennylyn Mercado's boyfriend.
Thirteen contestants from 7-17 years old, coming from all over the country, will compete in singing, dancing, as well as other challenges that they will face together with their parents.
With an interesting mix of kids and teens and their moms and dads, expect the competition to heat up on- and off-stage.
The little girls in the bunch are: Jen-Jen and daddy Allan (little morena & boss tisoy); Naomi and mommy Jasmin (ang gwapa at ang probinsyana); Monica and mommy Fatima (hataw princess and kembot queen); Tricia and mommy Jensen (K-pop cutie & Mrs. Trendy); and Danicia and mommy Lianna (the beauty & the stage mommy).
The little boys in the group are: AJ and mommy Ariadni (wonder boy & super mom); Sean and mommy Flor (si taba at si pangga); Johnny and mommy Janet (rockstar kiddie & mommy sweetie).
Meanwhile, 14-year-old Edrick is proudly gay and his mommy Edith is as equally proud of him (bonggang bida and proud mama).
The teenage girls are: Annika and mommy Jinky (Ms. sossy & mommy sexy); and Dranrie and mommy Rochie (girl next door & mommy terror).
The 17-year-old teenage boys on are: James and mommy Gina (the heartthrob & the survivor); and Josh and mommy Sandra (ang rebelled at ang dominante).
With such a diverse age range, many people think that the competition is not a level playing field. This leaves the burning question: how will the contestants be judged?
ADVERTISEMENT - CONTINUE READING BELOW
The show's producers are confident that the younger ones have the ability to compete against the older teens, "You'll be surprised, kayang lumaban ng maliliit sa malalaki."
The jurors will take into account over-all performance—which means singing, dancing, and other factors such as stage presence are all given equal weight.
The show will also highlight what goes on behind the scenes, such as competitive moms who have a thing or two to say about fellow mothers.
Directed by Albert Langitan, expect a combination of talent-showcase and drama in Anak Ko Yan!