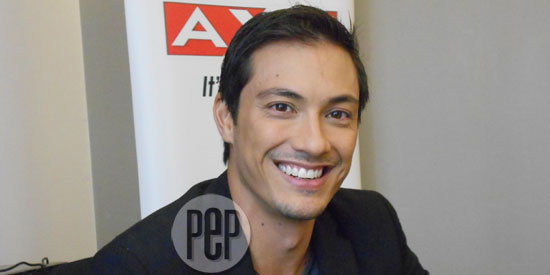 ---
Jason Godfrey, a Filipino-Canadian model based in Hong Kong, is finally getting in touch with his Filipino roots through AXN's TEN. Jason serves as the host and designated travel guide in the travel show that will premiere on September 5, Thursday, on the AXN Channel.
In the said travel show, a local region will be featured in each episode. TEN will then give viewers 10 interesting factors that make the place a worthy tourist destination.
Jason related in a press lunch held last Tuesday, August 27, at the F1 Hotel, The Fort that he grew up in Canada and never really knew much about his mother's hometown in the Philippines until he was 24 years old.
FILIPINO SIDE. Though he was not raised the conventional Filipino way, Jason said that he had Filipino relatives back in Canada. Through them, Jason became aware of his Pinoy heritage.
Through his travel show on AXN, Jason also relished the chance to experience the Philippines and discover his Filipino side.
"That's what I think made this show fun, too.
"I realized, I think my sense of humor comes from—well, my dad has a sense of humor, too—but I think Filipinos have a great sense of humor," Jason related.
"So when you go out and talk to people, a lot of them really gets it [joke], you know.
"They're ready to joke around with you. I don't know, if I did this in China I don't think it would work."
Jason even pointed out that although Thailand is tagged as the Land of Smiles, Filipinos are equally friendly. He observes, Pinoys are "inviting, they are always smiling."
The model-cum-host narrated his firsthand experience with Filipino hospitality when he shot one of the show's episodes.
Jason recalled that he and his crew met with a town mayor and even though the politician was busy, he took time off and even hosted a dinner in his house for Jason's group.
ADVERTISEMENT - CONTINUE READING BELOW
Based on this experience, Jason marvelled at how friendly Filipinos are.
BETTER TRAVEL SHOW. Since there are a lot of travel shows being aired on television now, Jason was asked to differentiate TEN from their competitors.
He explained that the first-ever local show that AXN is producing is not so "generic" like its competitors.
Jason said that he wants to prove that the best way to "sell" a place is "if you can go and have fun."
He stressed, "I think that sells the place, and show these people these new experiences and different unique things.
"I think it's not an overtly travel show like, 'Here's where we are, here's what we need to do.'


"It's just like, 'Here's this guy just having fun in the country, doing really weird crazy things and if it's fun for him, you should check it out.'"
OPEN TO SHOWBIZ. Given his good looks and his background in modeling, is Jason open to trying local showbiz?
"Yeah, I don't wanna say no to any opportunities.
"So that's the model in me, because the model in me doesn't know when I am gonna get paid next, so I take every job that they have for me," he said with a smile.