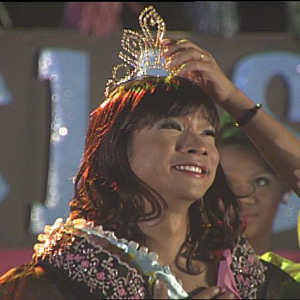 ---
Right on the heels of his successful concert titled SimplyIrresistible held last October 13 at the Aliw Theater, Mark Bautista willshow that he is not only a talented singer but a versatile actor as well.
The pop singer will portray the story of Vic, a homosexualwho prefers to be called Mie-mie Barcelona. Despite the stiff resistance of hisfather against his true nature, Vic continues to join gay beauty pageants wherehe often emerges as the winner. Will he revert to his old ways in order to savethe life of his son?
Director: Ruel Bayani

Cast:
Mark Bautista as Vic
Janelle Jamer as Junaly
Irma Adlawan as Teresa
Crispin Pineda as Vencio
Gino Paul Guzman as Jose
Franzen Fajardo as Obet
Houron Morales as Junjun


SYNOPSIS. The November 2 episode of Maalala Mo Kaya tells thestory of a gay man who strives to find acceptance and true happiness.


Mie-mie Barcelona (Mark Bautista) finds fulfillment in joining Ms. Gaypageants, where he always emerges as the winner. Like most homosexuals, hefalls in love with a man, who eventually betrays him. As a form of revenge forhis heartbreaking love affair with a man, Mie-mie undergoes a transformation—hedresses up and acts like a man. Eventually, he finds solace and falls in lovewith a woman who becomes the mother of his three kids. Later on, when his sonfalls seriously ill, Mie-mie is forced to join a gay beauty pageant as his wayof earning fast money to save his son's life.
ADVERTISEMENT - CONTINUE READING BELOW