As the hit GMA primetime soap My Husband's Lover (MHL) concludes this month of October, cast members Kuh Ledesma and Victor Basa look back at their respective character's big moments in the show.



Kuh plays Ellaine, the high-society wife of a homophobic ex-general (played by Roi Vinzon) and the doting mother of a closeted gay son (Tom Rodriguez).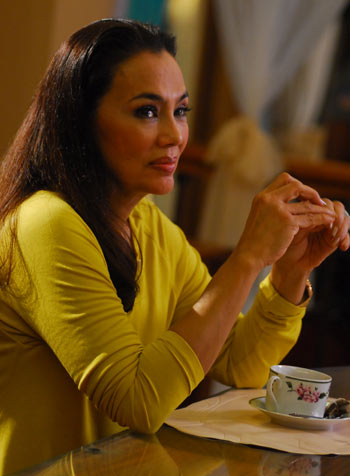 Kuh Ledesman as Ellaine in My Husband's Lover



In the story, Ellaine's son Vincent falls in love with his high school buddy Eric (Dennis Trillo), but they part ways when Eric flies to the U.S. to attend to his dying father.


Vincent finds a girlfriend, Lally (Carla Abella). He gets her pregnant and they marry. Eric returns, and destiny brings him and Vincent back together.



Kuh notes that her character has a lot of moments in the show that are special to her. "But the best ones for me," she points out, "were the moments when Vincent confessed to me that he was gay and when Ellaine asked for Lally's forgiveness."



Ellaine has been an overbearing mother-in-law to Lally.



Kuh adds, "Another moment was when I said, 'Ang Diyos kaya Niya ang imposible.' Because I truly believe in that statement."



On the other hand, Victor plays David, the confidant and one-time lover of Vincent.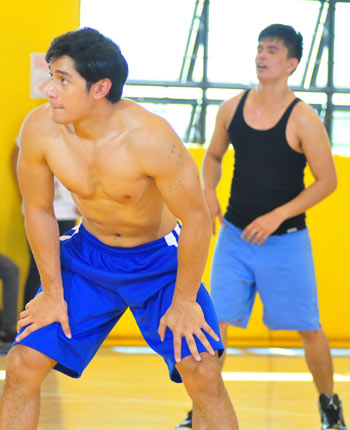 Victor Basa and Tom Rodriguez in My Husband's Lover



"Any scene I do, I always pour myself in," Victor proudly says. "I always consider the scene's big moments."



"But the most memorable thus far," he continues, "would have to be the confrontation between Eric and David wherein David tells Eric while in the former's apartment unit to stay away from Vincent's family. That was a very heated moment that had two very emotionally invested men pitted against one another."



The apartment unit that Victor is referring to is Eric's condo unit number 1720, where Lally also discovers her husband's extramarital affair. In the October 2013 issue of YES! Magazine, it is revealed that the condo unit is actually an office room found on the seventh floor of a building along Panay Avenue in Quezon City.



Needless to say, Kuh and Victor consider their respective characters special to them and they explain why.



Kuh: "Ellaine's character is special in the sense that her character is common to a lot of women who are strong-willed. She is also a loving wife and mother kahit na over-protective to her one and only son."



Victor: "What makes David such a special character to me is that he is so giving. His situation is something that most of us have been in I believe, loving somebody so much that after the eventual unrequitedness love he still manages to find the heart to support and help Vincent and Lally throughout their marital and extra-marital struggles/troubles. It's a testament to true friendship which is so rare and hard to find."



And now that MHL is scheduled to end this October 18, both Kuh and Victor disclose what they will miss most about their characters and about their show.



"Ellaine as a woman is strong and fearless except when she heard that Vincent committed suicide," says Kuh. "She is also stylish and prepares a good meal always for her family."



"Ellaine being mataray is not something I'll miss," she shakes her head. "But what is exciting that I'll miss about the show is that it was all worth doing it because of the response of the positive people everywhere I went, pati abroad."



"But I'll miss most of all the production people who have become dear to me," she smiles. "Pati directors... Dominic Zapata who I saw was very dedicated to His work and Direk Gil Tejada was a very good 2nd unit director."



Kuh says she will also miss everyone in the cast, from the three main protagonists (Dennis, Tom, and Carla) to the secondary leads, especially Glydel Mercado and Chanda Romero—and even to guest star Jaclyn Jose, who appeared in MHL as Charito, her role in the other GMA soap, Mundo Mo'y Akin.



Victor, for his part, relates that he will miss reporting to the soap's set and getting into character—or, in his words, "putting my David's shoes on."



He describes David, a cook and a restaurateur, as "the optimistically albeit conservatively natured and sometimes self-righteous character who relishes wearing the white hat."



About the show, Victor says he will "definitely miss the amazing cast and crew," as well as executive producer Carol Galve ("whom I've never seen without a smile on her face") and associate producer Acris Tobias.



Victor also gives thanks to director Dominic Zapata "and his collaborative and effective approach to bringing to life the scenes for the lives of Lally, Eric, Vincent, Elaine, Armando, Paul, Vicky, et cetera" and to assistant director Reagan Carlos.



Ditto for the soap's creator and head writer Suzette Doctolero and her team "for always keeping us on our toes when we receive our scripts!"



"So many supportive and invested people I will definitely miss!" he exclaims, and enumerates, "Ms. Helen Rose Sese, our program manager, Ms. Redgie Magno, Vice President for Drama, creative head Jake Tordesillas, and creative director Jun Lana.



"It has been such an amazing experience and I am definitely looking forward to working with them again."