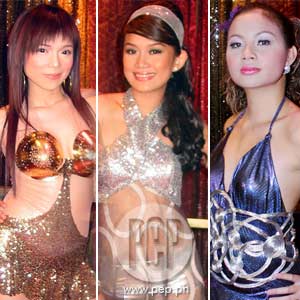 ---

Various musicgenres will be represented in the upcoming episode of Shall We Dance: The Celebrity Dance Challenge hosted by dancegoddess Lucy Torres-Gomez this Sunday (9 p.m.) on ABC-5.
During theall-male celebrity finals last Sunday, November 4, Paolo Ballesteros andpartner Donna Bidua ruled the dance floor as they defeated Uma Khouny and partnerVictoria Huyatid, and Mikee Lee and partner Raine Trinidad. This time, ABC-5'sreality dance show gives viewers another reason to watch this Sunday as threeof the most popular singers in the country today battle it out on the dancefloor to become the next ballroom diva.
Bossanova princess Sitti, soul siren Nina and novelty singer Tuesday Vargas arepitted against each other for an all-out catfight on the dance floor. Sitti,who is paired with dance instructor Mike Flores, will dance a salsa-inspiredfreestyle. Nina and her partner Efren Ibo will do a swing-inspired freestyledance while Tuesday and partner Greg Dimarucut will groove to a jive-inspiredfreestyle routine.
Nina,unknown to many, had already wished joining the celebrity dance competitionfrom the time she was first invited to sing in the show. When SWD asked her tobe part of the singers' batch, she didn't think twice.
"The thought of justdancing, yung walang singing involved, pure dancing lang, exciting talaga atsiguro nga kasi gusto ko lang i-share sa lahat ng tao my talent indancing," says the sweet-faced R&B singer.
Nina used totake ballet and jazz dance lessons when she was very young. It's no wonder she did not hesitate to take up the celebrity dance challenge.
ADVERTISEMENT - CONTINUE READING BELOW
LikeNina, Sitti also became a guest singer in SWD. She was so impressed by thecelebrities' dancing ballroom on the show that she actually considered thepossibility of competing in SWD someday. And now, she's ready to show off herdancing prowess for the first time on TV. According to Sitti, it will be a realchallenge for her since she has no background in dancing, much less ballroom style.
IfNina and Sitti are first-timers in ballroom, Tuesday is a second timer onSWD. She already competed in Season 3, pitted against Emilio Garcia,Andrea del Rosario, and Jeric Raval. She made it all the way to the finals butfell short of getting the trophy away from Roderick Paulate, who was Season 3's grand champion.
WillTuesday, finally grab the top spot this Sunday or will Nina and Sitti surpriseus all with their untapped dancing skills? Well, place your bets now and besure to catch Lucy Torres's celebrity dance competition this Sunday, only onABC-5.
Video courtesy of ABC-5