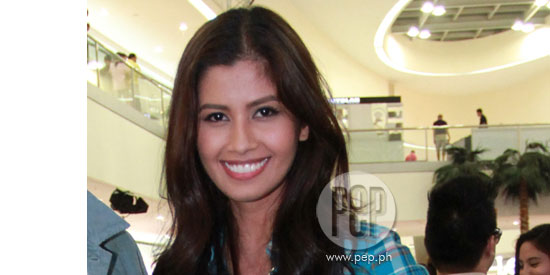 ---

"I actually auditioned for the part, o, di ba, gusto ko talaga," reveals an excited Shamcey Supsup at the press launch of the Lifestyle Network's Interior Motives Season 2.

As it happened, the architect turned beauty queen is the perfect host for the show. She graduated magna cum laude from the University of the Philippines College of Architecture and topped the board exams for architects in June 2011.
Shamcey, who preferred math and science to arts, says it was her mom, Marcey (neé Gurrea), who suggested that she take up architecture.
"Kasi before, either engineer or fine arts. Sabi niya, why don't you take up architecture, it's a combination of engineering and arts," she relates.

On hosting Interior Motives, she says, "I was watching it already. Sabi ko, I felt at home with the show, because it's really close to my heart. I love to watch mga makeovers, mga design shows, and now I'm the one hosting it, and seeing it in person.

"The first time I went to the shoot, grabe, di talaga ako tumitigil sa pagsasalita! I was so excited and I'm very happy to be part of this show."
According to her, the program manager and production staff already had her in mind when they were re-envisioning Interior Motives for its second season.
Shamcey went for a try-out when she learned the show was looking for a new host. "So I tried it out. Medyo at first, kinakabahan ako nung auditions, nagstu-stutter ako!"

Was that more nerve-wracking than the Q&A in pageants?

Shamcey, who won third runner-up in Miss Universe2011, giggles and answers, "Di ko alam, it's something that you want kasi. Siempre you wanted to get it and the nerves really parang got in the way."

She endured several weeks of uncertainty, "Akala ko I won't get it. So after a few weeks, they texted me na you're the new host na!"

Shamcey shares her first reaction, "I was so happy!

"Pero afterwards, naku, sabi ko I have to review mga modules during the board exam, I read the architectural dictionary."

Shamcey says she felt she needed to brush up because she stopped working for two years as an architect, "Siempre when you don't really practice it that much anymore, you forget some of the things that you learned during college and when you were working."

She also summoned the help former classmates and professors at the university.
ADVERTISEMENT - CONTINUE READING BELOW
"Siempre not naman everything I know about architecture. Sometimes people think because I am an architect, everything I know already. I consulted with experts, with my bosses before, my mom. So I asked talaga for help," she says.

This is after all her dream job.

She emphasizes, "Yes, eto talaga. Matagal na matagal ko na pinapangarap magkaroon ng sariling show that is interior or architectural design-based.
"After the pageant, I told my manager I really want a show with construction and design, but with hosting, something I have learned to love after two years of hosting stints.

"So this is a culmination of what I have worked for. Eto na talaga yun direction, what I'm looking for. Hosting na hindi ko kinalimutan ang background ko as an architect."
Shamcey says she is bracing herself for the challenges of the show.
"Una, people expect you to know everything. Sometimes sabi ko, I have to really prepare before a shoot, I have to read about it, make sure that I say the right thing. Nakakahiya siempre for, maybe the viewers won't know it, but I have a lot of architecture colleagues and ayoko matawagan ako tapos sasabihin, 'di ka nakikinig nung nagtuturo ako. Mali yung sinabi mo about the Spanish architecture.' It's also a way for me to learn. People make mistakes. I accept naman if I make a mistake, na I said something na hindi naman pala ganoon."
Shamcey stresses the importance of research in preparing for the show. She says, "Every time we go to a location, two days before, I would ask for the description, what kind of space are we going to. At least before I go there, I have a background already. After that, I talk to the owner or the designer, I would ask a lot of things before we start shooting.
ADVERTISEMENT - CONTINUE READING BELOW
"Hindi naman ako parang spectator lang. At least I get to be able to share din whatever I've learned or researched, or maybe something na I have worked with this kind of material before."

Another challenge for Shamcey is setting the boundary between her job as host and her profession as an architect: "Minsan talaga I get carried away. But my segment is not about me. It's about the person living in it or the one who designed it. Unlike the segment of the Almario sisters, they have more leeway to design the space, they can do it."

She is referring to Ivy and Cynthia Almario, sisters who are renowned interior designers.

"Sabi sa akin one time, Shamcey, hindi ikaw ang designer dito ah. Nagsorry ako. Kaming mga architect kasi, mayroon kaming sariling mundo. When we go out, sasabihin namin, parang mali etong lighting dito, yellow kasi mas maganda.

"In the show, kailangan medyo detached. Minsan naman yung mga jargon ng designers… it's my duty to be able to explain to the viewers and impart whatever the designers are talking about. Sobrang saya, kasi I get to really share something I really love. So ako, when I go to a new place, I try to look at it from the designer's perspective… ano yun design aesthetic niya. Ako kasi, medyo I like modern, Filipino architecture. But then, I try to appreciate everything because architecture is like art, it can be anything."
As can be expected, Shamcey highly recommends the show, especially to upcoming designers. "Sometimes it's hard to showcase our designs, our talents, so may segment na we give a chance to designers and architects kasi they are very creative, have a lot of things to offer.

"I am so excited about this because it's gonna be a fun way to show off architecture and design. You won't be bored," Shamcey promises.

Interior Motives has four segments. One features owners or designers giving viewers ideas for their own houses or spaces. Another profiles an interior designer, architect or furniture designer. Another segment presents a tool kit for redesigning or renovating homes. The last segment is the Project Makeover with the Almario sisters.

Shamcey is thankful that the show's production team has been "very accommodating, very nice" about her schedule: "The team knows that I also have to prepare for the wedding, I also have hosting stints and I have my architectural firm. Sobrang light ng work, I always say, ang sarap magtrabaho!"

Interior Motives airs Thursdays at 9:30 p.m. on the Lifestyle Network.



WEDDING PREPS. Shamcey has one word about her wedding preparations: "Haggard!" But she is so happy going through it that even if she is busy with work, "sinisingit ko yun."

She shares, "I didn't know I was gonna be this hands-on sa wedding. Akala ko, simple wedding lang, okay na sa akin. Sabi ko nga, 50 people lang, ok na sa akin. Akala ko dati, pwede na 'yan, pwede na 'tong ganitong design!
ADVERTISEMENT - CONTINUE READING BELOW
"Ngayon pati kulay ng font ng invitation...Gaano kalaki yung pangalan, ganoon siya ka detalye! Di ko akalain na parang isang araw, invitation card pa lang pinag-uusapan namin!

"Habang patagal ng patagal, mas narerealize mo na kailangan ko pala nito, or dagdag pa ako ng like this. We started small, but then it became bigger as the days went by."

She adds her motif theme is "more of classic," meaning "I don't want it to be loud, or color na alam mo agad, ay yellow, siguro more of pastel colors. More of orange peach, ganoon."

And as she related in another article, her wedding will follow the Filipino tradition: "Doon naman sa part na yun...in our Ting Hun, it's really Chinese na talaga. They allowed us na, in our wedding day, medyo konti nalang. It's more of the how we treat our ninong, ninang, yung mga ganoon. Pero for like the design, the feel, wala."


(Read: Shamcey Supsup and Lloyd Lee hold Chinese engagement party on Father's Day)


According to her, her list of guests will include, apart from family and close friends, workmates and colleagues. "Siempre beauty queens, di mawawala 'yan. It's more of, the way we invited, kung sino yung parati namin nakakasama lately, and the old friends that we have," she explains.

She says she and fiancé Lloyd Lee have yet to complete their principal sponsors and entourage: "Yun nga inaayos pa namin, ang hirap, because we just learned, siempre the date of our wedding is between Christmas and New Year so a lot of our guests have... Sila mismo, they don't have anything, pero their families, or their husbands or whatever have plans pala for that. So we don't wanna tell them naman, cancel your trip, ang hirap. So we're still finalizing it, hopefully, by November complete na yung entourage."

Her wedding gown is being designed by Francis Libiran together with other local designers. "Maganda yung gown. Well, siguro, isipin niyo na lang, think about my evening gown in Miss Universe, parang ganoon," Shamcey remarks.

She will not talk about her missing wedding rings as she gets all wrought up just thinking about them. Showing her engagement ring, she rues, "Eto na lang natira. Papagawa na lang. Ayoko na pag-usapan, okay lang?"

The wedding will be on December 29 in one of the Makati hotels. Another is set the weekend after in yet undisclosed location.

Will the press cover the wedding?

She explains, "Well kami naman, we're open naman to it. Siguro, siempre you cannot. His family is really private, we'll have to talk about it pa with them. Siempre, it's not just our wedding, it's a wedding of the two families. So we have to ask permission kapag may mga media that we'll let come.

"Before talaga, I wanted it to be private. As in, wala talaga nakakaalam na intimate but then I realized, well, we've already shared our story, bakit mo pa itatago sa tao. We've already said, we've already shared the date and everything, our pictures. Sabi niya, it's somehow... siempre the support was always there from the beginning sa amin. It's a way for us na giving back din sa mga tao na nagsupport sa amin."



EX-DEAL ISSUE FOR HER WEDDING. The fly in the ointment in Shamcey's dream wedding is the rumor spreading that she asks suppliers for exchange deals. Shamcey is gracious in her denial, saying only it hurts.

She clarifies: "Na-hurt kami doon, siempre, we're not naman the type, lalo sa side ni Lloyd, actually, the wedding is a gift to us!

"And I'm not...I don't shell anything for the wedding. It's their family, kaya nakakahiya sa family. They are not like that.

"Nagkakataon lang na I have friends who say, uy Shamcey ikakasal ka na, they want to do this, sabi ko, sige let's talk about it, if it's not naman conflict or anything. Sometimes, we accept, kasi some people would come to us and say, 'I'll take care of that.' Pero di naman kami tipong...lalo na di naman ako ang gumastos, nakakahiya.

"Nakakatawa because, di talaga, sa totoo lang, the family of Lloyd doesn't want talaga like that. They are not into showbiz. But then ang nangyayari, there are some people who offer to us and then sabi naman, Chinese are also very practical. If you can get it for free and they offered it to you, why say no to something like that. Actually ang sponsor lang namin is NicePrint actually.

"But everything, I had hoped the hotel is free. But it's not. Kasi 'yan ang pinaka bulk. The bulk of the wedding cost is the hotel and the food. When I saw how much, sabi ko, huwag na tayo mag wedding! Bigay na lang sa atin yung pang-start ng family."
ADVERTISEMENT - CONTINUE READING BELOW