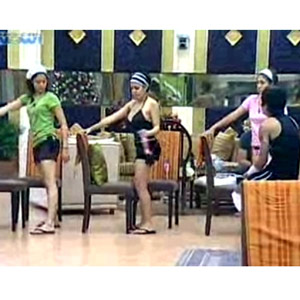 ---

It hasbecome a tradition in Pinoy Big Brother for the housemates to hold asong-and-dance performance inside the house. Big Brother thinks the time isripe for his new tenants to showcase their talents. Thus, he has assigned the housemates of PBB Celebrity Edition 2 tostage a concert this Saturday, November 10.
Partof the requirement for the concert is for the housemates to perform at leasttwo original songs that they have to compose themselves. Other numbers in theline-up are an all-boys dance performance and an all-girls song-and-danceroutine.
Already,issues have been arising as to who should make the compositions andchoreography, tasks which Mcoy Fundales, Ruben Gonzaga, and EthelBooba have embraced. Everyone else has been helpful and cooperative. MarielRodriguez, however, has refused to do a certain number that will require her tosing. Will the housemates allow her to skip this one without putting up theirown objections?
Dubbedby the housemates as Concert for a Cause...of Delay, the event is actuallyfor the benefit of the inmates of Cebu Provincial Detention and RehabilitationCenter (CPDRC) who themselves are Internet celebrities because of theiralgorithm and dance videos on Youtube.
Thecelebrity housemates will perform at the eviction hall on Saturday evening infront of a live audience composed of 150 people. Tickets are now on sale at P1000 each.Aside from seeing the celebrity housemates in person, the audience will alsoget to judge whether the performers have succeeded in their weekly task. Plus,viewers will have a chance to take their photo with Racing Goddess Gaby delaMerced who is scheduled to exit on that same day. As a token, ticket holderswill also receive an autographed t-shirt. Proceeds of Concert for a Cause...ofDelay will be used to buy inmates' needs such as toiletries and bathtowels.
ADVERTISEMENT - CONTINUE READING BELOW
Forticket reservations, please call 411-0015 and ask for Ms. Jem Velchez.
PinoyBig Brother CelebrityEdition 2 airs every night on ABS-CBN's Primetime Bida.