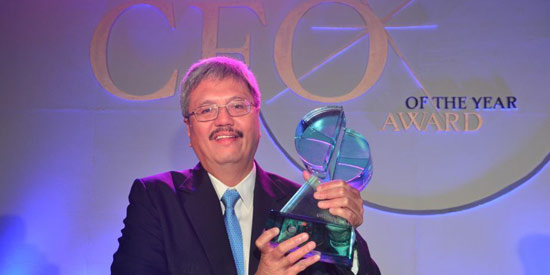 ---

PRESS STATEMENT FROM GMA-7, published as is:


GMA Network Executive Vice President and Chief Financial Officer Felipe S. Yalong was named ING-FINEX CFO of the Year for 2013. The awarding ceremony was held on November 20 in Makati City.
The highly coveted award recognizes exemplary leadership in the field of finance and is bestowed annually on the country's foremost financial executive.
Yalong played a crucial role in the Network's phenomenal rise in revenues since its Chairman and CEO Atty. Felipe L. Gozon and President and COO Gilberto R. Duavit, Jr. took over the Company's management more than a decade ago. Yalong was also a key figure in the company's Initial Public Offering (IPO), which was launched in July 2007.
In his acceptance speech, Yalong extended his sincerest gratitude to ING-FINEX saying that the award becomes all the more meaningful "because it comes from [his] peers, his fellow CFOs, and from an esteemed professional organization that is FINEX."
He went on to thank GMA's top management for giving him "a significant amount of trust and confidence since [his] early years in GMA" and added that he is also the same way when dealing with his people.
Recalling his early days as a Kapuso, Yalong described his joining GMA as "the biggest challenge of [his] professional career" noting that GMA was admittedly behind its biggest rival during that time. "But it has, as evidenced by my presence here today, yielded positive results both for myself and I would like to believe, through my modest contributions, for the Network as well," Yalong said.
ADVERTISEMENT - CONTINUE READING BELOW
Yalong was joined during the awarding ceremony by his family together with GMA Network's bigwigs led by Gozon and Duavit, Board of Directors Joel G. Jimenez, Judith D. Vazquez, and Laura J. Westfall; Consultant for Radio Operations Mike C. Enriquez; SVP for Finance and ICT Ronnie P. Mastrili; Consultant for Corporate Communications Butch S. Raquel; and VP for Investor Relations Ari P. Chio.
"Philip's [Yalong] integrity and needless to say, his competence as a CFO are beyond question. GMA is truly fortunate to have him and we thank ING-FINEX for giving him this honor," Gozon enthused.
According to Victor P. dela Dingco, Jr., Founding Chairman of the ING FINEX CFO of the Year search, and currently the Executive Vice President and Liaison Director of the Financial Executives Institute of the Philippines (FINEX), choosing the winner proves to be more challenging every year, "Shining the spotlight on those who raise the bar for going beyond the numbers gets tougher every year for the Search for the ING FINEX CFO of the Year. After all, it's not an easy task to select one exemplary CFO for his professional excellence, leadership, stewardship and integrity, especially in a country teeming with professional talent."
Consuelo D. Garcia, country manager of ING Bank, N.V. (Manila Branch), meanwhile, said, "The search for an exemplary CFO not only involves gauging his knowledge and skills to crunch the numbers or manage risks, but also looking at his ethical compass. After all, as the mantra says, 'good governance makes good economics.'"
ADVERTISEMENT - CONTINUE READING BELOW
The finalists for ING-FINEX's CFO of the Year Award were decided by the Search and Selection Committee, while the sole winner was chosen by the Board of Judges.
Four major criteria namely "the CFO's performance in terms of good governance, compliance and corporate social responsibility; his reputation and stature as a CFO; his contribution to the fulfilment of the strategic objectives of his organization; and his excellence in the stewardship of his" served as basis in the judging period.
Apart from his current position in GMA, Yalong also serves as Director and Corporate Treasurer of GMA Holdings, Inc., Scenarios, Inc., and GMA Network Films, Inc.; Director of Unicapital, Inc., Majalco Finance and Investments, Inc., and GMA Marketing and Productions, Inc.; Corporate Treasurer of RGMA Network, Inc., Mediamerge Corp., and GMA New Media, Inc.; Executive Vice President of RGMA Marketing and Productions, Inc.; and Corporate Treasurer of the Board of Trustees of GMA Kapuso Foundation, Inc.