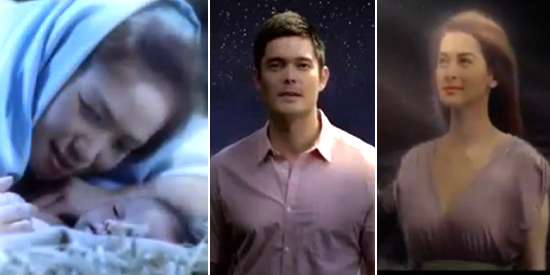 ---
I applaud the intention of GMA Network to bring back the spirit of Christmas in its Christmas station ID this year.


The Kapuso station obviously wants to put the spotlight back to the heart of the season: Jesus Christ. He is the sole reason why we are celebrating Christmas and He should not be forgotten amid the massive consumerism that has defined the season year after year.
They are right. Christmas is more than just playing the most cheerful songs, finding the perfect gifts, or serving the most delicious food. More than noisy merrymaking, it is also the time to be solemn and to remember what took place in Bethlehem for the salvation of humanity.
"Sundan Natin ang Bituin Pabalik sa Kaniyang Piling" is a very powerful and apt theme in a time when the true meaning of Christmas gets buried in massive commercial, technological and information clutter.


I believe it is a perfect message.
But sometimes, the message gets lost in the way it is delivered.
This is where GMA's 2013 Christmas station ID stumbles.
The finished product is a collection of videos showing GMA personalities walking toward one single destination and pointing at the Biblical star.


There are awkward shots where people appear to be walking together when it is obvious that they were filmed separately. They are supposed to be walking on the land of Jesus' birthplace, but their legs seem to be cut off. It looks like the people are floating over pretend grass.
The network's expertise in doing telefantasyas does not seem to translate well in this video. There are frames, even in the nativity scenes, that look cartoonish. There is also something about the nativity cast that is very manufactured and theatrical.
ADVERTISEMENT - CONTINUE READING BELOW
Technical issues aside, the group shots of people walking together in slow motion do not really mean anything and do not contribute to the overall message.

In an effort to turn the attention to God, the video loses the human touch.
Based on the comments online, the religious theme of the video has also become a sensitive issue.


True, we are a predominantly Catholic country and there are some who do not really celebrate Christmas, but many feel that the holiday season need not be alienating to others.
I believe there are ways to bring the attention back to Jesus Christ in a video like this without appearing churchy and non-ecumenical.
Ironically, the station ID that aims to show us the way back to the brightest star can't even shine on its own.


Still, I appreciate the message that GMA tries to convey.


But delivering it in a video showing celebrities acting it out in front of a camera in a chroma studio makes it insincere.