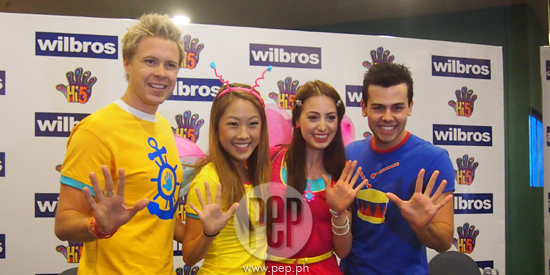 ---
Australian children's pop group Hi5 returns to Manila for another fun-filled concert with their Filipino fans. Stevie Nicholson, Lauren Brant, Dayen Zheng, Ainsley Melham, and Mary Lascaris will stage another dance party extravaganza at the SM Aura Samsung Hall from December 13 to 15, 2013.


PEP.ph (Philippine Entertainment Portal) had a chance to interview members of Hi5 during their press conference held on Thursday afternoon, December 5, at SM Aura Samsung Hall in Bonifacio Global City, Taguig.
When asked what makes them come back to the Philippines year after year, Stevie pointed out, "I think we just love coming here, you know, because of the food, and the people, and the music, and the culture.
"I think it's a really lovely… we have a really lovely relationship with the Filipino people so, thank you for having us."
This is the second time for Dayen to visit the country. She said that she always looks forward to enjoying the Philippines' rich culture and hospitality.
"Because last year was my first year in Hi5, it was my first time coming to the Philippines so, you know, of course, the children.
"But I particularly love the culture of the Philippines and how the people were and how friendly they people were."
For new members Ainsley and Mary, it is their first time to visit the country and they are willing to experience Filipino culture. Eating adobo and balut (fertilized duck egg) is part of their to-do list during their stay in the country.
Meanwhile, Stevie looks forward to just having fun with the kids and their parents during their visit.
He said, "We know that the Filipino children and families, you guys just like having fun.
"You guys just like to party and it works really well with what we do with Hi-5.
"So, I could imagine that we could be back again in the not so distant future."
ADVERTISEMENT - CONTINUE READING BELOW
NEW LINE-UP. Stevie, Lauren, and Dayen welcomed newcomers Ainsley Melham and Mary Lascaris for their Hi5 House Party Asian tour.
During their press conference, the members were asked for the secret behind their popularity among kids all over the world.
Stevie answered, "Well, I guess fun's involved.
"I guess that what's special about this tour is it's the first time we have this new line-up.
"So, it will be Lauren and I joined by Dayen. It's her second time in the Philippines.
"And, Mary and Ainsley, it's their first time so, I guess, this is our way of introducing a new Hi5 to a whole new generation of Filipino children and families who have been supportive over the years with Hi-5."
Dayen said it wasn't easy for new ones to join this kind of group but she's thankful that everyone welomed her with so much support.
"It's hard for the new ones to come in a group that is so established but every one welcomed me with open arms and especially replacing Fely [Irvine] who was Filipino as well," Dayen explained.
"You know, I really appreciated that that everyone welcomed me with open arms."
This children's musical group has been around since 1998 and underwent a few changes along the way. Previous members include: Kathleen de Leon Jones, Tim Harding, Charli Robinson, Kellie Crawford, Nathan Foley, Sun Park, Fely Irvine, Casey Burgess, and Tim Maddren.
Mary and Ainsley joined the other members for their 14th season. Before joining the cast of Hi5, Mary was a performer in Universal Studios Japan where she dresses up as different characters including Marilyn Monroe and Princess Fiona of the hit movie Shrek.
"It's just so surreal coming from all these different countries," Mary said.
"Like, we just came back from Hong Kong. Today, we're in Manila. In five days we're in Singapore and then we're in KL [Kuala Lumpur].
ADVERTISEMENT - CONTINUE READING BELOW
"And we met so many new friends and so many new people and it's… I still don't believe I'm doing this."
A fresh graduate from the Western Australian Academy of Performing Arts, 22-year-old Ainsley feels fulfilled to be part of a group that can help mold impressionable young kids.
"It really is an incredible honor to be able to do a job like this.
"I think until I was here in this job, I didn't realize what reward you get from children's entertainment and entertaining children.
"Being a role model for children and being the person they look up to is really such an incredible experience and incredible feeling.
"When you see children look up at you and smile, and say, 'Hi-5!'
"I think it has been a fantastic experience just being able to entertain children."
Ainsley also recalled one of his favorite moments every time they perform live for their young fans.
"I think we always get, 'Are you real?' or 'How did you get out of the TV?' something like that.
"Which is amazing because you don't think about kids watching television and see us in real life.
"And they go, 'Huh? What's going on?'"


FUN-FILLED HOUSE PARTY. Hi5 will perform classic favorites including "L.O.V.E" and "Ready or Not." But the members said that they prepared many suprises for their fans this time around.
Stevie said, "I guess we sort of feel like it's our little Christmas gift to the kids for them to come along to see the show, and come up to sing and dance with us.
"This show is a big concert so there's a lot of songs and a lot of dancing.
"And one thing that we're really trying to do is to get the kids and the moms and dads dancing up with us on the show."
ADVERTISEMENT - CONTINUE READING BELOW
Aisnley then hinted what fans can expect from their show, "We have a few funky new funky suprises, I think, that the audience here hasn't seen before, which is really exciting for us to be able to share that, and to be able to share something new.
"As Stevie said Hi5 is always evolving so, I think, I'm gonna keep this a secret."
Ainsley added, "We have lots of games to play. It's Hi-5 House Party so we are spending a night of party with the kids."
MESSAGE TO VICTIMS OF TYPHOON YOLANDA. Members of Hi5 have expressed their concern for the families in the Visayas region that were adversely affected by super typhoon Yolanda.
Ainsley sent a message of hope to Filipinos in affected areas.
He said, "Soon as word got to Australia, as you said, the calamities that have taken place, all of us were asking 'What can we do? How can we help?'
"As these guys have helped with World Vision before and that is something we want to explore again. Maybe to give back to those kids and bring back the smile on their faces.
"But as a message we send our love and support and we pray that they can get through it and that their families as well as their children are happy and safe for the future."
Watch Hi5 House Party in Manila from December 13-15 at the SM Aura Samsung Hall. Tickets are now available at SM Tickets nationwide via www.smtickets.com or call Tel. No. 374-9999 and Tel. No. 470-2222.
This event is presented by Hi5 and Wilbros Live, in cooperation with SM Aura Premier, Magnolia Chocolait, and Disney Junior.