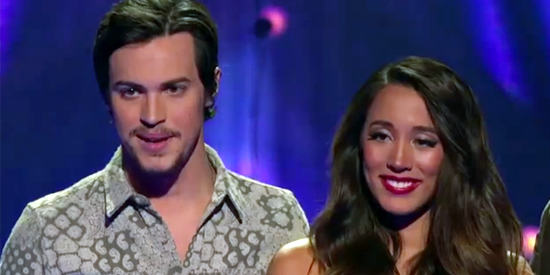 ---

Real-life couple Alex Kinsey and Sierra Deaton form a perfect team as their chemistry reflects in their amazing duets in X Factor USA Season 3.
In the last few weeks of the reality show, the two impressed viewers with their outstanding renditions of Sara Bareilles' "Gravity;" Christina Aguilera's "Say Something;" and Glen Hansard and Marketa Irglova's "Falling Slowly."
Judges Simon Cowell, Kelly Rowland, Demi Lovato, and Paulina couldn't agree more. They are one in saying that Alex and Sierra don't seem like talent show contenders but professional recording artists whenever they're on stage.
They have developed a strong following, which is reflected in their successful chart performance on iTunes. Their amazing duet of "Gravity" actually made it to the No. 1 spot when it was released after their December 13 duet on the show.
SIERRA ON CRITICISMS. But it hasn't really been an easy journey, particularly for Sierra who received pointed criticisms from the female judges last month. As Kelly once pointed out, Sierra wasn't at par with Alex's vocals during their performance of One Direction's "Best Song Ever."
Asked how she overcame hearing a tough reminder from the judges, Sierra explained that she simply took it as a motivation to improve her craft.
"I wanted to prove that I deserve to be here too and not just Alex. And I think hearing those criticisms motivated me.
"I'm actually glad that it happened because I know now that I can take criticisms on national TV and still come back stronger.
"So, I felt stronger as a person and not just as an artist," said Sierra in an overseas call conference that PEP.ph (Philippine Entertainment Portal) participated in yesterday, December 17.

ULTIMATE DEFENDERS. Alex, on the other hand, maintained that Sierra did well that night, adding that the female judges "were wrong" calling Sierra "a bit pitchy" and "not equal" to his "stronger" performance.
ADVERTISEMENT - CONTINUE READING BELOW
It was fortunate then that Simon has always been supportive of his protégés.
During the show, the formidable X Factor USA creator and judge even assured Sierra that she was "fantastic" and that she and Alex delivered a brilliant performance.
Simon, who was also part of the conference call, agreed that his female mentors have been unnecessarily hard on Sierra.
"It was really kinda harsh… But what I was concerned about is the artist is not like that and she came back stronger so maybe it was a good thing that it happened," Simon stated.
HECTIC SCHEDULE. Alex, for his part, had his share of struggles in the show. He related that the grueling work schedule was unexpectedly exhausting for him.
"I honestly think it's the amount of work we gave into it.
"We were prepared to work hard and learn songs. [But] we weren't really prepared for the amount of time that we spend on things that aren't really as much music as you would think. You get tired after a while, like physically."
But it was definitely all worth it according to Sierra.
"Yeah, it's a lot of work, but there's no where else I'd rather be," she concluded.
Also vying for the top spot at X Factor USA are Jeff Gutt and Carlito Olivero.
Catch their final showdown this Thursday, December 19, live via satellite at 6 p.m. (Philippine time) and at 9 p.m. for its primetime broadcast via RTL-CBS Entertainment (Channel 53 and 196 on Sky Cable).
Then witness the "Winners Announced" live episode on Friday, December 20, at 9 a.m.