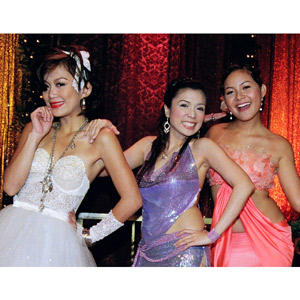 ---

Recordingartists-turned-ballroom divas Sitti, Nina, and Tuesday Vargas were all caughtby surprise last Sunday, November 11, in ABC-5's Shall We Dance: TheCelebrity Dance Challenge. Host Lucy Torres-Gomez announced that no one hadbeen eliminated from the competition. Whether or not two of the performers orall of them will be back again this Sunday is still unsure, depending onthe three resident judges' decision.
Duringthe actual competition last Sunday, ballroom neophytes Sitti and Nina were sucha revelation on the dance floor. They were not just graceful but even showedsome killer moves that not all first-timers would be able to pull off. Tuesday,who had limited time to practice since she only learned about hercompeting in the show again the night before, showed how a second timer mustdance. She surely didn't disappoint the audience for she and partner GregDimarucut made their routine exciting and even theatrical.
Allthe judges praised Sitti and Nina for accepting the challenge of dancingcompetitively in the program. In fact, both Regine Tolentino and Audie Gemoragave the bossa nova princess a pat on the back for giving her best andmemorizing all the routines by heart. Guest judge Douglas Nierras, however,wished that Sitti could have shown more energy but he was happy nonethelesswith the choreography. But Audie came to Sitti's defense, saying that heunderstood her lack of energy—that Sitti's kind of music is very laid back andit's only now that she's getting the hang of the upbeat kind of music used inballroom dancing.
It was soul siren Nina, however, who grabbed the top spotlast week. Nina's fans must be very happy for she got nothing but rave reviewsfrom all the judges who thought Nina pushed herself to the limit. Audie toldNina never to look back because she can be the next Beyonce of the Philippines."I really did my best para naman kahit papano matapatan ko ang galing ngpartner kong si Efren [Ibo]," Nina said after the show.
ADVERTISEMENT - CONTINUE READING BELOW
Tuesday,who ranked second to Nina was just grateful to be given another opportunity toshow the dancer side of her multi-faceted personality. But even though thenovelty singer wasn't able to snatch the first place away from Nina, she mightget another chance to redeem herself this week. Who knows?
ThisSunday, we'll see if the singers are back for the next level of competition orif there's another batch who will compete in Shall We Dance (9 p.m. onABC-5). But one thing's for sure, the excitement never ends in the celebritydance challenge hosted by Lucy Torres-Gomez, so don't miss a beat only here onABC-5.
Video courtesy of ABC-5