It's a relief that GMA-7's opening salvo for the year, Carmela, rids itself of what has become a hackneyed theme on extra-marital affairs and infidelity. The soap's premise makes that clear at least.
Directed by Dominic Zapata, the romantic-drama banks on Marian Rivera and Alden Richard's first-ever onscreen tandem and depicts physical beauty as a curse rather than a woman's measure of worth.
While one may deduce from the soap's trailer that Carmela is a romantic tale of star-crossed lovers Carmela (Marian) and Yago (Alden), the story also talks about the heroine's revenge on those who previously wronged her family.
A substantial portion of the pilot episode tells that Carmela's world-weary mother, Amanda (Agot Isidro), was born into the world beautiful but with bad luck as manifested by the moles on her right shoulder. Amanda turns to prayer and a supposedly lucky coin thinking they would redeem her from life's misfortunes.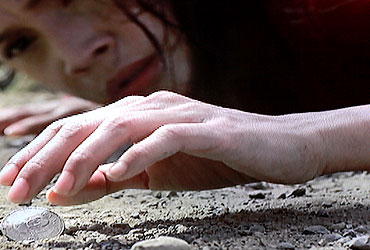 The series of unfortunate events in Amanda's life is momentarily disrupted when the deaf/mute photographer, Danilo (Ricky Davao), comes along. The two fall for each other fast and hard and soon they are wed. Their whirlwind romance brings Carmela into the world.
The pilot episode crucially reveals Carmela's reasons to retaliate against the teleserye's main villain, Fernando (Rio Vinzon), for all the iniquities he perpetrated. Among the evils that Fernando inflicted on Carmela's family are: sexually harassing Amanda (twice) and organizing the death of the hapless Danilo right smack the train tracks (he gets run over by the train) just so Fernando could "have" Amanda.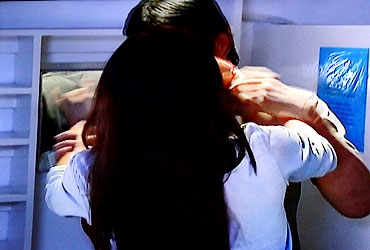 After Amanda attempts to take the law into her own hands and is consequently sent to jail, everything becomes clear to Carmela. She grows up with a hardened heart, driven to seek justice for her mother and father.
How's that for heavy drama? The giddy and the gooey romance, anyway, ensues as Carmela's plot unfolds.
For the meantime, here are several exciting things to watch for in Carmela (as made apparent by its pilot episode and trailer):
1. Marian Rivera's return to TV after smash soap, Temptation of Wife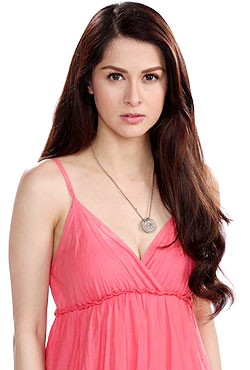 It's nice to see the Kapuso channel's primetime queen in her zone. Since her last teleserye, Temptation of Wife, concluded last April 2013, Marian became busy with her movie projects (My Lady Boss, Kung Fu Divas) and endorsement deals.
While Marian's character in Temptation of Wife and in Carmela similarly seek vengeance, in the latter, the actress is seen in a more relatable character who doesn't die and return as a different person in the story. Instead, Marian as Carmela is a person in a single journey who faces road blocks along the way. It's simpler and more realistic.
2. Alden Richards steps up as Marian Rivera's leading man and … grows facial hair!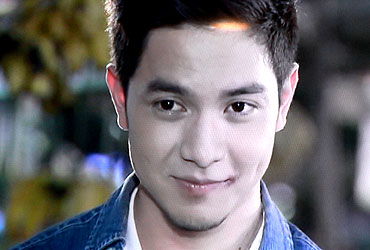 Watching Carmela makes it difficult to recall Alden back when he was doing "tween" roles.
The struggle for any artist who starts out young in showbiz is to transition from wholesome to daring (or to just really convince the public that he's not a child anymore). This teleserye, in every way, re-acquaints Alden to the public as an adult actor who can take on more mature, meatier roles. Look at the trailer, he even grew a goatie for this!
In connection with this…
3. What do you know? Marian and Alden have onscreen chemistry.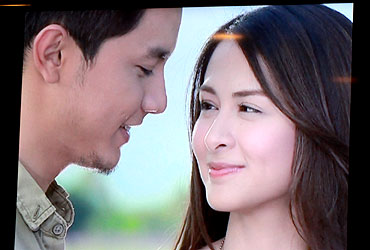 Everyone took notice the moment Marian and Alden were paired that the actress is about 7 or 8 years Alden's senior. Wouldn't that fact be a nuisance to their chemistry?
Apparently not.
Alden fills in the huge "leading-man" shoes that Dingdong Dantes, Dennis Trillo, and Richard Gutierrez once filled.
The goatie aside, Alden seems to have done his homework as he nails those repartees cum flirting-on-the-train scenes with Marian (as Carmela). This is what the teasers and preview screening reveal. It would be exciting to know if there would be more than that. For now, one thing's for sure, Alden has stepped up his acting!
4. Get ready for more of Roi Vinzon's onscreen meanness.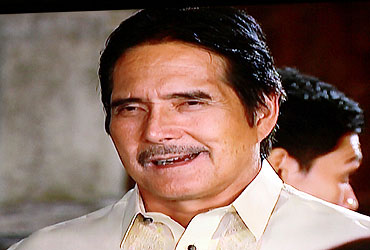 Had the veteran actor not infuriated you enough in My Husband's Lover, wherein he played the domineering alpha male father of the closeted gay Vincent (Tom Rodriguez), Roi does it again in Carmela.
As aforementioned, Roi's character, Fernando, lusts after Amanda in the soap and sexually harasses her twice, causing the latter to attack him. These events thrust the plot in its rightful direction and along the way, Roi as Fernando keeps wreaking havoc in Carmela and Amanda's lives.
5. Laurice Guillen's kontrabida-acting prowess, combined with Roi Vinzon's acting chops, makes for a winning villain dream team.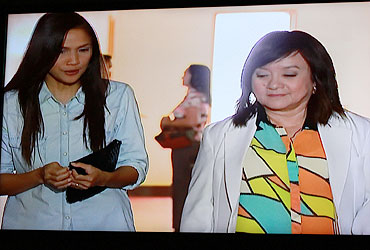 Lauded actress Laurice Guillen plays the wife of Roi's character in the soap. She plays the hypocritical conservative Catholic doctor, Fides, who is oblivious to her husband's lustful and shady character. Together with Fernando, she makes life hell for Amanda and Carmela.
In fact, Laurice's first scene in the pilot episode, where Danilo introduces Amanda to Fides, was so biting and sarcastic that one couldn't tell whether he is astounded or downright annoyed at Fides.
6. Carmela's official theme song, "Sana'y Ikaw," happens to be a beautiful song.
And surely we wouldn't mind hearing it every night from now on. An original composition written by Vehnee Saturno, arranged by Elmer Blancaflor, and performed by James Wright, the melody and lyrics of "Sana'y Ikaw" seems like a fitting soundtrack to Carmela and Yago's tale.
7. Over-the-top turn of events make Carmela a definitive Pinoy soap.
Let's just say that the pilot episode gave quite a tasty appetizer peppered with melodramatic sequences and exaggerated turn of events. Watching Amanda and Danilo's one-day romance turn into an actual marriage, seeing Amanda get raped for the second time, and the plethora of over-the-top dialogues as "Carmela, hindi namamatay ang pagmamahal," certainly suits the Filipino's inherent love for such soaps.