Xian Lim incurred the wrath of Netizens when he poked fun at a Kim Chiu impersonator during a live episode of Banana Nite aired on ABS-CBN last night, January 30.

The actor appeared as a guest on the comedy show, which was aired live from the plaza of Sta. Cruz Church, Binondo, in time for the Chinese New Year countdown.

During this episode, Xian performed the song "So It's You" for the audience gathered at the church plaza.

Halfway through the song, Xian went down the stage to shake hands with members of the crowd.

Towards the end of the song, a kalokalike (impersonator) of Kim Chiu went out onstage to join the actor.

The impersonator moved towards Xian and she even waved at him as the actor kept on singing.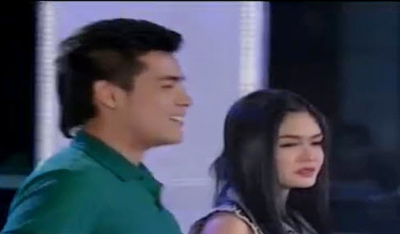 After performing his production number, Xian seemed puzzled by the presence of the young girl onstage with him. He said out loud, "Maraming, maraming salamat! Sino 'to?"

But he continued with his spiel: "Maraming, maraming salamat guys! Thank you so much! Siyempre, sa lahat ng nandito, Happy Chinese New Year po sa inyong lahat!"

The Kim Chiu kalokalike also greeted the crowd a Happy Chinese New Year.

Xian then addressed the girl, "Ang taas ng energy. Kamusta naman?"

The girl answered, "Okay naman."

Xian then said with a laugh: "Anong ginagawa ni Bea Binene dito?"

The actor again turned to the crowd to say, "Thank you and have a wonderful Chinese New Year."

Xian then motioned as if he were about to leave but Jayson Gainza suddenly went up the stage to chat a bit with the young girl and Xian.

Xian told Jayson, "Nag-guest siya from GMA," before laughing again.

Jayson tried to change the topic by asking Xian to describe the preparations that he did for the Chinese New Year.

Xian responded by saying, "Paano maghahanda nandito pa tayo? Hindi ko pa alam pagkauwi ko mamaya. Malamang may handaan dun."

Jayson also asked the girl the same question but Xian interjected, "Tanungin natin kung anong teleserye niya sa GMA. Si Bea Binene."








Xian's actions took some people by surprise and others wondered if it was staged as part of the late-night comedy show.


Here are some negative reactions from Twitter users regarding Xian's behavior on Banana Nite: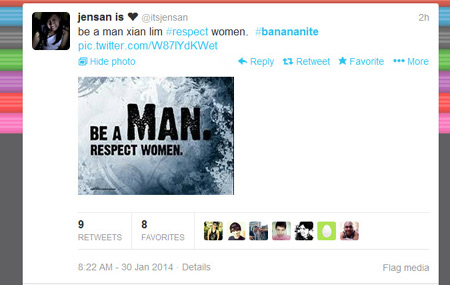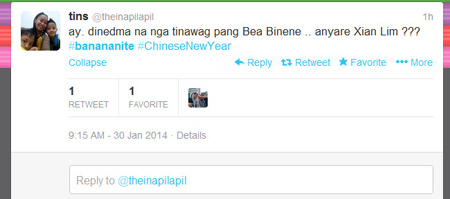 Meanwhile, a fan defended Xian by indicating that the actor was probably rushing to go somewhere else, which is why he acted that way. The said screengrab from @IamAPacifist also revealed that Xian assisted the impersonator in going down the stairs but this was not shown on television.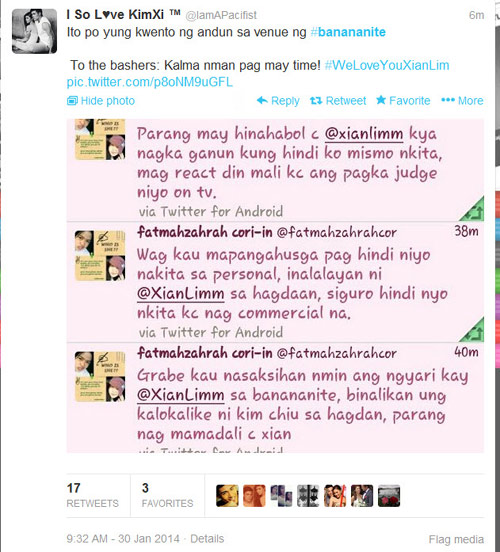 Still, there are those who would rather not pass judgment on Xian.








XIAN LIM APOLOGIZES. At around 2 a.m. of January 31, Xian posted this apology in his Twitter account (published as is):


"I deeply apologize if I caused negative feelings while singing onstage during the Chinese New Years Eve countdown...

"It was not my intention, and I take full responsibility for my actions.

"HAPPY CHINESE NEW YEAR EVERYONE! :-)"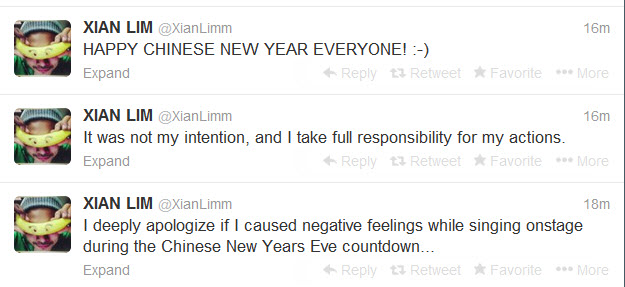 PEPsters, what can you say about Xian's actions in Banana Nite? Share your thoughts in the comments section below.