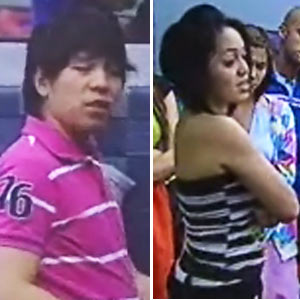 ---

Therain didn't stop Mcoy Fundales and Ethel Booba from leaving Big Brother's housebefore dawn earlier today, November 22. It was a hasty decision for the twocelebrity housemates after Mcoy engaged in a heated argument with Big Brotherinside the confession room of the Pinoy Big Brother house.


Forthe weekly task called "Lights, Camera, Action," the housemates must all worktogether to make a short independent movie. It must be 10-15 minutes long andthe scenes must all be shot inside the PBB house. The celebrity housemates willwork on the pre-production and production, but Big Brother will be incharge of the post-production. They were supposed to submit their final draftby Thursday afternoon so Kuya could edit the movie in time forthe premiere by the end of the week. The housemates chose to bet 75% of theirbudget.

Mcoy told his housemates about a murder story that takesplace in Europe. A Filipino couple (Mariel and Victor) is set to visit theirrich friend (Baron) who narrates the morbid history of his ancestral home. In aflashback scene, the viewers will see Baron's over-possessive grandfather (Jon)whose jealousy led him to poison his own wife (Riza) and a good friend (Will).Still, Baron's character insists that his villa is not haunted. Tentativelytitled Pamana, the housemates rushed to shoot the indie film with Mcoy asthe director and Mommy Yayo as the script supervisor and second-in-command.
ADVERTISEMENT - CONTINUE READING BELOW

However,on Tuesday night (November 20), Big Brother brought up the issue of plagiarismwith the housemates. Apparently, he thinks that the script written by Mcoy isquite similar to the short story The Ghosts of August (1993) penned byGabriel Garcia Márquez. The Musikerong Daddy explained that this particular story was discussed among them whilebrainstorming but he insisted that their group's concept was hardly the same.

Earlierthis afternoon, November 22, PBB Uber showed some clips that ledto the flare-up of Mcoy. "Naparito kami Kuya upang panindigan ang script atistorya na aming ginawa para sa aming weekly task sa linggong ito. Ito po ayisang orihinal na kuwento at hindi po halaw sa istoryang nasa librong hawakko," said Mcoy, who was seen holding a copy of Gabriel Garcia Márquez compilation of short stories Strange Pilgrims (1992).

BigBrother told him, "It's an adaptation, di ba?" To this, Mcoy said: "Hindi rinpo, e. Hindi rin po masasabing adaptation."
ADVERTISEMENT - CONTINUE READING BELOW

Kuyaonce again asked: "Paninindigan mo ba? Sabihin mo nang diretso na orihinal angkuwento at handa kang humarap sa anumang reklamo na lalabas tungkol dito." Theformer vocalist of the band Orange & Lemons declared, "Pag ganun po ang kaso,pinaninindigan ko po na iba ang istoryang ito sa istorya na nasa libro. I guessyou very well know that my band has experienced the same problem.

"Paninindiganko po na ang istoryang ito ay iba sa istorya na nasa libro na ito ni GabrielGarcia Márquez at malayo rin pong sabihin na ang istoryang ito ay halawmula sa istoryang nandito," Mcoy insisted.
A LOOK BACK. We recall that Mcoy's former band, Orange & Lemons, faced a scandalinvolving the alleged rip-off of their song "Pinoy Ako," which was thetheme song of PBB Season One. It is said the melody of the band's hit song isbased on the song titled "Chandelier" of the UK-based '80s duo The Care.This was a sensitive topic for Mcoy and could be thereason why he was very much affected by the plagiarism issue that Big Brotheronly wanted to clarify.
ADVERTISEMENT - CONTINUE READING BELOW

Evenafter a heart to heart talk with Big Brother, Mcoy stormed out of theconfession room and announced to the housemates that he was quitting. Fumingmad, Mcoy removed his lapel mic and declared that he no longer wanted to wearit. The Musikerong Daddy pointed out that he found it hard to argue withsomeone whose face he could not even see.

TakingMcoy's cue, Ethel Booba announced she was joining him. The Ultimate Pasawayhousemate has issues of her own like the "praning theory" aboutwhether Mariel Rodriguez was just a houseguest or a housemate who was alsoeligible for the big win, and a pending phone call for her boyfriend which shehad requested two weeks earlier.

Mcoyand Ethel are the second and third celebrity housemates who opted for voluntaryexit for this season. Unlike Gaby dela Merced who was welcomed to the outsideworld by her family and fans, only the staff, crew and security of PBBCE2welcomed the musician and the comedienne outside the Big Brother house at 3a.m. on this rainy Thursday.
ADVERTISEMENT - CONTINUE READING BELOW

Nowthat the Mcoy and Ethel are out of the game, how will the rest of thehousemates inside the house face their weekly and daily tasks? Who will displayleadership skills like Mcoy and who will make them laugh the way Ethel did? Yetanother important question: would Big Brother take in new celebrity housematesto replace them?

Forsure, Big Brother will reveal his plans at the right time, so tune in to Pinoy Big Brother Celebrity Edition 2,weeknights after Lastikman, and everyafternoon for PBB Uber.