GMA News TV launches a unique 15-minute TV cooking show, Kitchen Stories by CCA (Center for Culinary Arts) which aims to educate and excite audiences.
KITCHEN STORIES. The 15-minute cooking show features student-chefs who show viewers how to deal with situations that are commonly encountered in the household kitchen. These include preparing food for a housewarming event, identifying what are easy-to-cook healthy alternatives, or cooking budget-friendly dishes, and many others.
The seven youths, who are actual students enrolled with CCA, embody the youthful vigor and creative enthusiasm of the typical CCA student and the recipes they will be preparing are not only easy to prepare but also a reflection of their mastery of the culinary skills they have learned from school. Also, the Kitchen Stories hosts are already part of the Kitchen Stories web version.
Mark Reyes, a film and television director, serves as director while Chef Mira Cruz, a CCA chef-instructor and also the senior chef consultant for the newly opened Epicurious restaurant in the East Wing of Shangri-La Plaza Mall, serves as a consultant.
"There is more to Kitchen Stories than just cooking; the show aims to entice the youth to consider the joys of kitchen wisdom as part of growing up. We are excited with the premise of a show that has fresh faces and vibrant personalities who are real culinary students, and not actors or hosts pretending to do a cooking show. The situations and challenges in every episode is something that the viewers can relate to and the lessons they can adapt in their own personal spaces," explained Ms. Anne Plamares, Corporate Public Relations Manager of CCA-Manila.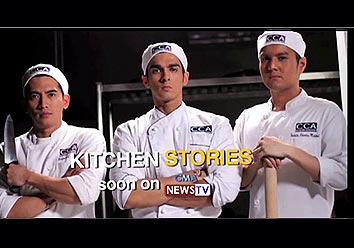 The TV series aims to get a young demographic (15 years and above) and middle to upper class audiences. Viewers will relate to the problems and challenges that the cast will encounter, and this show could encourage them to pursue a career in the restaurant industry.
The show also aims to encourage food enthusiasts and people who are entertaining the possibility of pursuing a cooking career.
Kitchen Stories airs on GMA News TV, from 4:55 pm to 5:10 pm. For more updates, visit the official website at www.cravingsetv.com or like its Facebook page at facebook.com/cravingsetv