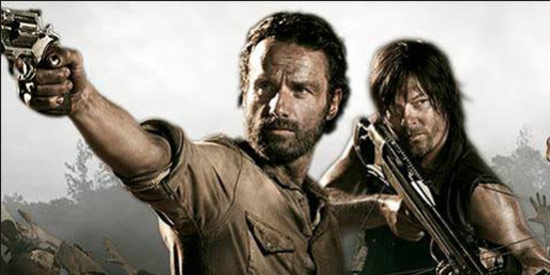 ---
Fans of the hit American horror drama The Walking Dead finally satisfied their curiosity by watching the mid-season premiere on Monday, February 10.
PEP.ph (Philippine Entertainment Portal) was invited to the viewing party for the parallel airing of the ninth episode of The Walking Dead with other members of the press and bloggers held at the Fox Philippines office in Bonifacio Global City.
Fox Philippines Channel Head Jude Turcuato said in an interview that they almost got two main characters of the series to promote the show in the Philippines. He revealed, "We almost got Rick and Daryl."
Andrew Lincoln plays Rick Grimes, the leader of a group of survivors in a post-apocalyptic world overrun by zombies. Meanwhile, Norman Reedus is cast as Daryl Dixon, a tracking expert and a member of Rick's pack.
The two main stars of the popular show visited Singapore and Japan last month to personally meet their fans. Jude said they are still hoping that they can get the stars of the zombie apocalypse series to visit the country.
ADVERTISEMENT - CONTINUE READING BELOW
FIRST AND FRESH. The second half of The Walking Dead Season 4 is shown in Parallel Play on FOX.
Filipino fans can catch the latest episodes of the series just minutes after its U.S. release. FOX Philippines decided to take this step to make viewers refrain from downloading episodes on the Internet.
Jude said, "This is something new for us. We're actually showing it practically the same time.
"It's really to curb all the downloads and to have everybody… have it available to watch before anybody can download it because nirerecord pa lang ito sa Internet while you guys watch."
The TV executive assured Filipino viewers that they will still have the previous timeslots of the show for those who were used to watching the series on weekends.
"Hindi namin tatanggalin yung original airing niya where we aired it Saturday 8:55 [p.m.]," Jude said.
He explained, "It was the highest rated premiere for any drama in cable TV or satellite TV.
ADVERTISEMENT - CONTINUE READING BELOW
"We wanted to make sure na yung sanay sa 8:55 ng Saturday, puwede pa rin nilang panoorin."
BREAKING RULES. Members of the press asked Jude what viewers can expect from the second half of The Walking Dead Season 4, but the TV executive admitted that he also doesn't know what to expect from the show.
He said, "For me the most memorable moments in The Walking Dead is when certain main characters get written off or find their demise.
"Those moments because you don't think that… you know in most series, they keep most of the characters.
"This is one of the series where you don't know what to expect and you don't know what to expect and for me that's the most memorable part of all four seasons.
"You can really go through each season and find characters who you think wouldn't die, actually die."
ADVERTISEMENT - CONTINUE READING BELOW
Jude continued, "I don't know what to expect anymore.
"Characters die inherently isn't what makes a show interesting but it makes it very unpredictable.
"So definitely I don't know what to expect."
Jude said that show's unpredictable storyline is definitely one of its strengths, which is why more and more people are getting hooked on watching the series.
This allowed The Walking Dead to record the highest ratings for an international series in Philippine cable and satellite TV.
"From the first season up to this season, the ratings have gone up," Jude told PEP and other members of the press.
"I think a lot of it is mainly because successful seasons are a reason for promoting a series.
"Yung first season, most of the fanbase really is from the comic books and from the people who know about the program already.
"But since the first season was already successful—it rated very well in the US, it rated very well here—the buzz was high.
ADVERTISEMENT - CONTINUE READING BELOW
"People who watched told their friends so people got curious.
"So, the second season, more and more people watched so ratings were even higher than the first season.
"Then, third season is like a snowball effect. Now were in the fourth season, it's the same thing.
"In fact, The Walking Dead is the highest rated series in Philippine cable and satellite TV."


This American TV show is based on comic book series by Robert Kirkman, Tony Moore and Charlie Adlard.

The Walking Dead Season 4 airs 11:35 AM with primetime encore at 8:55 PM, on FOX! FOX is seen on SkyCable Ch. 50, Destiny Cable Ch. 26, Cable Link Ch. 51, and Cignal Digital TV Ch. 41.