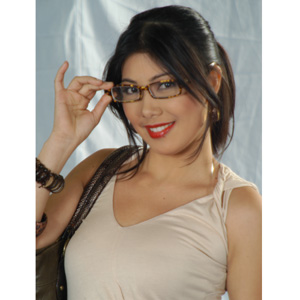 ---

Former Pinoy Big Brother Season2 housemate Saicy Aguila is out to prove that aside from being a topnotchdancer, she can also be a versatile actress. The 24-year old star plays Ines/Byutikiin Vhong Navarro's fantaserye Lastikman.


While inside Big Brother's house, Saicy wowed the viewers with her talent indancing, particularly the samba, which gave rise to her moniker Samba Dancing Diva. The dance instructor-turned-celebrityhas been strutting her moves in front of a larger audience and in a much biggerdance floor—national television. She has been dubbed as ASAP Supahdance'sDance Cool Siren. Saicy also became one of the celebrity show dancers in UCan Dance Version 2, and shares a dancing segment with fellow housemateMickey Perz on the Sunday noontime variety show ASAP '07.
Now, viewers can see another talent of Saicy—acting. Shewas given supporting roles and has appeared as a guest in romantic-comedy showslike Love Spell. This week, her fans can now watch the ballroom dancing choreographer from Bacolod portrayher first full-length character role in the fantaserye Lastikman.
In Lastikman, Saicyplays the role of Ines Semantela, a university teacher who is always envious ofthe people around her, making her spread gossip about them. She transformsinto the slimy, sassy and seemingly invincible mutant lizard called Byutiki. Her acid spit can meltanything instantaneously and she can use her tongue as a whip. She can also regenerate any part of her bodythat gets severed in a fight, which makes it so hard for the superheroLastikman to defeat her.
Viewers will surely enjoy seeing Saicy in a tight-fittingcostume that accentuates her curves. Moreover, they will watch theDancing Diva perform a role that was supposed to have been played by Ai-Aidelas Alas.


ADVERTISEMENT - CONTINUE READING BELOW
This week, Saicy's actingcapability and flexibility will be tested in her role as the lovely but equallyterrifying Byutiki. Will she succeed as an actress or is she better off on thedance floor? Find out on Lastikman,weeknights after Pangarap na Bituin on ABS-CBN.