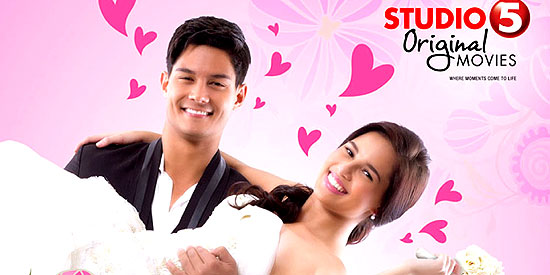 ---
Being a "made-for-TV" movie does not stop The Replacement Bride from displaying a decent, feel-good watch. The Studio5 Original film invests on the acting chops of its lead and supporting actors, which is complimented by a delightful and witty screenplay that tugs at one's heartstrings.
Being a chick flick, The Replacement Bride contains clichés of a romantic-comedy: it utilizes the winsome-boy-meets-quirky-girl-under-unlikely-circumstances plot; it climaxes via a montage of kilig scenes with a cheesy love song for its background music, also, the story ends happily ever after. Only Mac Alejandre's full-length narrative forgivably does everything with flair. While reminiscent of the all-time rom-com favorite My Best Friend's Wedding, the film's writers make sure to early on avert the plot by ending it differently and adding in elements that make the film very Pinoy.
Chynna (Jasmine Curtis Smith) has been in love with her best friend Erick (Edgar Allan Guzman) since childhood. The smitten girl impulsively tries to stop his wedding right smack during the ceremony. While her timing is perfect, Chynna fails in her mission by interrupting a different couple's wedding at the wrong church.
ADVERTISEMENT - CONTINUE READING BELOW
Chynna's actions consequently messes up the groom Mikael's relationship with his bride, Sandy (Arci Muñoz). Sandy comes to believe that Mikael (Daniel Matsunaga) is not the changed man he swore he is. It turns out that Mikael is a former womanizer with issues against his father.


Chynna's intrusion enrages Mikael who eventually forces Chynna to fix the pandemonium she started since Sandy has become a runaway bride.
The search for Sandy allows Chynna and Mikael to get to know one another and eventually develop feelings for each other. For his part, Mikael comes to know that the rash and clumsy Chynna is a genuinely caring person, raised by her endearing grandparents. Chynna, on the one hand, starts to see through Mikael's arrogance and soon falls in love with the groom who is dedicated to winning his bride back.
The Replacement Bride is, if anything, a run-of-the-mill romantic comedy but works mainly because of the strong onscreen connection between its lead actors. They clearly have chemistry.
ADVERTISEMENT - CONTINUE READING BELOW
Jasmine, who delivered a stellar performance in the Cinemalaya award-winning film Transit, proves that she can wing light roles as much as she can do heavy drama. The film came off funny and sad whenever it was supposed to, mostly because Jasmine's candidness was infectious.
Daniel, knowing how stiff he used to be in his previous soaps, struggled less in The Replacement Bride. Evidently an eye-candy, the model-turned-actor figures as a leading man for Jasmine. His acting didn't actually disappoint.
Arci's presence as Sandy is a plus for the film, too. The actress, granted an affable character, made the most out of her exposure in the film. She shines in that scene when it's time to let go, prompting audiences to wonder was it right for Mikael (Daniel) to choose Chyna over Sandy, knowing the latter changed him for the better?
But since the start of the story, it is made obvious that the leading lady will end up with the leading man. Every turn and twist of the plot made sure of that. But the disarming punch lines peppered all over the screenplay and the uncontrived chemistry of its tandem make The Replacement Bride an hour-plus, entertaining ride.


Ed's Note: The "PEP Review" section carries the views of individual reviewers and does not necessarily reflect the views of the PEP editorial staff.



ADVERTISEMENT - CONTINUE READING BELOW