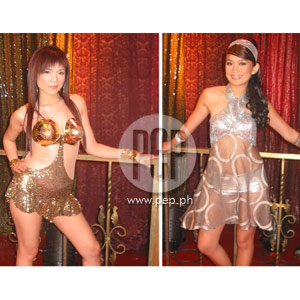 ---

Fans of bossanova princess Sitti may not have been too happy about Lucy Torres-Gomez's bigannouncement last Sunday in Shall WeDance: The Celebrity Dance Challenge. The host declared that Sitti will nolonger be competing in the December 2 finals.
Sitti backedout from the finals scheduled for telecast on December 2, Sunday, 9 p.m. due to a "priorcommitment." The singer explained in the text-voting episode that she wanted to go all the way to the finals, having already investedso much time and effort in the competition, but she just couldn't cancel herout-of-town gig that had been scheduled way before she joined the contest.
Sitti had these parting words for her fellow finalists Nina andTuesday Vargas: "Alam ko naman magaling kayo, magaling tayong lahat kayai-enjoy ninyo na lang ang pagsasayaw sa Shall We Dance and good luck tothe both of you."
With orwithout Sitti, the show must go on and it will indeed. This Sunday, December 2,the sultry diva faces the naughty singer in a ballroom battle royale. Who willbe a hit on the dance floor and who will get a whip from the three residentjudges—ballroom world champion Ednah Ledesma, theater director Audie Gemora anddancer/host Regine Tolentino?
In their stintin SWD, both Nina and Tuesday have proven their dancing talent, pushingthemselves to the limit to meet the high standards of the judges. Like them,they believe that ballroom dancing is a serious sport, so it must be takenseriously.
Nina andpartner Efren Ibo have already made a mark in the competition—they started offreally strong and have managed to stay on top for two weeks. Tuesday andpartner Greg Dimarucut, placed second in the first round of competition butthey dropped to the last spot in the next round. The two were advised to gettheir act together if they hope to beat Nina and Efren in the last leg of thedance-off, especially since their scores in the eliminations will be carriedover to their score in the finals.
ADVERTISEMENT - CONTINUE READING BELOW
In the finals,Nina and Tuesday will do two routines each, a dance of their choice and therumba. The two singers will actually bedancing to the tune of their own songs that have been arranged ballroom-style.
Viewers shouldleave their next weekend open (December 8 and 9) since Shall We Dance has prepared something very special for all of theirloyal followers. On these dates, Shall WeDance will have a two-part special that promises to be a really huge event.
Shall We Dance: The Celebrity Dance Challenge
airs on ABC-5 every Sunday at 9 p.m.