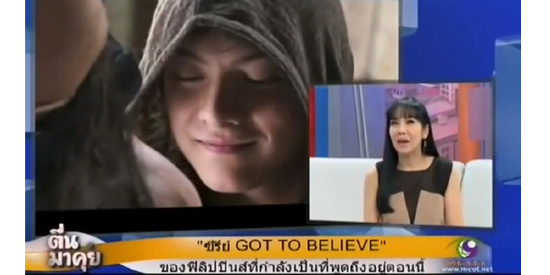 ---
Got To Believe, starring Daniel Padilla and Kathryn Bernardo, has just ended its successful run on Philippine television.
Since this ABS-CBN teleserye started airing on August 26, 2013, it has landed consistently among the most-watched programs in Mega Manila and nationwide households.
The popularity of the show has even managed to catch the attention of neighboring countries, particularly Thailand.
Got To Believe has been featured on the Thai show Tuen Ma Kui (Morning Talk).
The said episode featured clips of G2B, which features the love story of a poor girl named Chichay Tampipi (played by Kathryn) and a rich, sheltered boy named Joaquin Manansala (played by Daniel).
The Thai program showed clips from the show wherein Chichay went to the mansion and Joaquin set a trap, causing the young girl to hang upside down from the ceiling.
Dramatic scenes of the cast members were shown as well as scenes from Chichay's trip to Singapore.
Got To Believe in Thai show
The Thai show Tuen Ma Kui also featured other popular Asianovelas such as You Who Came From the Star and Thailand's own version of Full House.
You Who Came From the Star is topbilled by Korean actress Jun Ji-hyun (of My Sassy Girl fame) and actor Kim Soo-hyun (of Dream High fame).
A Twitter user who has the handle @CrosswordMissy translated a portion of the program by saying that the Thai host described Kathryn Bernardo as "so young, so adorable and so famous" in the Philippines.
Another translation indicated that the hosts pointed out that most trending dramas in Thailand tend to come from Japan, Korea, and China but this time, it came from the Philippines.
G2B FINALE. In the March 7 finale episode of Got To Believe, fans got to see the so called "best ending ever" for the Tampipi and Manansala families.
In the past, Juliana accused Chichay's father, Chito (Benjie Paras), of firing the gun that caused a stray bullet to become lodged in Joaquin's brain.
However, Joaquin testified in court that the bullet from his head did not match with Chito's gun.
Feeling depressed and lonely, Juliana (played by Carmina Villarroel) wants to end her suffering by shooting herself with a pistol.
She confessed to Jaime (Ian Veneracion) that she was the one who fired the pistol that caused their son's brain injury.
Joaquin eventually convinced his mother to surrender the pistol.
When Juliana faced Mama Bear/Betchay (Manilyn Reynes) to ask for forgiveness, she was about to kneel down but Betchay stopped her and said there was no need. Policemen took away Juliana to pay for her crime.


Years later, Juliana and Jaime tie the knot with their family members and friends in attendance. Chichay even served as a bridesmaid in the wedding.
Carmina's character wore a gown designed by Pepsi Herrera during the wedding ceremony.
As for Joaquin and Chichay, they ended their love story with a magic trick-turned-marriage proposal.
Joaquin pretended to be have an emergency, causing Chichay to rush to his building. The young man waits for her at the roofdeck of the building and stands on the ledge, offering a pink rose for his ladylove.
He asks Chichay to close her eyes but he suddenly disappears, making the girl believe that he fell off the building.
The young girl goes down the building and searches for him on the street. She sees a rose and when she picks it up, Joaquin is shown being lowered upside down from a piece of rope.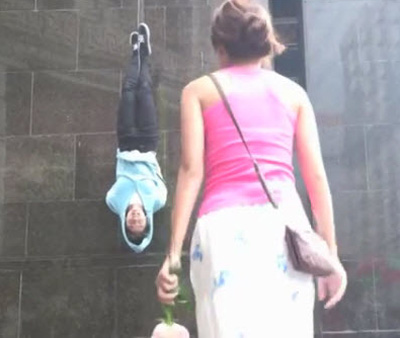 He is biting a ring between his teeth and when Chichay approached him, he popped the magic words: "Will you marry me?"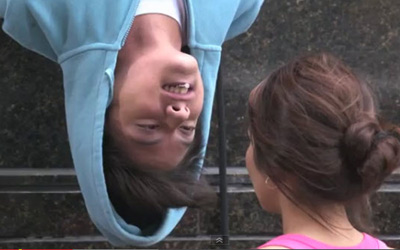 However, the girl is upset because of the prank that he pulled. She threatens to tell her father, Papa Bear/Chito (Benjie Paras), but he was already there, helping Joaquin prepare for the marriage proposal.
Joaquin calms her down by apologizing and asking again if he can marry her. Chichay looks at her father who indicates his approval.
Joaquin and Chichay tell each other "I love you" before leaning in as if to kiss each other. However, they end up bringing their foreheads and noses together.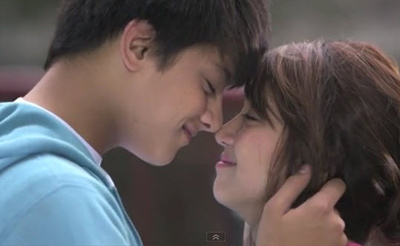 The finale episode allowed Got To Believe to dominate the trending topics of Twitter in the Philippines and even worldwide.
ADVERTISEMENT - CONTINUE READING BELOW