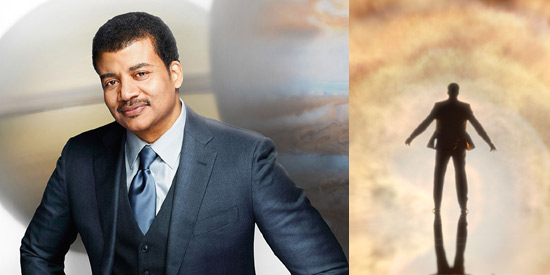 ---
Cosmos: A Space-Time Odyssey encourages its viewers to "constantly experiment," "follow the evidence," and "question everything."

These are the same rules that astronomer, astrophysicist and author Carl Sagan told audiences who watched the original series Cosmos: A Personal Voyage.
A Personal Voyage was written by Sagan and his wife Ann Druyan. It was considered the most watched series in American public television during the 1980s and was seen by more than 500 million people in 60 countries.
This 2014, Druyan is now executive producer of this sequel along with Family Guy creator Seth MacFarlane.
Astrophysicist Neil deGrasse Tyson presents all 13 episodes of the updated series titled Cosmos: A Space-Time Odyssey.
National Geographic and FOX organized a screening of the series' first episode at The Mind Museum last Friday. The series will have its simultaneous premiere on the NatGeo Channel and FOX Channel this Wednesday, March 12, at 10 PM.
When watching Cosmos: A Space-Time Odyssey, expect a documentary film that resembles a sci-fi movie interspersed with engaging lessons in history and science.
Its first installment, "Standing Up in the Milky Way" gives audiences an expansive view of our own galaxy and our place in it.
See through the rings of Saturn, Jupiter's wild storms and imagine how it feels like to be in the frozen worlds of Uranus and Neptune.
In the first episode, Tyson explains: "Science gives us eyes to see what our senses cannot."
The series itself gives us a way to understand the universe and how our own perspective of it evolved.
Animation helped make the story of Renaissance Italian astronomer and "rebel" Giordano Bruno regrettably heartbreaking and enlightening.
Cosmos challenges us to question our own beliefs, traditions and religion.
Some might find the information and visual spectacle fitted in one hour of the series' first episode as too much to take in. Though it was presented in a manner that is not tedious or crammed, a repeat viewing may be necessary to fully appreciate the details revealed on the program.
ADVERTISEMENT - CONTINUE READING BELOW
Facts and figures were shared by Tyson in a way both kids and adults would understand as well as enjoy.
The Cosmic Calendar was more visually explicit in this series' version compared to its 1980's prequel thanks to the power of computer-generated imagery. It was also an effective graphic metaphor to make us recognize relative infancy of humans compared to the planet's billion-plus years age. The information also elicits subjective responses of our humanity's arrogance and/or should-be humility despite or because of our young age. It can also inspire us to be kind to ourselves as we're all still on the path to our own growth and maturity.
The first episode ends with Tyson's personal story of meeting a generous and modest Sagan who supported his then young dreams for astronomy—a touching endnote that ties the 1980's prequel to the 2014 sequel.
Cosmos: A Space-Time Odyssey is a cosmic effort that promotes openness and skepticism to new ideas—a scientific method that allows any new information to be constantly examined and experienced.
It is perfect viewing for all who are willing to go beyond their imagination and even question it without losing one's sense of wonder.