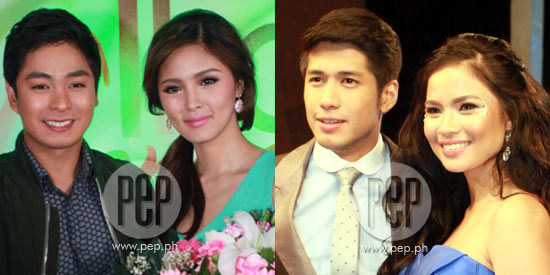 ---

Last night, March 10, two new primetime programs aired their pilot episodes on rival TV stations.

ABS-CBN aired the pilot episode of the epic drama series Ikaw Lamang while GMA-7 premiered its sirenaserye titled Kambal Sirena.

Ikaw Lamang and Kambal Sirena are not on the same timeslot since the latter airs as the same time as the Kapamilya show Honesto.

However, the hour-long pilot episode of Kambal Sirena allowed the show to overlap with ABS-CBN's new show Ikaw Lamang.



IKAW LAMANG. ABS-CBN's teleserye depicts a love story that blooms in a sugarcane plantation located in Central Visayas.

The story begins in 1964 when an impoverished family decides to look for work in Salvacion to serve as sakadas (sugarcane harvesters) in the hacienda owned by the alkalde Eduardo (Tirso Cruz III).

Samuel (Zaijan Jaranilla) develops a crush on Isabelle (Alyanna Angeles) when he sees her for the first time inside her family's car.

However, their friendship is tested over time because they come from different social classes. Samuel hails from a family of plantation workers while Isabelle is the only daughter of hacienderos.

Franco (Louise Abuel), the son of the alkalde, makes a deal with Samuel: he would teach Samuel how to read and write if he teaches him how to raise sugarcane.

Eventually, Samuel introduces his childhood friend Mona (Xyriel Manabat) to Franco while the latter brings Isabelle (Alyanna).

The children meet secretly in an abandoned mansion since they are forbidden by their parents to interact with each other.

Coco Martin, Kim Chiu, Jake Cuenca, and Julia Montes will portray the grownup versions of Samuel, Isabelle, Franco, and Mona, respectively.

Ikaw Lamang is directed by Malu Sevilla and Avel Sunpongco.



KAMBAL SIRENA. In GMA-7's original sirenaserye Kambal Sirena, viewers get to know the love story between a human and a merman.

Marissa (Mickey Ferriols) is about to get married to Enrique (Ryan Eigenmann) but she is having doubts about him since he has a tendency to maltreat her.

On their wedding day, Marissa runs away by riding a speedboat but she gets into an accident in the middle of the ocean.

A merman named Damos (Yul Servo) saves her and heals her wounds by using seaweed.

In order to be with his beloved, Damos decides to break the laws of Serenadia by getting a magical bracelet that will give him human legs.

Marissa is about to leave Enrique but he assaults her when he catches her trying to run away from him again. Damos shows up and beats Enrique when they fight in a pool.

The two lovers escape and live simply in a hut located near the sea.

After some time, Marissa finds out that she is pregnant. Their bliss is shattered when Enrique suddenly appears and threatens to kill them with his gun. The episode ends on a cliffhanger as it shows that Enrique pulled the trigger but it was not indicated who got shot in the end.

Kambal Sirena is directed by Dondon Santos.



MEGA MANILA RATINGS. Based on ratings data recorded in Mega Manila by AGB Nielsen, Kambal Sirena was able to get 23.6 percent rating during its hour-long pilot episode.

It counterpart program on ABS-CBN, Honesto, was able to get 27.3 percent rating. Child actor Raikko Mateo plays the title role in this drama series.

Meanwhile, Ikaw Lamang registered 24.1 percent during its pilot episode on March 10.

Another mermaid-themed show, Dyesebel, is scheduled to air its pilot episode on ABS-CBN by next Monday, March 17.

Anne Curtis brings life to the komiks character Dyesebel while Sam Milby and Gerald Anderson serve as her leading men in this remake.

(To learn more about Dyesebel, CLICK HERE)


NATIONWIDE RATINGS. According to Kantar Media, the Kapamilya Network's Ikaw Lamang registered 27.4% national TV rating, while GMA-7's Kambal Sirena registered 18.15 during its pilot episode.





ADVERTISEMENT - CONTINUE READING BELOW