---

Love stories between the rich and the poor have been depicted over and over again in romance novels, TV shows, and movies.

It has become typical to show how people from different backgrounds end up fighting for their love against all odds.

This 2014, ABS-CBN presents a love story between the haves and the have-nots in a show that spans several decades.

In Ikaw Lamang, love blossoms between the characters of Coco Martin and Kim Chiu amidst class struggles in a sugarcane plantation.

Directed by Malu Sevilla and Avel Sunpongco, this teleserye depicts the intertwined lives of a family of sakadas (sugarcane harvesters) and the powerful families owning haciendas in central Visayas.

In the opening sequence of the teleserye, Coco Martin's character named Samuel is shown standing in front of a rundown mansion. He walks around the area until he ends up in front of a fountain where he is seen holding up a diary.

His opening spiel underscores the gargantuan task befalling upon his shoulders: fighting for love in a predetermined world. Can he find love beyond one's station in life?

"Simula nang ipinanganak tayo, lahat nakatakda na para sa atin. Mula sa pangalan, estado sa buhay, pati ang ating hinaharap.

"Pero minsan, biglang sisilip ang tadhana. Kakalabanin niya ang lahat ng pinaniniwalaan natin...at kadalasan, pag-ibig ang sandata niya.

"Sa lahat ng pagtutunggaling ito, walang magiging madali. Siguradong may masasaktan. Kung minsan, may masasawi pero isa lang ang sigurado sa lahat, wala nang tatamis pa sa tadhanang napagtagumpayan....sa tadhanang pinaglaban."

The story of Ikaw Lamang begins in 1964 when an impoverished family decides to work as sakadas in the hacienda owned by the alkalde Eduardo (Tirso Cruz III).

A young Samuel (Zaijan Jaranilla), who hails from a family of plantation workers, befriends Isabelle (Alyanna Angeles) even though she is forbidden to interact with him because she is the daughter of hacienderos.

It might sound like a typical poor-boy-falls-in-love-with-rich-girl story but Ikaw Lamang proves to be much more than that.

While watching the first few episodes of Ikaw Lamang at the advanced screening at Trinoma, there were moments when the crowd spontaneously applauded in reaction to the intense scenes unfolding onscreen.

It is also interesting to note that Dreamscape (the business unit producing Ikaw Lamang) even managed to sneak in a placement of the Kapamilya Network's fantaserye Dyesebel by incorporating the komiks into the dialogue.


Here are 5 reasons why Ikaw Lamang is worth watching:


5. The retro music and outfits are totally groovy.

The creators of the period drama put a lot of effort into the production design and it is interesting to observe elements that aim to add authenticity to the show. In one party scene, vintage bottles of Coke are used just to establish a particular time period.

Even the hairstyles and the wardrobe are carefully chosen to evoke a certain era.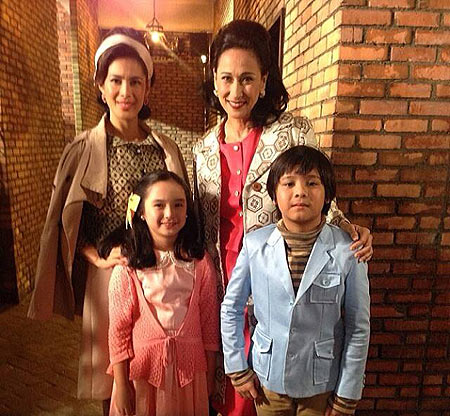 Angel Aquino with Alyanna Angeles and Cherie Gil with Louise Abuel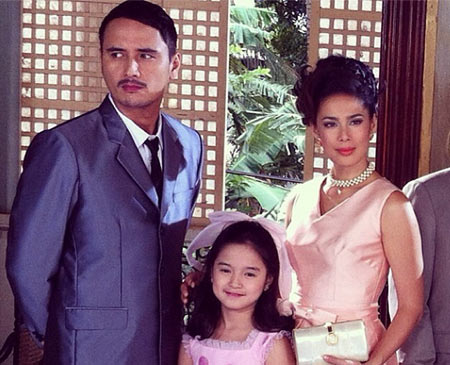 John Estrada, Alyanna Angeles, Angel Aquino




Key scenes are also enhanced by the use of songs evoking the era. These include Jewel Akens' "The Bird and the Bees," "Somewhere" (which reinforces the idea of star-crossed lovers) and the upbeat song "My Girl," which is often played in "kilig" scenes of Zaijian Jaranilla and Alyanna Angeles.



4. The young cast members offer a perfect mix of humor and depth.


ABS-CBN has found real gems in child stars Zaijian Jaranilla, Alyanna Angeles, Louise Abuel, and Xyriel Manabat. They are cast as the young Coco Martin, Kim Chiu, Jake Cuenca, and Julia Montes, respectively.




(L-R) Alyanna Angeles, Zaijian Jaranilla, Xyriel Manabat and Louise Abuel as the young Kim Chiu, Coco Martin, Julia Montes and Jake Cuenca


Zaijian, in particular, stands out for his portrayal of an enlightened young boy dreaming of a better future for his family.

When the young boy is berated for making a fool out of a rich heiress, Samuel lashes out, "Ayoko ng ganito, lagi na lang tayo takot magkamali."

His passionate speech about their rights as human beings prompted the audience gathered at Trinoma to applaud his bravado performance.

Xyriel proves that she is just as effective in eliciting laughter as well as tears. She brought the house down with her funny one-liners and she evoked sympathy whenever she broke down in tears.


3. It harks back to the time when politicians were worthy of being called statesmen.

Another performance that earned hearty applause came from Tirso Cruz III who is cast as the kind-hearted alkalde Eduardo.

At one point, Samuel is accused wrongly of a crime, which is why he and his mother Elena (Cherry Pie Picache) are struck repeatedly by the cruel foreman Paquito (played by Ronnie Lazaro).

Eduardo stops the punishment as he declares, "Alkalde ako ng bayang ito at kahit kailan, hindi dapat nagdurusa ang walang kasalanan."

The alkalde's lectures to Franco (played by Louise Abuel) are often filled with life lessons that are worth remembering.

"Gusto ko mabuhay ka ng may karangalan dahil ang karangalan higit pa sa pera," he tells Franco.

Makes you wish all public officials were like him.


2. It is worth seeing who will end up with whom.

ABS-CBN's touted "Teleserye King" Coco Martin and "Teleserye Princess" Kim Chiu are paired in this project even as there is clamor for CocoJul [referring to the Coco-Julia Montes tandem].

Both actresses who portrayed Mona (Xyriel Manabat and Julia Montes) both did a great job of demonstrating affection for Samuel (Zaijian Jaranilla and Coco Martin), which lays the foundation for interesting scenarios in the future.



1. The teleserye is grounded on real issues about land ownership.


Ikaw Lamang offers not just a love story but it also serves as an eyeopener on the conditions of sakadas who are dependent on seasonal work. The story does not shy away from tackling complex problems involving class struggles and the disparity between the rich and the poor.

It is ironic to see that in a world revolving around sweet sugarcane, people have to bite a bitter pill of reality.


PEPsters, what can you say about ABS-CBN's Ikaw Lamang?

Share your thoughts in the comments section below.



Ed's Note: The "PEP Review" section carries the views of individual reviewers and does not necessarily reflect the views of the PEP editorial staff.



ADVERTISEMENT - CONTINUE READING BELOW