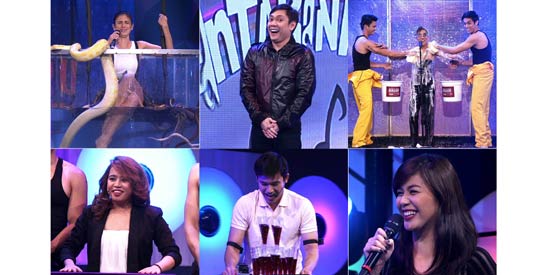 ---


PRESS STATEMENT FROM TV5:


TV5's hit musical game show, Killer Karaoke Pinoy Naman, puts the singing spotlight on six unsuspecting celebrities who are widely considered as 'ultimate killers'—or the best in their respective fields—in this special-themed episode airing on March 15 at 8:30pm.



Your weekend dose of non-stop laughter will still be spearheaded by the one and only master of disguise, Michael V., and this time, he will be joined by a unique mix of celebrity contestants who will be put through the ultimate test—singing while doing various challenges with the craziest distractions only Killer Karaoke Pinoy Naman is known to do!



Joining in on the fun in this special episode are Kapatid star Martin Escudero (Killer Actor), actress-host Valerie Concepcion (Killer Hot Momma), actor-entrepreneur Mel Martinez (Killer Chef), musical artist Zendee Rose (Killer Singer), stand-up comedian Ate Gay (Killer Comedian) and Obsession star Bianca King (Killer Beauty).



Who among these 'ultimate killers' will emerge victorious in the end? Tune in tomorrow, March 15, at 8:30 pm only on TV5.