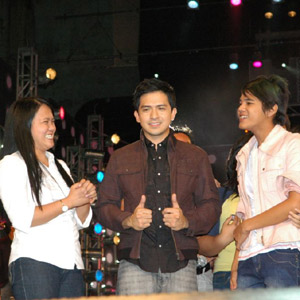 ---

The first-ever showdown of outstanding young Pinoys was a huge successwith three aspiring music video directors hailed as winners in the 1st SOPMusic Video Awards. The awarding ceremony was held at the University of thePhilippines, Diliman, Quezon City, and aired on GMA-7 last November 18.


Aspiring music video directors Richard Librada and Darlene AbigailQuito, both students of Polytechnic University of the Philippines (PUP) andRoman Perez of University of the Philippines claimed the eight prestigiousawards given out by SOP, the noontime variety show of the Kapuso Network.


Roman Perez (UP) won the Best Production Design for the music video of AicelleSantos' song "Ikaw Pa Rin" while Darlene Abigail Quito (PUP) bagged the BestVideo Editing and Texter's Choice awards for the music video of "CandlelightRomance" performed by Yasmien Kurdi.


The team behind the music video "All Out of Love" led by RichardLibrada, an 18-year-old student of PUP, bagged most the awards, including BestVideography, Best Concept/Story, Best Music Video, and Best Director. DennisTrillo, who is part of Librada's team, won the Special Citation for BestPerformance by An Artist for his remarkable performance in the music video.


ADVERTISEMENT - CONTINUE READING BELOW
The 1st SOP Music Video Awards is this year's feature of the grandannual musical event competition SOP Music awards. For four years now, SOPMusic Awards has become the venue in recognizing exceptional talents ofFilipinos and acknowledging artists and significant performances that upliftthe quality and standards of Original Pilipino Music (OPM).


This year, SOP Music Awards, through SOP Music Video Awards, hasfulfilled its goal in discovering young aspiring music video directors fromdifferent university and colleges all over the country.
Other finalists in the first-ever SOP Music Video Awards were ElaineMelody Samonte (St. Paul College, QC), Ademar Garchitorena (University of SanJose Recoletos, Cebu), Maan Leynes (Centro Escolar University), and NestorAbrogena (UP Diliman).


The awarding ceremony was hosted by SOP mainstays Ogie Alcasid, RegineVelasquez, and Jaya. Throughout the three-hour program, SOP co-hostsKarylle, Jay-R, Jolina Magdangal, Dingdong Dantes, Rufa Mae Quinto, and twinsRichard and Raymond Gutierrez gave special numbers and provided trivia toentertain the audience.


ADVERTISEMENT - CONTINUE READING BELOW
Marimar star Marian Rivera led the opening number while the PinoyPop Superstar winners belted out their songs as intermission numbers. StarStruckalumni Mark Herras, Marky Cielo, LJ Reyes, and Ryza Cenon performed anenergetic dance number for the crowd composed mostly of university students andtheir supporters. The cast of Kamandag came in full force, wearing their elaborate costumes as a way of promoting the fantaserye involvingmortals and half-animal creatures.


The special guest during the event was Movie and Television Review andClassification Board chairperson Consoliza Laguardia. In fact, during theportion called Sobrang OJ, the whole cast of SOP serenaded the MTRCB Chair and made light of her job as a censor.


The masterpieces of the SOP Music Video Awards finalists were judged bythree of the country's renowned directors: Bb. Joyce Bernal, RicoGutierrez, and Louie Ignacio. The Texter's Choice Award wasbased solely on the viewers' text votes.