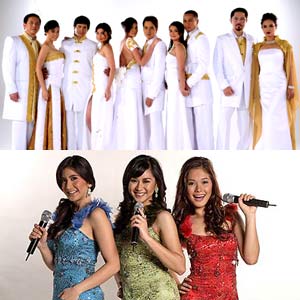 ---
Book 2 of the much-awaited ABS-CBN soap operaMaging Sino Ka Man opened last night, December 10, without much fanfare. Thepowerhouse drama series posted a rating of 23 percent, which is good for only 9thoverall. But it is expected to peak once the viewers identify themselves again with the old and new characters of Maging Sino Ka Man.
While GMA-7 shows occupied the top half of the Top 10 slots—with Marimar at No. 1 with 40.7 percent—ABS-CBN programs grabbed the bottom half, with Ysabella (20.7 percent) squeezing back to thewinning column at No. 10, pushing Hwang Jini (20.1) and Pinoy Big Brother Celebriy Edition (20 percent) outside the Top 10.
Meanwhile, ABS-CBN's other primetime soap, Pangarap na Bituin,almost reached the 30-percent mark on its final episode last Friday, December8. The said soap posted a rating of 29.6 percent to snatch the 5th spot fromGMA-7's primetime newscast, 24 Oras, which rated 27.1 percent.
Marimar was sill the leader though with 45.5 percent as La Vendettaedged out Zaido for the No. 3 spot. La Vendetta got 32.1 percent rating whileZaido managed to get 31.9 percent.
ADVERTISEMENT - CONTINUE READING BELOW
Conspicuously absent in the Top 10 is Pinoy Big BrotherCelebrity Edition, which tied at the 11th place with Ysabella withidentical 20.3 percent rating. HwangJini, in the meantime, made a comeback in the winning column by placing 9thoverall with its 23.5 percent rating.
In the daytime race, Eat Bulaga! was the top show with 21.1percent rating; followed by Daisy Siete with 19.3 percent.
The following day, December 8, Eat Bulaga! once again toppedthe daytime race by virtue of its 22.2 percent rating while Super Inggo 1.5 wasat No. 2 with 20.1 percent.
Manny Pacquiao's new show in GMA-7, Pinoy Records, finishedat third spot with 19 percent.
Bitoy's Funniest Videos, meanwhile, was the leader among theprimetime shows with 31.3 percent rating. It was followed by Kapuso Mo, JessicaSoho (26.9 percent), Kakasa Ka Ba Sa Grade 5? (25.6 percent), 1 vs. 100 (24.4percent), and Pinoy Big Brother Celebrity Edition (24.2 percent) to completethe Top 5.
The boxing match between undefeated fighters Floyd Mayweather and RickyHatton was the most-watched daytime show last Sunday, December 8. The televisedfight, which was won by Mayweather, posted an 18.5 percent rating.
ADVERTISEMENT - CONTINUE READING BELOW
Surprisingly, GMA-7's infotainment program Kay Susan Tayoplaced second with 16.3 percent.
SOP took advantage of the delayed telecast of its rival,ASAP '07, to win the battle of Sunday musical variety shows. SOP got 14.6percent to grab the third spot while ASAP '07 had 11.9 percent, which is goodfor No. 6.
For six straight weeks, Showbiz Central won over itscompetitor, The Buzz. Kapuso's showbiz talk show posted 14 percent ratingagainst the The Buzz's 11 percent.
Finally, Kap's Amazing Stories topped the primetime showswith 30 percent rating; closely followed by Tok! Tok! Tok Isang Milyon Pasokwith 29.4 percent.
The third death anniversary special of Fernando Poe, Jr. onABS-CBN, titled Alay ni Da King, was at No. 4 with 20.4 percent, just behindMel & Joey's 23.2 percent.
Just missing the Top 10 were Vic Sotto's sitcom Ful Haus at No. 11 with 11.9 percent and the reality show Pinoy Big Brother CelebrityEdition at No. 12 with 10.1 percent.
Here are the Top 10 daytime and primetime shows fromDecember 7 to 9 conducted by AGB Nielsen Philippines among Mega ManilaHouseholds:
ADVERTISEMENT - CONTINUE READING BELOW
December 7 (Friday)
Daytime:
Eat Bulaga! (GMA-7) - 21.1%
Daisy Siete (GMA-7) - 19.3%
Whammy! Push Your Luck (GMA-7)
Wowowee (ABS-CBN) - 18.2%
Pilipinas, Game KNB? (ABS-CBN) / Pasan Ko Ang Daigdig (GMA-7) - 17.1%
Kapamilya, Deal Or No Deal (ABS-CBN) - 16.3%
Couple Or Trouble (GMA-7) - 16%
My Only Love (GMA-7) - 15.2%
Takeshi's Castle (GMA-7) - 14.2%
Prinsesa Ng Banyera (ABS-CBN) - 11.6%
Primetime:
Marimar (GMA-7) - 45.5%
Kamandag (GMA-7) - 36.1%
La Vendetta (GMA-7) - 32.1%
Zaido (GMA-7) - 31.9%
Pangarap Na Bituin (ABS-CBN) - 29.6%
24 Oras (GMA-7) - 27.1%
TV Patrol World (ABS-CBN) - 26.1%
Princess Sarah (ABS-CBN) - 25.3%
Hwang Jini (GMA-7) - 23.5%
Lastikman (ABS-CBN) - 22.1%
December 8 (Saturday)
Daytime:
Eat Bulaga! (GMA-7) - 22.2%
Super Inggo 1.5 (ABS-CBN) - 20.1%
Pinoy Records (GMA-7) - 19%
FPJ Cinema: Da King On ABS-CBN (ABS-CBN) - 17.1%
Wish Ko Lang (GMA-7) - 16.7%
Wowowee (ABS-CBN) - 16%
StarTalk (GMA-7) - 14.3%
Entertainment Live (ABS-CBN) - 11.2%
Primetime:
Bitoy's Funniest Videos (GMA-7) - 31.3%
Kapuso Mo, Jessica Soho (GMA-7) - 26.9%
Kakasa Ka Ba Sa Grade 5? (GMA-7) - 25.6%
1 vs. 100 (ABS-CBN) - 24.4%
Pinoy Big Brother Celebrity Edition (ABS-CBN) - 24.2%
Imbestigador (GMA-7) - 22.5%
TV Patrol World (ABS-CBN) - 19.5%
XXX (ABS-CBN) - 16.7%
Nuts Entertainment (GMA-7) - 14.9%
Sine Totoo (GMA-7) - 9.1%
December 9 (Sunday)
Daytime:
Undefeated: Mayweather vs. Hatton (ABS-CBN) - 18.5%
Kay Susan Tayo (GMA-7) - 16.3%
SOP (GMA-7) - 14.6%
Showbiz Central (GMA-7) - 14%
Takeshi's Castle (GMA-7) - 13%
ASAP '07 (ABS-CBN) - 11.9%
The Buzz (ABS-CBN) - 11%
Boys Nxt Door (GMA-7) - 9.8%
Undefeated: Undercard Match (ABS-CBN) - 7.5%
Pinoy Mano Mano (ABS-CBN) - 5.3%
Primetime:
Kap's Amazing Stories (GMA-7) - 30%
Tok! Tok! Tok! Isang Milyon Pasok (GMA-7) - 29.4%
Mel & Joey (GMA-7) - 23.2%
Alay Ni Da King (ABS-CBN) - 20.4%
Rated K (ABS-CBN) - 19.9%
Sharon (ABS-CBN) - 19.4%
That's My Doc (ABS-CBN) - 18%
TV Patrol World (ABS-CBN) - 17.3%
All Star K (GMA-7) - 15.3%
Sunday Night Box Office (GMA-7) - 11.9%
December 10 (Monday)
Daytime:
Eat Bulaga! (GMA-7) - 21.4%
Daisy Siete (GMA-7) - 21%
Whammy! Push Your Luck (GMA-7) - 20.8%
Kapamilya, Deal Or No Deal (ABS-CBN) - 19.3%
Pilipinas, Game KNB? (ABS-CBN) - 19.2%
Pasan Ko Ang Daigdig (GMA-7) - 19.1%
Wowowee (ABS-CBN) - 18%
My Only Love (GMA-7) - 16.1%
Couple Or Trouble (GMA-7) - 16%
Pinoy Movie Hits (ABS-CBN) - 15%
Primetime:
Marimar (GMA-7) - 40.7%
Kamandag (GMA-7) - 37.3%
Zaido (GMA-7) - 34.4%
24 Oras (GMA-7) - 32.6%
La Vendetta (GMA-7) - 31.8%
TV Patrol World (ABS-CBN) - 26.2%
Lastikman (ABS-CBN) - 24.8%
Princess Sarah (ABS-CBN) - 24.4%
Maging Sino Ka Man: Ang Pagbabalik (ABS-CBN) - 23%
Ysabella (ABS-CBN) - 20.7%
Source: AGB NielsenPhilippines