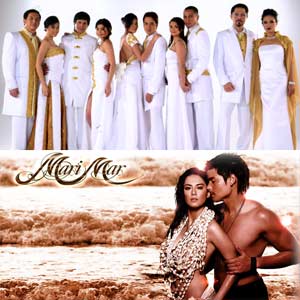 ---
Due to a technical problem, AGB Nielsen Philippines failed to release an overnight rating last Tuesday, December 11. But noticeablyabsent in the Top 10 primetime shows from December 12 to 13, Wednesday andThursday, was Book 2 of ABS-CBN's major drama series Maging Sino Ka Man.
After posting a rating of 23 percent on its pilot episode,Maging Sino Ka Man dramatically dropped to 18.9 percent Wednesday and 18.7 percentlast night. The Kapamilya soap opera is pitted against GMA-7's Marimar, whichcontinues to dominate the primetime slot. The Marian Rivera-starrer got an identical44.3 percent rating Wednesday and Thursday, holding on to its throne at No. 1.
Richard Gutierrez's Kamandag was steady at No. 2by virtue of its 37.9 percent rating last Wednesday and 37.4 percent lastnight.
Zaido was No. 3 on Wednesday with 34.4 percent, but itdropped to 4th place the following night after being bumped off by 24 Orasand La Vendetta, which both got 32.9 percent rating. GMA-7's primetime newscastwas No. 4 last Wednesday with 33.3 percent while the horror-drama series was No. 5 with31.2 percent.
ADVERTISEMENT - CONTINUE READING BELOW
Vhong Navarro's fantaserye Lastikman was the top show amongABS-CBN primetime programs. It was No. 6 last Wednesday with 23.7 percentand stepped up to No. 5 the following night with 24.4 percent.
Princess Sarah is the second most-watched Kapamilya showwith 22.3 percent rating Wednesday and 23.5 percent Thursday.
Pinoy Big Brother Celebrity Edition 2 and Hwang Jini were alsosteady at No. 8 and No. 9, respectively, while TV Patrol World and Ysabellaalternately held the 10th spot.
In the daytime race, Eat Bulaga! is still the leadingnoontime program, with Whammy!, Daisy Siete, Pasan Ko AngDaigdig, and Deal or No Deal consistent in their positions from No. 2 toNo. 5.
The rest of the Top 10 are occupied by Wowowee, Game KNB?,My Only Love, Couple or Trouble, and Takeshi's Castle.
In connection with the TV ratings, ABS-CBN sued AGB NielsenPhilippines earlier today, December 14, "for continuing to release nationwideTV ratings despite information that metered households used to gauge nationwideTV ratings might have been tampered."
PEP (Philippine Entertainment Portal) has more about thislater today.
ADVERTISEMENT - CONTINUE READING BELOW
Here are the Top 10 daytime programs from December 12 to13 based on the overnight ratings conducted by AGB Nielsen Philippines amongMega Manila households.
December 12 (Wednesday)
Daytime:
Eat Bulaga! (GMA-7) - 21.7%
Whammy! Push Your Luck (GMA-7) - 19.1%
Daisy Siete (GMA-7) - 19%
Pasan Ko Ang Daigdig (GMA-7) - 18.2%
Kapamilya, Deal Or No Deal (ABS-CBN) - 17.4%
My Only Love (GMA-7) - 16.4%
Wowowee (ABS-CBN) - 15.6%
Couple Or Trouble (GMA-7) - 15.1%
Pilipinas, Game KNB? (ABS-CBN) - 15%
Takeshi's Castle (GMA-7) - 14%
Primetime:
Marimar (GMA-7) - 44.3%
Kamandag (GMA-7) - 37.9%
Zaido (GMA-7) - 34.4%
24 Oras (GMA-7) - 33.3%
La Vendetta (GMA-7) - 31.2%
Lastikman (ABS-CBN) - 23.7%
Princess Sarah (ABS-CBN) - 22.3%
Pinoy Big Brother Celebrity Edition (ABS-CBN) - 21.7%
Hwang Jini (GMA-7) - 21.2%
TV Patrol World (ABS-CBN) - 20.8%
December 13 (Thursday)
Daytime:
Eat Bulaga! (GMA-7) - 22.3%
Whammy! Push Your Luck (GMA-7) - 20.4%
Daisy Siete (GMA-7) - 20%
Pasan Ko Ang Daigdig (GMA-7) - 19.2%
Kapamilya, Deal Or No Deal (ABS-CBN) - 17.7%
Wowowee (ABS-CBN) - 17.1%
Pilipinas, Game KNB? (ABS-CBN) - 16.4%
My Only Love (GMA-7) - 16.3%
Takeshi's Castle (GMA-7) - 15.6%
Couple Or Trouble (GMA-7) - 15.3%
Primetime:
Marimar (GMA-7) - 44.3%
Kamandag (GMA-7) - 37.4%
24 Oras (GMA-7) / La Vendetta (GMA-7) - 32.9%
Zaido (GMA-7) - 32.5%
Lastikman (ABS-CBN) - 24.4%
Princess Sarah (ABS-CBN) - 23.5%
TV Patrol World (ABS-CBN) - 23.2%
Pinoy Big Brother Celebrity Edition (ABS-CBN) - 22.1%
Hwang Jini (GMA-7) - 19.2%
Ysabella (ABS-CBN) - 18.9%
Source: AGB Nielsen Philippines