Infidelity and cheating happen a lot in real life, and this is often reflected in Filipino movies and TV shows.

Producers often depict these situations on screen, giving rise to the sub-genres of so-called mistress movies and "kabit-seryes" of ABS-CBN and GMA-7.
Through these Pinoy movies and TV shows, viewers are able to see the different kinds of girlfriends/wives and how they treat the mistresses who wrecked their relationships.
If you suddenly find yourself in their shoes, what would you do if you see the kabit (mistress)?
Haven't thought about it yet? Let these legal wives show you how!
HALIK
In Halik, the relationship of two married couples becomes marred by infidelity and betrayal, leading to epic clashes and intense confrontation scenes.
The lives of Lino (Jericho Rosales) and Jade (Yam Concepcion) were never the same again after crossing paths with Ace (Sam Milby) and Jacky (Yen Santos).
In the last three weeks of this "kabit-serye," viewers will get to see the progress of the adultery case filed by Lino against Jade and Ace.
However, Ace claimed that he has gathered evidence to make it seem like Lino and Jacky were the first ones to commit adultery.
Jade was shocked when Ace sent her stolen photos of Lino and Jacky when they went on a business trip together in Bali. Jade became so jealous and furious upon seeing the pictures that she plotted her revenge.

Jacky was about to enter her car in a parking area when Jade suddenly ran towards her and pulled her hair. Jade accused Jacky of seducing Lino in the past. Jade shouted, "Hayop ka! Malandi ka! Sa Bali pa lang, nilalandi mo na ang asawa ko."
Jacky fights back by slapping Jade. Jacky stressed, "Uulitin ko sa 'yo, wala kaming relasyon ni Lino."
Jade vowed that her marriage with Lino will never be annulled so that Jacky will remain Lino's mistress for life.
"Habambuhay kang magiging kabit!" shouted Jade at Jacky.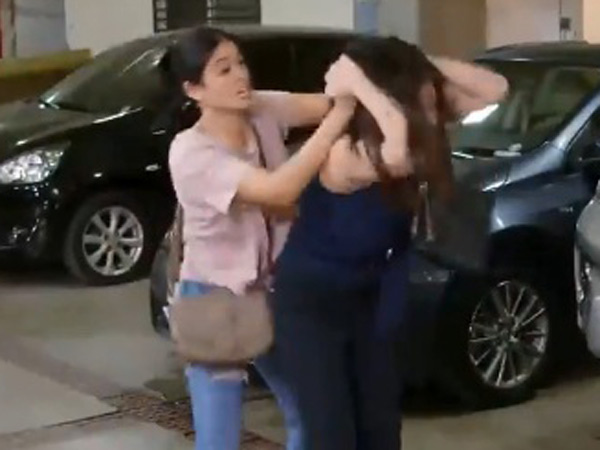 IKA- 6 NA UTOS
When you bump into your husband's mistress, the overwhelming feeling of being betrayed may cause you to lash out against her.
Take it from Emma (Sunshine Dizon) who lost her temper upon seeing her husband's mistress Georgia (Ryza Cenon). The two started fighting over a baby stroller that eventually led to a stuffed-toy fight and a nerf-gun incident.
Here's the catch: Emma and Georgia are both pregnant women, so imagine the two women catfighting at a mall!
Their fight ended when Emma accidentally pushed Georgia and the latter's tummy started aching.
This particular Ika-6 na Utos scene went viral and spawned several memes online.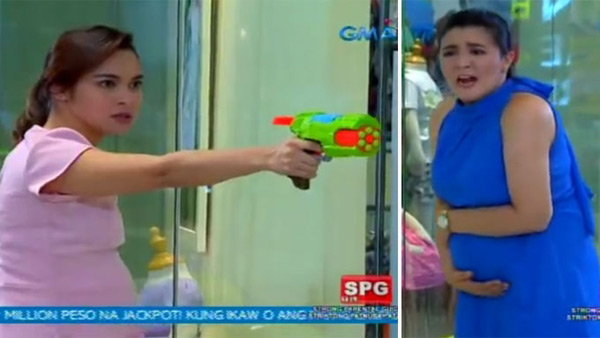 PAMILYA ROCES
Being cheated on is one thing but it's a whole different level of unbearable pain and ultimate betrayal when your husband cheats on you with someone close to your heart or worse, a blood relative.
In Pamilya Roces, Crystal (Carla Abellana) never saw her sister, Amber (Sophie Albert) as a threat. Who would be suspicious of one's own family members, right?
But, one night, Crystal senses her husband's infidelity after seeing his phone with a text message that reads, "Gusto mo ba ko makilala? Pumunta ka sa labas ng bahay."
She went out their house and tried to find Hugo (Rocco Nacino).
When the legal wife opened the parked SUV outside their house, she was shocked to learn that right in front of her eyes, her husband was making love to her sister.
Talk about a double stab to the heart!
Caught off guard, Crystal became furious and started hitting her husband.
But just when you thought the confrontation is over, Crystal slapped Amber and dragged her by the hair. She then banged Amber's head on the car's hood--four times!
Now that's a relaxing "head massage" that Amber truly deserves.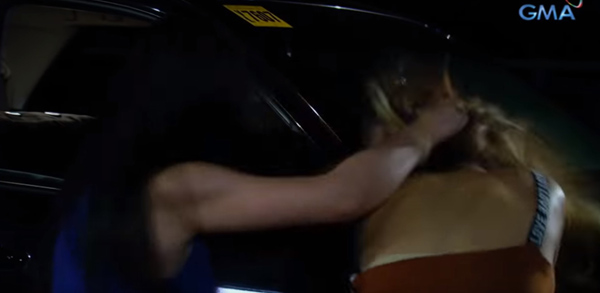 TUBIG AT LANGIS
What would you do when you see your husband being seduced by a woman he once made love with?
For Irene (Cristine Reyes) of Tubig at Langis, no words were necessary. In this ABS-CBN TV show, the legal wife immediately attacked Clara (Isabelle Daza), the mistress of her husband Natoy (Zanjoe Marudo).
A big catfight then ensued complete with hair-strangling and face-slapping on the beach. Irene drags Clara across a beach resort for everyone to see. Clara also endured verbal abuse when she received cuss words from Irene such as "Malandi ka, punyeta ka, makati ka!"
When they were pacified, Irene had the chance to tell the mistress, "Kahit anong display mo, hinding-hindi ka na papatulan ng asawa ko!"
But in order to get even, Clara humiliated the wife by telling her, "Talaga? May nangyari sa amin kagabi!"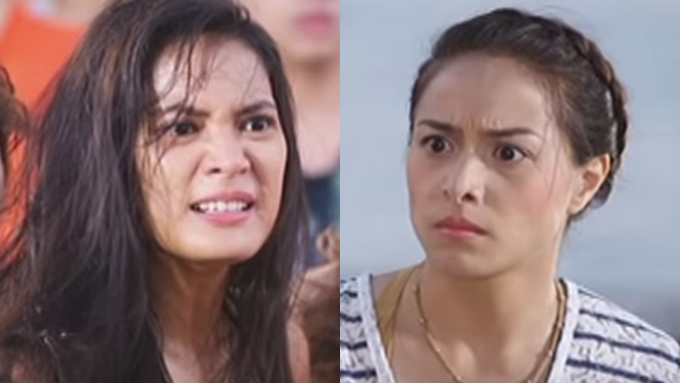 SINUNGALING MONG PUSO
When your husband keeps on telling you that he's in a meeting, and it happens practically all the time, would you still believe him?
Good thing, Clara (Rhian Ramos) of GMA-7's TV version of Sinungaling Mong Puso did not. She used this as a chance to catch her husband Roman (Rafael Rosell) to check if he is really in an affair with Camilla (Stephannie Sol).
Clara followed him and caught the two in the act: Roman and Camilla were making out beside a swimming pool.
Clara may have shed tears over the heartbreak but she got even by slapping Camilla!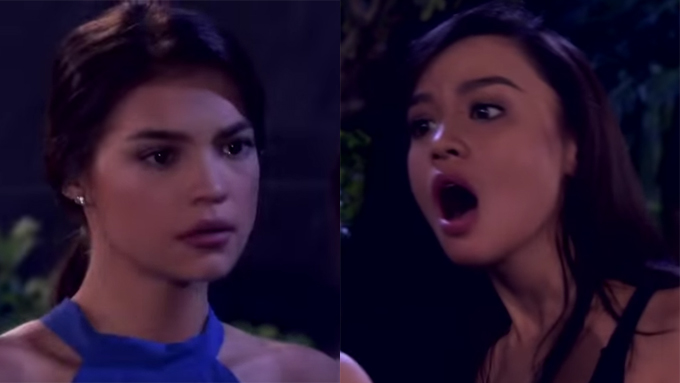 THE LOVE AFFAIR
Some legal wives are direct to the point and immediately confront the mistress.
The Love Affair's Trisha (Dawn Zulueta) went to the office of Atty. Adie (Bea Alonzo) after confirming that her husband Vince (Richard Gomez) is having an affair with the lawyer.
However, the wife did not go there to engage in a catfight, but to ask Adie to stop seeing her husband.
The mistress, of course, won't just let herself lose the battle and clarified that she did not seduce Trisha's husband.
But Trisha was not convinced, "Is that a lie you tell yourself?"
In the end, Trisha just told Adie that she is secure of her role in Vince's life as his wife. But for Adie, she asked a question.
"Ano ka ba talaga sa asawa ko? I know I'm his wife. But who are you? His girlfriend? His rebound? His mistress, f*ck buddy, weekend hobby? Sino ka ba talaga sa buhay ng asawa ko?"
When Trisha said that Adie is "malandi," the mistress had the guts to answer her, "Look who's talking, bitch."
Trisha was shocked with what she just heard. "Bitch? Hindi pa. But next time, I may not be so nice."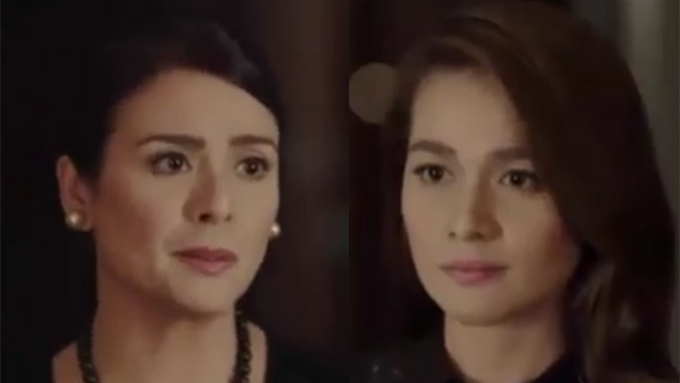 TWO WIVES

Since they are already involved in a scandal, some wives just won't keep quiet.
Yvonne (Kaye Abad) in the Kapamilya teleserye Two Wives even gave work to her husband's mistress.
The first wife asked her husband Victor's (Jason Abalos) other woman, Janine (Erich Gonzales), to arrange the flowers in what she called an "annulment celebration."
However, Janine misinterpreted the celebration and was happy that Yvonne finally agreed to the annulment.
But, of course, why would the wife allow herself to lose the battle? Yvonne told her: "Ako papayag? Nahihibang ka na ba? Nakalimutan ko nga palang sabihin sa 'yo na bulaklak pampatay sana yung inihanda mo dahil simula sa araw na ito, mamamatay na yung ilusyon mong maging asawa ang
asawa ko!"
She even threatened Janine: "Napanuod mo ba yung video sa YouTube, kayang-kaya kong gawin yun. Kakaladkarin kita ng nakahubad sa kalsada!"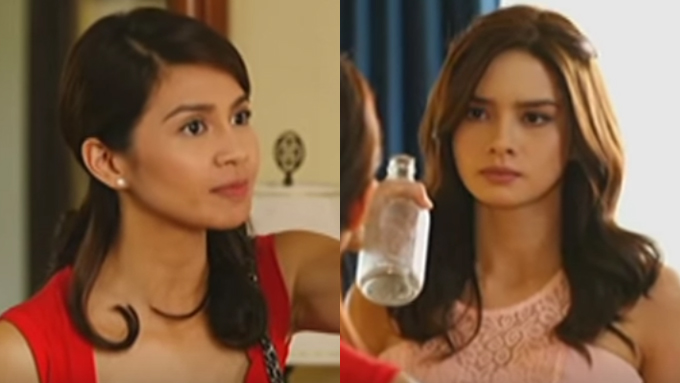 ANG DALAWANG MRS. REAL
There are times when fate paves the way for the wife and the mistress to finally face each other.
Ang Dalawang Mrs. Real's Millet (Maricel Soriano) had this chance on GMA-7's TV show.
When she saw Shiela (Lovi Poe), the other wife of her husband Anthony (Dingdong Dantes), she did not miss this opportunity to tell the girl that she is the legal and the only wife.
Since it is their first meeting, Millet first interviewed Shiela: "Nagtatrabaho ka ba, bukod sa pakiki-apid sa asawa ko? Tinatanong kita, dapat sagutin mo ako."
Later on, Millet lectured her regarding good manners: "Una, nasa Bibliya, ika-sampung utos ng Diyos, dapat hindi ka nakiki-apid sa isang lalaking may asawa na. Pangalawa, hindi ka dapat na nagbubuka ng hita sa kung sino mang lalaki na abutan mo.
"Pangatlo, dapat nagre-research ka muna. Bago mo ibuka ang hita mo, mag-research ka!"
But in the end, Millet blurted out the most important thing that Shiela should remember.
"Si Anthony, may asawa. Ako yun. Isa lang ang Mrs. Real, ako lang yun. Ikaw, ang tawag sa 'yo, sawsawan!"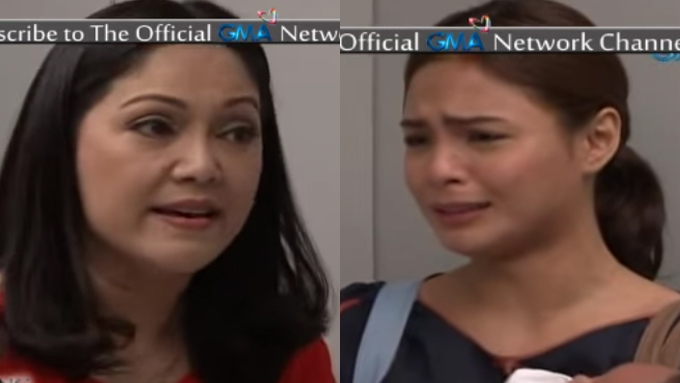 THE LEGAL WIFE
However, there are times when the wives will rush to confront the mistress, especially if she is a friend, or worse, a best friend.
This is what Monica (Angel Locsin) of The Legal Wife did to her best friend Nicole (Maja Salvador).
In this ABS-CBN teleserye, the two women were both linked to Adrian (Jericho Rosales).
After strangling Nicole's hair and slapping her face, Monica asked her best friend: "Masarap ba, masarap ba yung asawa ko?! Paano mo siya nilandi? Anong una mong tinanggal, yung bra mo, yung panty mo, o yung konsensya mo?!"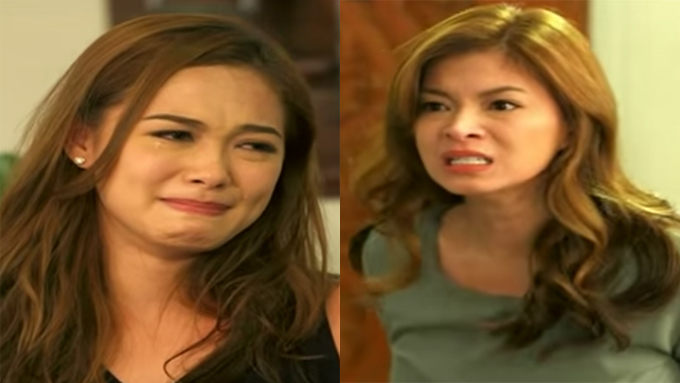 WHEN THE LOVE IS GONE
Some wives just accept the fact that their husbands can't keep their zippers closed. However, it's a different scenario when their children are already involved.
Just like Audrey (Alice Dixson) of the movie When The Love Is Gone.
She was forced to go to the house of her husband Emman (Gabby Concepcion) and his mistress Cassie (Cristine Reyes) because her daughter Jenny (Andi Eigenmann) is nowhere to be found.
Unfortunately, Cassie was the only person in the house, so Audrey had to deal with her.
When Audrey looked for her husband, she asked the mistress: "Nandiyan ba ang asawa ko na asawa mo na asawa ng buong bayan?"
However, Emman isn't around, that's why Cassie shooed her from their house.
But Audrey sees no need for Cassie to do that. "Hindi mo ko kailangang itaboy dahil sobrang init dito. Kulang na lang si Satanas, impiyerno na. Sabagay, bakit pa natin kailangan si Satanas, e, nandiyan ka na."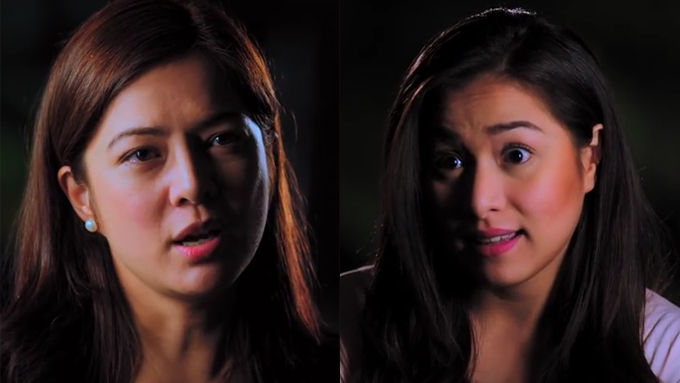 THE BRIDE AND THE LOVER
Confrontations like these also happen to soon-to-be married lovers and the woman who gets in the way.
In The Bride and The Lover, Shiela's (Jennylyn Mercado) wedding with Phillip (Paulo Avelino) got cancelled because of the commotion caused by her ex-best friend Vivian (Lovi Poe).
This prompted Phillip to leave the two of them and officially stop the wedding.
Vivian, who is originally Phillip's first fiance, then attacked Shiela and called her a "whore."
A catfight then ensued wherein Jennylyn's character insulted Lovi by referring to her as "burikak" (which means flirt in Visayan).
In the end, the two got tired, stopped, and laughed everything off.
Well, who needs a man when you've got a friend like this?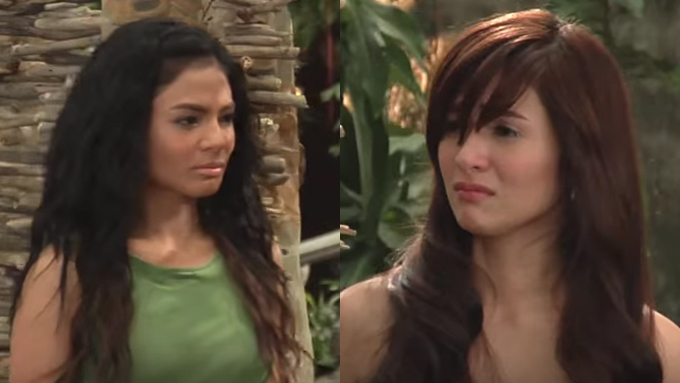 TEMPTATION OF WIFE
Out of anger, some wives resort to violence and even unleash their martial arts skills to harm the third party.
In the case of Heidi (Glaiza de Castro) of Temptation of Wife, even if she was pregnant, she unleashed her fighting skills against Chantal (Marian Rivera).
Heidi accused Chantal of having an affair with her husband Marcel (Dennis Trillo).
However, when she showcased her martial arts skills, it seems like Heidi forgot that she was just pretending to be pregnant. When she tried to stab Chantal with a fork , she ended up stabbing her own tummy!
But it seems like fate is on Chantal's side. Because of what happened, people found out about Heidi's big lie.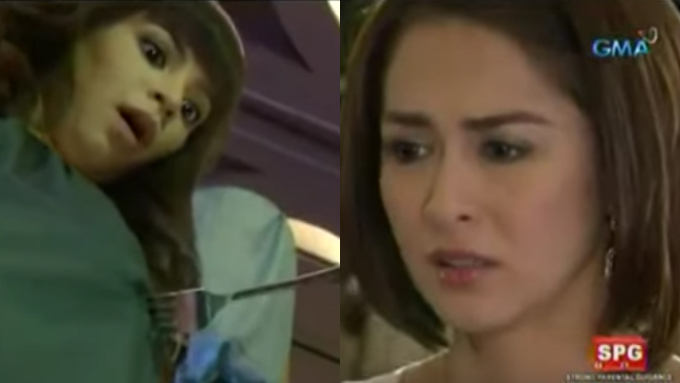 A SECRET AFFAIR
Some wives or girlfriends insist on sitting down with the other woman who also happens to be a friend.
In the movie A Secret Affair, Raffi (Anne Curtis) was having her yoga class when she decided to meet up with Sam (Andi Eigenmann), since "nasa yoga ako pero gusto kong pumatay ng tao."
In their meet-up, Sam clarified that she was the first who knew Anton.
Raffi then told her, "Ano bang tingin mo sa mga lalaki, bulate? May pa-early bird promo, the early bird catches the worm?"
Sam, knowing that it is really Raffi who Anton loves, wouldn't give up that easily.
Because of her persistence, Raffi got annoyed, "It's times like this that I really wish that the RH Bill would be passed, para hindi na mapanganak yung mga tulad mo."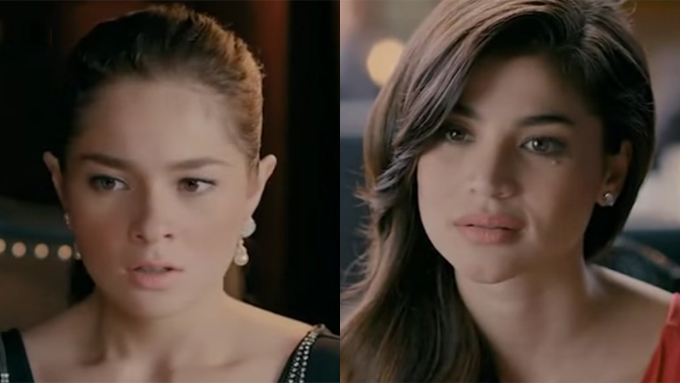 THE MISTRESS
What would you do when you see your husband and his (very much younger) mistress having dinner at the same restaurant you are in?
The Mistress's Regine (Hilda Coronel) chose to acknowledge the presence of the third party to her and her husband Rico (Ronaldo Valdez).
Seeing her husband being accompanied by Sari (Bea Alonzo), Regina asked him, "Are you not going to introduce me to your latest caregiver? I'm assuming that's what you are, hija, right?"
Knowing that she is her husband's mistress, the legal wife insulted her by saying, "But by the way, your dress, you look like more of a prostitute than a caregiver. My God, Rico, pangit pa rin ang taste ng sekretarya mo, ha."
In the end, she humiliated Sari and announced loudly enough for the whole restaurant to hear: "You must be quite a performer in bed. Huwag kang masyadong umasa, as long as I'm alive, you will never be promoted to wife!"
No Other Woman
When a feisty legal wife meets an equally feisty mistress, expect a battle for supremacy.
In No Other Woman, a bikini showdown happened between the wife Charmaine (Cristine Reyes) and the mistress Kara (Anne Curtis), who are both involved with Ram (Derek Ramsay).
Charmaine then explained her presence in Kara's resort. "Ang marriage, para yang exclusive village. Kailangan mong bantayan para hindi makapasok ang mga iskwater."
She then took notice of Kara's bikini. "E, anong tawag mo sa mang-aagaw ng asawa ng may asawa. Ah, ahas. Bikini mo ba 'yan, o balat mo? Kaya pala magaling kang gumapang."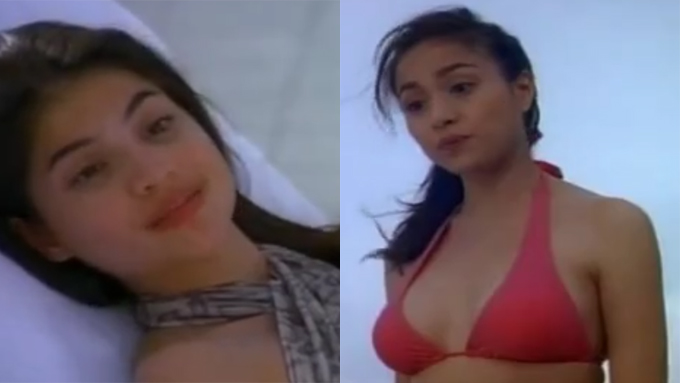 My Neighbor's Wife
When a wife senses her husband is being unfaithful, she investigates. Sometimes, the source of temptation just happens to live next door.
Just like in the movie My Neighbor's Wife, Jasmine (Carla Abellana) was shocked to find out that her husband Bullet (Jake Cuenca) and her friend and neighbor Giselle (Lovi Poe) had sex in a hotel.
How did Jasmine find out? She saw that the earrings she gave to Giselle was left in the hotel room! "Hindi ka pa nakuntento sa alahas na binigay ko sa 'yo, pati asawa ko, aagawin mo?"
Giselle's husband Aaron (Dennis Trillo) became confused and Jasmine crudely informed him, "Itong asawa mo, at asawa ko, nagkangkangan!"
She then continued, "Tinuring kitang kaibigan, pinagkatiwalaan kita. Kung sino sinong pinagsususpetiyahan kong babae ni Bullet, ikaw lang pala!"
Apparently, Giselle and Bullet had a one-night stand because they were both drunk.
Later on, Jasmine and Aaron engaged in an extramarital affair, leading them to go to bed together for several nights.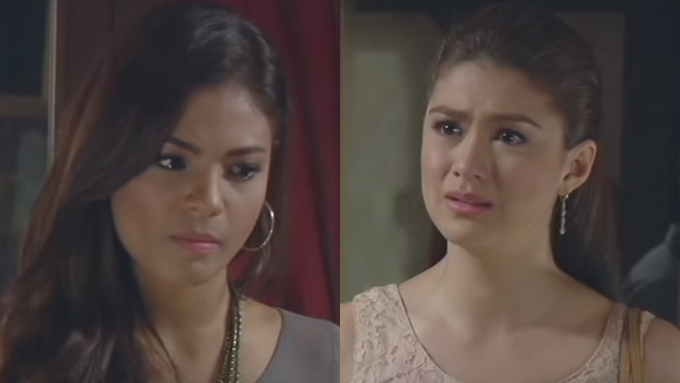 A LOVE STORY
Some wives appeal to the conscience of the other woman.
In A Love Story, Karyn (Angelica Panganiban) decided to meet up with Joanna (Maricel Soriano) to know more about her, and why her husband Ian (Aga Muhlach) can't leave her.
Later on, Karyn told Joanna how faithful she was to her husband. "I wasn't a perfect wife, alam ko naman yun, e. Pero I never cheated on my husband. Ni minsan hindi ko naisip gawin yun kasi mahal ko siya, e."
After a while, she tried to convince the mistress to leave her and her
husband alone.
"Joanna, kailangan kong iwan mo siya. Nagmamakaawa ako. Hindi mo siya kailangan, kailangan ko siya."
It turns out, Karyn is already pregnant and she begged in order to save her child from having a broken family.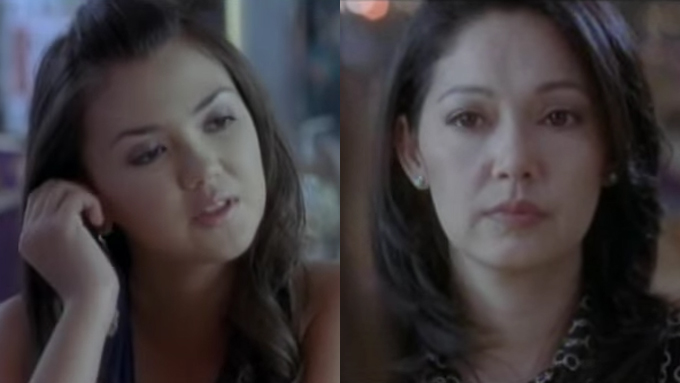 MINSAN LANG KITA IIBIGIN
However, some wives can lose control and resort to violence, especially if they find out that someone close to them is the husband's mistress.
In the movie Minsan Lang Kita Iibigin, Terry (Maricel Soriano) found out that her close friend Monique (Zsa Zsa Padilla) is having an affair with her husband Dave (Gabby Concepcion).
When Terry asked her if she has a relationship with Dave, Monique couldn't answer her directly.
But Terry insisted: "Huwag mo akong ma-Terry Terry! Yung tanong ko sagutin mo, are you f*cking my husband?"
It took a while before Monique answered, "Minsan!"
Terry was livid with anger and since the confrontation happened in the kitchen, knives were within her reach.
When Monique informed Terry, "Handa raw siyang hiwalayan ka," the legal wife broke down.
Just as when Monique tried to pacify Terry, the mistress was shocked to see her friend holding a knife! The wife kept on stabbing her until she lost consciousness and she was covered with blood.