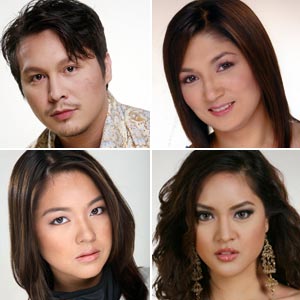 ---

Big Brother tested the bond of the celebrity housemates byhaving them undergo a face-to-face nomination during the seventh nominationnight of Pinoy Big Brother Celebrity Edition 2. Last December 16, thehousemates were given medallions that they were supposed to hang around thenecks of those they chose to nominate.
The remaining housemates gave various reasons for wanting toevict their fellow tenant. They put medallions bearing the number 2 and 1around the neck of those whom they evicted. Baron Geisler got a total of sixvotes, while Riza Santos and Yayo Aguila had four votes each.
Head of Household Jon Avila had the privilege of votingsomeone for eviction automatically. He used this right to vote for the eviction of RacingGoddess Gaby dela Merced. "Sorry for doing this. It's nothing personal. Dito saating bahay, you've spent the least time than any of the housemates, and you'veexperienced the outside world. Sorry," said Jon sincerely.
The four nominees then gave their pleas on why they shouldremain and spend Christmas inside the Big Brother house.
ADVERTISEMENT - CONTINUE READING BELOW
Riza asked the public to support her now that she is sheddingher cloak of shyness. "Buong buhay ko, mahiyain ako at nahihirapan akongmakipag-usap sa ibang tao. Ngayon lang, now that I've spent my time here, thewalls I've built up my whole life are falling at ngayon lang lumalabas angtotoong pagkatao ko," said the beauty queen as tears fell down her face."Sobrang gusto kong mag-stay dito sa bahay 'coz the real Riza is comingout now. Sana I get to stay here longer."
As for the Wild Child who became drunk during their drinkingspree last week, he told the viewers of the show: "Kayo na po ang bahalabut ako talaga, buong puso ko gusto ko po dito. Tingin ko po, I deserve toprove pa to the people that I can be a better person."
Mom in Distress Yayo Aguila couldn't stop the tears fromflowing when she said that she's doing everything for the sake of her children."Sa buong buhay ko po, ngayon lang po ako nahiwalay sa mga anakko...Pinili kong mahiwalay sa mga anak dahil may gusto po akong gawin para sakanila. Yung pag-stay ko dito, kaya ko lang ginawa kasi gusto kong mabigyan silang magandang kinabukasan."
ADVERTISEMENT - CONTINUE READING BELOW
Gaby, who thought of exiting voluntarily last week, nowfeels that she still has to experience a lot inside the house. "I thinkit's but just na nominate ako this week. Nakalabas ako at ngayon nakabalikako. Ngayon, ang taong bayan ang maghuhusga kung magi-stay ako o hindi. Angmasasabi ko lang po, gusto ko talagang mag-Christmas dito kasama ang bago kongpamilya. Gagawin ko ang lahat para ipakita na may rason ako para mag-staydito," said the race-car driver.
In the end, four housemates got the black medallionsignifying that they are in danger of being evicted from Big Brother's house.These are Baron Geisler, Yayo Aguila, Riza Santos, and Gaby dela Merced.
Pinoy Big Brother Celebrity Edition 2 airs everynight on ABS-CBN's Primetime Bida after Ysabella while PBBCE 2 Uberis shown at 5:30 p.m. from Monday to Friday.