Pinoy Big Brother Otso viewers are protesting the results of the latest eviction of the ABS-CBN reality show. Many Filipino viewers are unhappy about the eviction, and have posted comments on Facebook and Twitter alleging that PBB is a "cooking show."
On the episode aired on Sunday, May 12, it was announced that housemate Emjay Savilla was diagnosed with a severe urinary tract infection. Because his condition had not improved even when he had four checkups outside the house throughout the week, Big Brother sentenced him with a forced eviction so he can be confined in a hospital.
Viewers sympathized with Emjay's condition and they understood that he needed to exit the house to get well. What they don't like, however, is that the Kapamilya show chose to withheld Emjay's required exit until the Sunday episode.
Emjay was one of the seven housemates who were placed on the nomination list, along with Ashley del Mundo, Angela Tungol, Lance Carr, Tan Roncal, Mich Wunder, and Kyzha Villalino.
When the voting started, the show announced that three of the housemates will be evicted. For this reason, Emjay's fans participated in the voting to save their favorite housemate. But they were blindsided when Emjay (dubbed as Ang Tripster Tropa ng Camarines Sur) was still evicted despite their votes.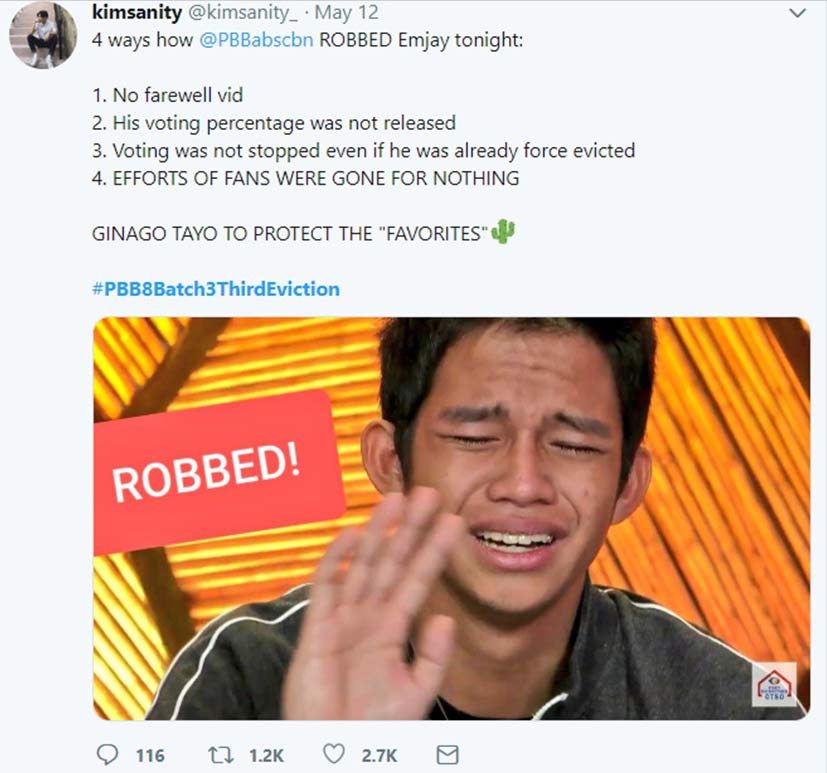 Another complaint was that there could have been a different set of evictees had Emjay's exit been announced early. Many assume that removing Emjay from the list of nominees will channel the votes that he was getting to the housemates who got evicted on the same night: Kyzha and Mich.
The two now ex-housemates garnered the lowest percentage of votes from the public. Kyzha only received 2.65% of the votes, while Mich only received 5.99%.
Meanwhile, the other nominees, earned the following votes: Lance got 6.39%, Angela got 16.68%, Tan got 22.25% and Ashley got 46.04%.
PBB did not show how many votes Emjay received from the public.
Online viewers have accused the show of evicting Emjay to save Lance from eviction. They have assumed that Emjay received a higher percentage of votes than the teen athlete from Davao, and had Emjay stayed, Lance would have been the third victim of that night's triple eviction.
The accusation added that Lance was saved because he's the show's current golden boy. But the hate pelted at the 18-year-old housemate seemed to be due to his decision to hold backhis feelings for Ashley so he can pursue Angela.
(Read: PBB OTSO UPDATE: Lance Carr gets bashed for falling for two teen housemates)
Lance already became the target of online bashing for leaving Ashley. The Australian girl is a huge fan favorite at this point, and she is poised to become this batch's winner. A huge number of Ashley fans were thus enraged when the boy that broke Ashley's heart escaped the triple eviction because of a technicality.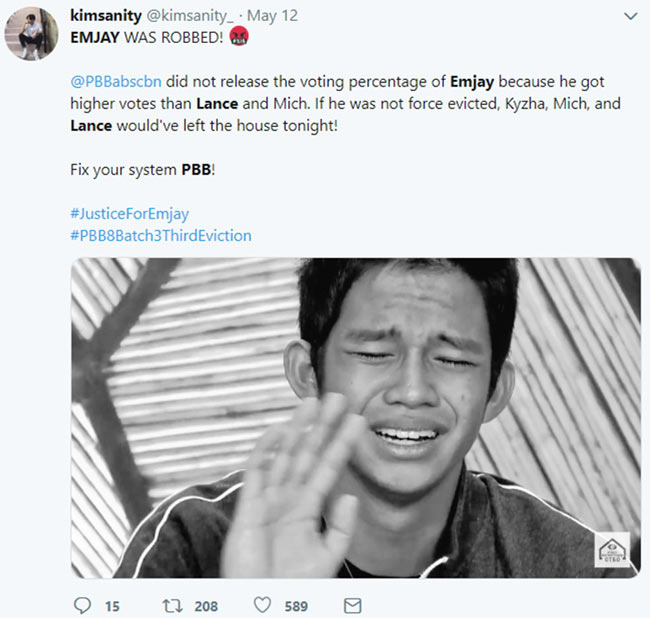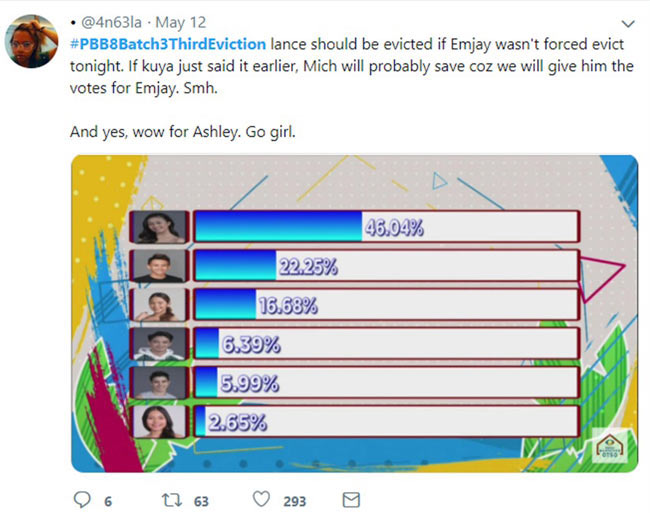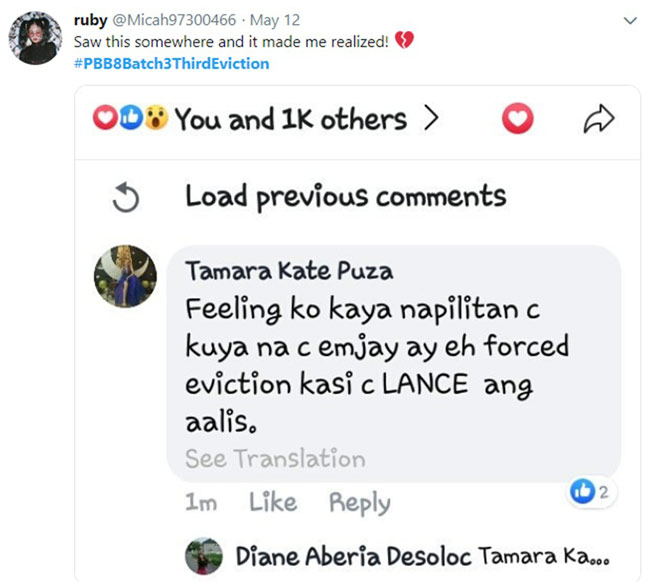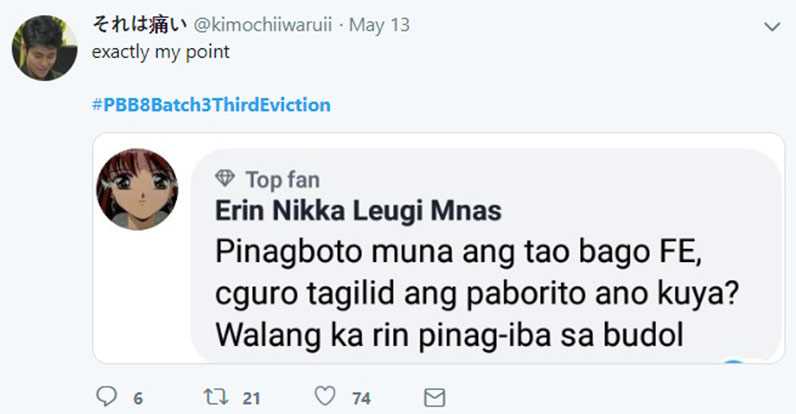 PEP.ph remains open to any statement that will be issued by Pinoy Big Brother and ABS-CBN regarding this issue.