South Korean actor-singer Lee Seung Gi met with his fans during his 2019 Lee Seung Gi Asia Fan Meeting Vagabond Voyage in Japan.
Dubbed as the King of Ratings, Lee Seung Gi gained fame for his 2009 show Shining Inheritance.
It was on June 29, 2019 when I attended my third Lee Seung Gi Fan Meeting at Hall of the Forest 21- Main Hall, Matsudo, Chiba, Japan.
On that rainy day, the triple threat star showed behind-the-scenes footage of his much-awaited spy action drama titled Vagabond.
His fans reacted upon seeing Seung Gi in a shower scene that bared his six-pack abs!
There were lots of "ohhhhs," "ahhhs" and giggles from the audience when his topless shower scene in Vagabond was shown with a shy Seung Gi on stage. The host asked the actor if he always has toned abs like that, but Seung Gi playfully said, "Sometimes it's there, sometimes it's not."
Vagabond is set to premiere on SBS TV in September 2019 and will be available on Netflix on that same month.
So how did I end up in Japan watching this clip of Lee Seung Gi's newest project?
Let's start at the beginning:
From Tokyo, we rode the train for more than an hour and took a cab for a supposedly 14-minute walk just to make sure I'll be there on time. But in truth, I wanted to be at the fan meet much earlier. My cousin accompanied me and left me before I entered the hall.
At that point, I met a Korean Airen and a member of LSGKWA (Lee Seung Gi Korean World Airen) who helped me secure a ticket. She came all the way from Korea to attend the fan meet too and soon after, she introduced me to other Airens from Japan.
At this point, you may be wondering what an Airen is. It's a name Lee Seung Gi personally chose to address his fans. It means, "the one I love" in Chinese.
Scanning the crowd, I felt like I was the only Filipino in the mammoth crowd. The rest looked Japanese and a mixture of Korean, Chinese, Taiwanese and Thai Airens (who were all wearing their national costume!)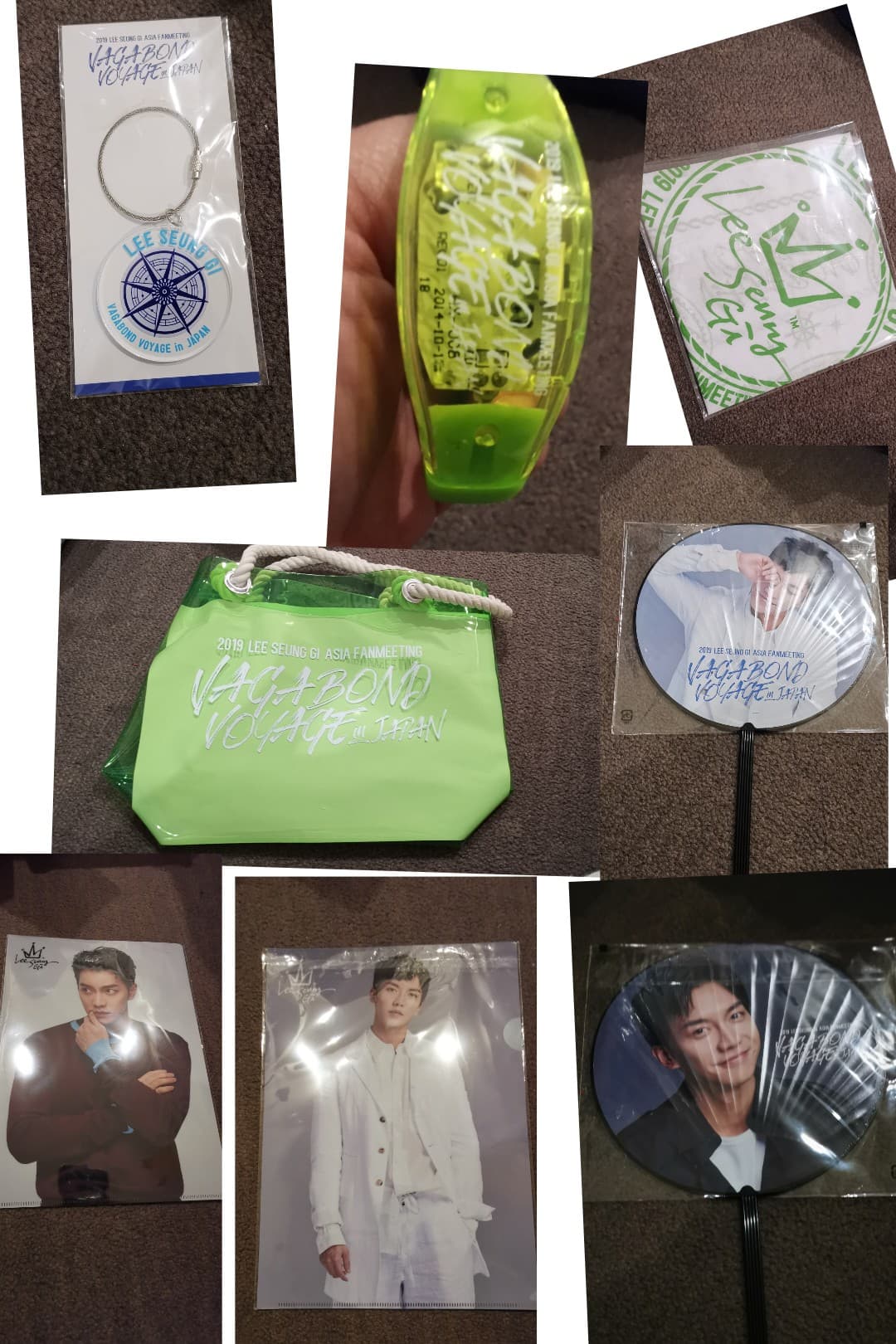 When I arrived at the venue, there were lots of Airens inside the lobby. Some were lining up for the official merchandise with two sets that you can choose from. Just like me, other Airens bought sets that contained a mint summer bag, back-to-back face of LSG fan, lightstick in a mint bracelet (maybe because of the theme Vagabond Voyage), 2 sets of L folders with his pictures, key chain and personalized scarf. Fans were actually looking forward to snagging all these merchandise because they're exclusive only during fan meets or concerts. Prices ranged from 3,600 yen (PHP 1700) to 3,900 yen (PHP 1842).
Based on his popularity, it seems that Seung Gi is still South Korea's Nation's Brother! There were even those carrying old merchandise from LSG fan meets years ago.
In the lobby, there were beautiful flower arrangements from loyal fans of Seung Gi. Some people even prepared individual gifts for him.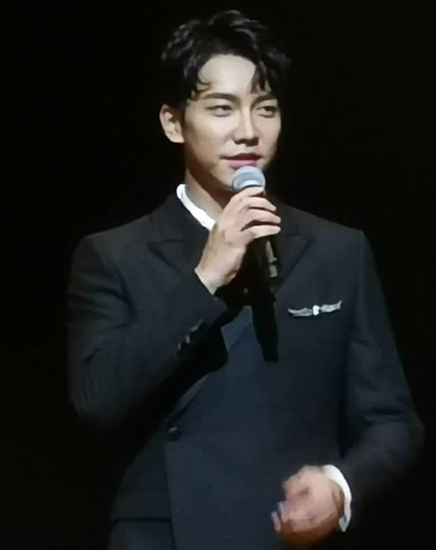 At exactly 4:30 p.m., Japan standard time, the fully packed venue echoed with a thunderous cheer signaling the start of the 2019 Lee Seung Gi Asia Fan Meeting Vagabond Voyage in Japan.
The Triple Threat Star looked dapper wearing a black tuxedo that day.
He greeted his Airens with his sweet bedimpled smile and sang his first number, "Because You're My Woman," which drove the crowd even crazier.
Later, Seung Gi revealed that his 15-year-old song, which became the "anthem" of young guys falling in love with noonas (older girls), was secretly rearranged as his surprise for his fans.
Seung Gi first greeted his fans in Korean then later shifted to Japanese, amusing Japan Airens and the host with his multi-lingual proficiency.
The K-drama star answered almost all the questions hurled at him.
By attending two of his fan meetings in 2018, held in Thailand and Singapore, I can safely say that he has always been consistent in showing his fans never-before-seen videos.
Last year, footage of his mandatory military life as a member of the Special Forces was shown to fans. This 2019, behind-the-scenes videos of his much-awaited drama, Vagabond, were shown to the public.
Fans had the loudest reaction when they saw Seung Gi sporting blonde hair. He asked his fans if it's okay for him to wear blonde hair. He later revealed that it was his idea to color his hair in some scenes, but he ended up promising to his fans: "No more blonde hair. I'll just stay with my hair color now."
Vagabond is Seung Gi's upcoming spy/action thriller/romance drama.
It was filmed for a year in locations such as Morocco, Portugal, and Korea and reportedly had a budget of 25 billion won (PHP 1.087 billion Philippine pesos). It was produced by Celltrion Entertainment, Sony Pictures Television, and will be distributed by SBS and streamed worldwide on Netflix starting this September 2019.
Some footage from their filming in Morocco and Portugal was shown during the fan meeting.
Seung Gi said his latest drama required hard work. He admitted that his wish is for Vagabond to get a TV rating that is higher than 35%. He added that since a lot of his fans have been asking him to make a comeback album, he said is open to doing it in the future.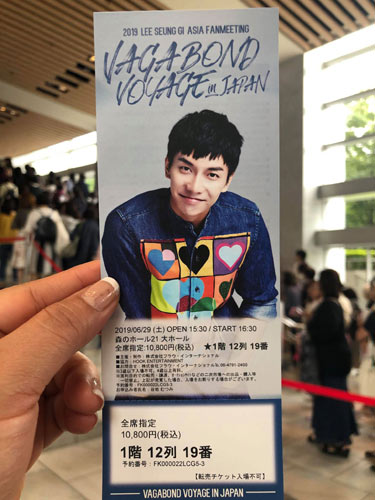 During the fan meeting, there was a segment called "Produce LSG" that highlighted his being an in-demand endorser/model who has received awards for his projects. Seung Gi was asked to pick the project that he likes best, and he chose New Journey to the West from among the variety shows he did in the past. However, fans gave high ratings to his 5-year variety show, 1n2D.
He ended the segment by telling everyone, "Thank you for reminding me that what I like to do is different from what I should do."
Seung Gi currently has a regular variety show that airs on SBS every Sunday night called Master in the House.
This summer, he will be seen in the first Monday-Tuesday variety show called Little Forest wherein he works with his closest friend, Lee Seo Jin.
Seung Gi will also appear in the Netflix show Busted Season 2 and he will have a collaboration with Taiwanese star Jasper Liu for 2 Man Trip.
One of the highlights of the evening was the interactive game wherein 10 lucky Airens were chosen to come up on stage with Seung Gi. Each contestant was given a gift bag containing products being endorsed by Seung Gi.
One lucky Airen became the envy of everybody when she became the grand winner. She had a chance to take a Polaroid picture with Seung Gi, with him serving as director of the shoot. To top it all off, she received an autograph and a tight hug from Seung Gi!
Last June 5, Seung Gi celebrated his 15th debut anniversary and Airens prepared a cake to surprise him. He said that he would want to spend another 15, 30 years with all of his Airens.
In his long thank you message to his fans, Seunggi said that from day 1 since he was discharged, he was working daily for the past 15 years!
The South Korean Hallyu star confessed that after he was discharged from military service, he was really worried. However, his fears were dispelled because of the warm support he received from his fans.
"What will remain unchanged is that during this trip, I will always regard everyone as the compass that leads me to explore what is in front of me with everyone's support and love.
"Therefore I would like to ask everyone to become my stable compass in the future and stay with me. I will definitely work hard to become blessings and happiness. Saranghae."
His co-stars and friends sent congratulatory messages to Seung Gi. Messages came from his fellow Master in the House co-stars Lee Sangyoon, Yang Se Hyung, and Yook Sungjae. He was then greeted by his Vagabond co-stars Shin Sung Ruk and Bae Suzy.
Park Min Young and EXO Se Hun of Netflix's Busted also congratulated Seunggi.
The last part of the fan meeting was Seung Gi's live performances of his hit songs such as "Return" and "Delete." These were followed by upbeat songs such as "Smile Boy" and "Let's Go On Vacation." This prompted fans to sing and dance along with him.
Being known as the Ballad King and a concert performer, Seung Gi sure knows how to turn his fan meetings into a mini-concert.
At the end of the fan meeting, instead of the usual hand shake or high touch, Seung Gi had a group picture.
Attending an overseas fan meeting is not an easy one.
Ever since he was discharged from the military on October 31, 2017, I told myself that I want to enjoy watching his live performances and to be able to do that, I need to save a lot.
I started a P50 challenge.
I set aside all the P50 bills I received and saved them up to my expenses for events of Lee Seung Gi. Eventually, I was able to save more than a thousand P50 bills that I used for the three fan meetings I attended.
And it was all worth it.