Gone are the days when lead characters of teleseryes were all meek or simply "api-apihan."
Modern-day teleseryes now feature bida-kontrabidas or lead characters who have the qualities of being a protagonist as well as the antagonist.
Taking on bida-kontrabida roles in teleseryes might be risky for Pinay actresses because it can make or break their careers. It can also be a big challenge to those who are used to doing bida characters who are not fierce or those who are too kind.
However, these bida-kontrabida roles in teleseryes can also promote Pinay actresses who used to play kontrabidas or supporting roles to leading lady status, especially if their projects become certified hits on TV.
PEP.ph (Philippine Entertainment Portal) lists down 12 Pinay actresses from ABS-CBN and GMA-7 who took the risk and succeeded in portraying bida-kontrabida roles in teleseryes.
Bea Alonzo
Bea Alonzo first took the road to portraying a bida-kontrabida in the 2010 prime-time teleserye Magkaribal.
Dubbed as the first "fashionserye" on Philippine TV, Magkaribal featured Bea as Gelai, a young fashion designer whose life was made miserable by Victoria (Gretchen Barretto), who happens to be her long-lost sister.
The ABS-CBN series showed Gelai's transformation from being a perky, palaban employee to becoming a fierce, vengeful woman who aimed to see Victoria's downfall.
Gelai and Victoria's rivalry intensified until they both learned that they were actually sisters, which opened their hearts to forgiveness.
Bea also played a bida-kontrabida in the 2014 drama series Sana Bukas Pa Ang Kahapon as Rose Buenavista.
After a freak accident, Rose assumed the identity of Emmanuelle to get justice and exact revenge on the people who tried to kill her.
One of her bida-kontrabida moments in the show was when she seduced her ex-boyfriend Patrick (Paulo Avelino). It was her way of getting back at him and stepsister Sasha (Maricar Reyes), who married Patrick after Rose's supposed death.
When Rose a.k.a Emmanuelle tried to seduce Patrick, Sasha saw the incident and picked a catfight with Emmanuelle.
As a result, Sasha fell into the pool after trying to hurt Emmanuelle.
Emmanuelle then asked Sasha if she needed her help. Sasha tried to grab Emmanuelle's hand but the latter refused to help her and said, "Kaya ka na ng asawa mo," and walked out with a smile.
For her portrayal in Sana Bukas Pa Ang Kahapon, Bea won as Best Actress at the 23rd KBP Golden Dove Awards.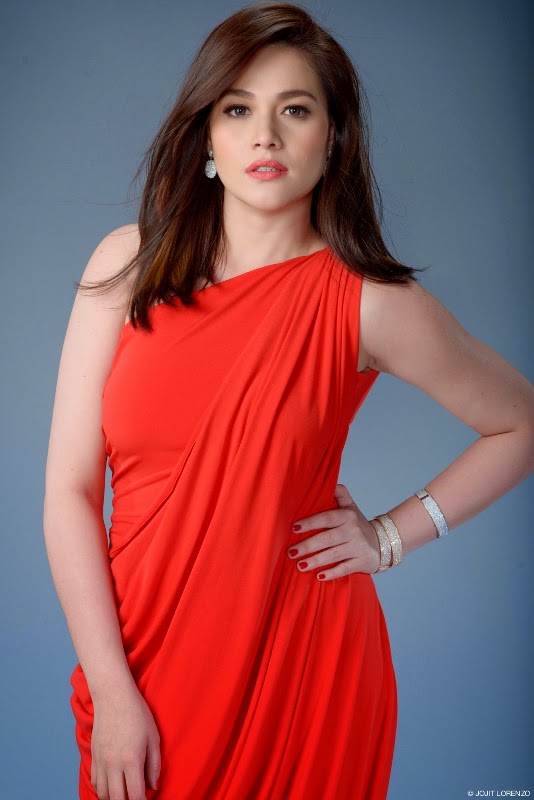 Kris Bernal
Kris Bernal takes on a bida-kontrabida role in GMA-7's new Afternoon Prime teleserye Hanggang sa Dulo ng Buhay Ko.
In this series, she plays Naomi, a woman who is obsessed with her ex-boyfriend, Matteo (Rayver Cruz).
Naomi dies upon giving birth, but she returns as a ghost to haunt Matteo and his wife, Yvie (Megan Young).
This is not the first time that Kris agreed to do a bida-kontrabida role, because she also did that in her previous afternoon series, Impostora.
The only difference is that in Impostora, Kris played a dual role: one as the kind-hearted Nimfa and the other as the evil Rosette.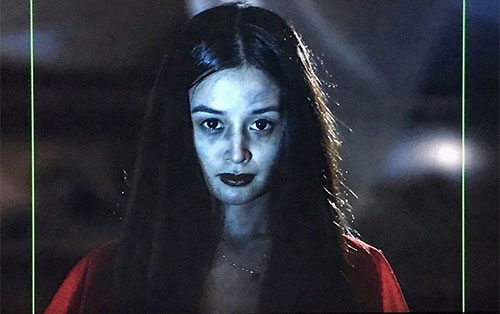 Dimples Romana
Dimples Romana used to play best friend and kontrabida roles in her teleseryes until she was given a break in the 2016 afternoon drama series The Greatest Love.
She played the bida-kontrabida Amanda, the eldest daughter of Gloria (Sylvia Sanchez) who harbored ill feelings towards her mother. It was after Amanda found out that Gloria had another daughter with her lover.
Amanda became known as a mean daughter who was cruel and always argued with her mother. However, she was given a rich back story, which is why viewers became sympathetic to her.
Amanda also became a trending character on social media since viewers said they could relate to the character.
Dimples won the Best Supporting Actress award at the 4th The PEP List Awards for her performance in The Greatest Love.
In 2018, Dimples was given another bida-kontrabida role in the afternoon series Kadenang Ginto. In this still-ongoing series, Dimples plays Daniela Mondragon, the daughter of Robert (Albert Martinez). Daniela hates Robert's second wife, Romina (Beauty Gonzalez), for intruding into their family.
Dimples's Daniela character has been the subject of memes since the beginning of the show: from her much talked-about wig to her now-famous red luggage.
Viewers saw the humanity of Daniela when she talked to Cassie (Francine Diaz) who was on the brink of death and told her, "Walang mamamatay." She then decided to donate blood to Cassie.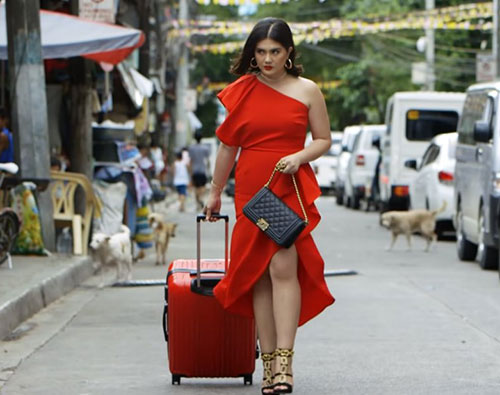 Andrea Torres
Andrea Torres was first tapped to play bida-kontrabida when she did a dual role in the 2012 afternoon series Sana Ay Ikaw Na Nga. She played the kind-hearted Cecilia and the evil Olga in the GMA-7 remake.
Sana Ay Ikaw Na Nga is a remake of the 2002 drama series starring Tanya Garcia and Dingdong Dantes.
Olga, who was also played by Chynna Ortaleza in the 2012 version, had plastic surgery after a freak accident.
When she underwent plastic surgery, Olga used the opportunity to steal Cecilia's face and assume Cecilia's identity to get the love of Carlos Miguel, played by Mikael Daez.
At present, Andrea is portraying another dual, bida-kontrabida role in the prime-time series The Better Woman. This time, Andrea plays long-lost twins Jasmine and Juliet.
The Better Woman revolves around the bida-kontrabida Juliet, who suddenly reunited with her family after years of not knowing her true identity.
After living an impoverished life as a hostess, Juliet becomes envious of her twin sister Jasmine.
Juliet is then tempted to steal everything from her, including Jasmine's husband Andrew, played by Derek Ramsay.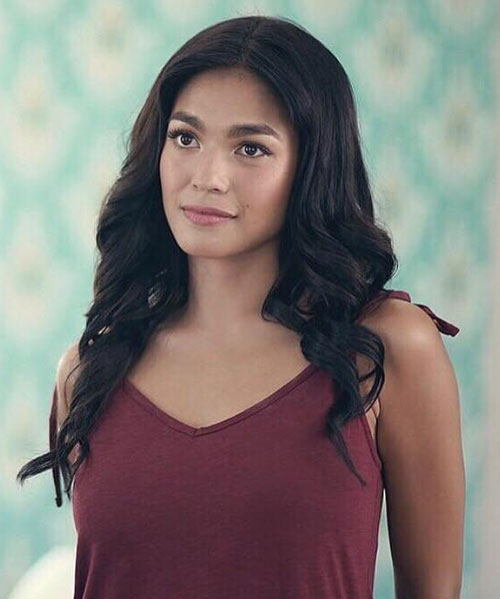 Julia Barretto
After ABS-CBN saw Julia Barretto's potential in playing multi-faceted characters via Mirabella, the network tapped her to play a bida-kontrabida role in the afternoon series And I Love You So, alongside Miles Ocampo.
In And I Love You So, Julia played Trixie, a young lady who grew up without her mom Katrina (Angel Aquino) by her side. For this reason, she became territorial and possessive of her father Alfonso (Tonton Gutierrez), and never wanted undivided attention.
Alfonso later found out that he has another daughter, Joanna (Miles), Trixie's new rival in school.
The entry of Joanna in their lives did not sit well with Trixie, and she unleashed her mean streak towards Joanna and her mother, Michelle (Dimples Romana).
In one scene, Joanna and Trixie participated in a leadership training wherein they were forced to be partners in a game that involved a blindfold. Since Trixie became bossy towards her partner, Joanna lost her temper and removed her blindfold, which caused them to be disqualified.
Trixie then called her stupid. Joanna got hurt, which triggered Trixie to continue insulting her.
Trixie told her, "You want more? You idiot, dumb, nincompoop! Para maintindihan mo sa Tagalog, boba, utak biya, tatanga-tanga, walang utak!"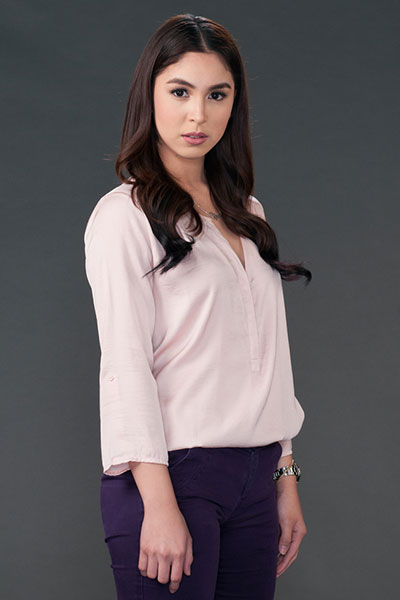 Glaiza de Castro
Glaiza de Castro was already known for playing kontrabida roles when GMA-7 suddenly promoted her to leading lady status via Grazilda in 2010.
Still, GMA-7 did not disregard Glaiza's prowess as a kontrabida because they made the Grazilda character into a bida-kontrabida.
In the story, Grazilda is one of Cinderella's evil stepsisters who was sent to the mortal world in order to punish her. While living in the mortal world, she learned how to love and be kind to people.
Glaiza is also known for portraying the bida-kontrabida Pirena in the 2016 remake of Encantadia, a role previously played by Sunshine Dizon in the original version.
Glaiza also played a bida-kontrabida in her last teleserye, Contessa, which aired from March to September 2018.
Since Contessa had revenge as its theme, netizens pointed out that the GMA-7 show might be imitating ABS-CBN's Wildflower, which had just completed its successful run at that time.
However, Wildflower already ended when Contessa aired on television, and comparisons between the two shows stopped.
For her portrayal in Contessa, Glaiza won a Best Actress award at the 8th EdukCircle Awards.
Maja Salvador
After top-billing afternoon shows in the past, Maja Salvador was tapped to play bida-kontrabida roles in her succeeding ABS-CBN teleseryes.
She first played a bida-kontrabida role in the 2012 drama series Ina Kapatid Anak, which she top-billed alongside Kim Chiu. They played twins who were rivals in winning over the attention and love of their parents.
After the show, Maja was assigned to play the mistress in Angel Locsin's drama series The Legal Wife, aired in 2014. Her character, Nicole, was written to be sympathetic and not a kontrabida, which is why there were viewers who were also rooting for her. Hence, fans of the show were divided into Team Nicole and Team Monica (Angel).
While The Legal Wife generated memes online and became a trending topic on Twitter for many episodes, Maja's breakthrough bida-kontrabida role happened in 2017.
It was when she was tapped to play the title role in the early prime-time series Wildflower.
In Wildflower, Maja played the role of Lily Cruz, a woman who wanted to take revenge on the Ardientes for the death of her parents. She disguised herself as Ivy Aguas in order to plot the downfall of the Ardientes.
Taking the role proved to be a good move for Maja because the series became such a huge success that it ran for a year on television, and her Lily Cruz/Ivy Aguas character also spawned memes on social media.
One of Maja's bida-kontrabida moments in Wildflower was when the Ardientes believed that Ivy Aguas was already dead. However, Ivy shocked every one when she appeared at a town party, wearing a gold gown, and walked down a grand staircase complete with fireworks.
She then revealed to everyone that she is not Ivy Aguas, but the real Lily Cruz.
Lily then blurted out her now-iconic line, "Black is out, gold is in! Yes, just like gold, I am indestructible!"
For her trending, impressive portrayal of Lily Cruz, Maja won Best Actress in a Leading Role award in the Philippine division of the Asian Academy Creative Awards 2018.
All Best Actress awardees in each country were nominated in the same category for the Asian division. However, Maja did not win the award.
Maja was also nominated in the Best Actress in a Leading Role category at the 23rd Asian Television Awards.
Maja is now preparing for another bida-kontrabida role in the upcoming prime-time series The Killer Bride.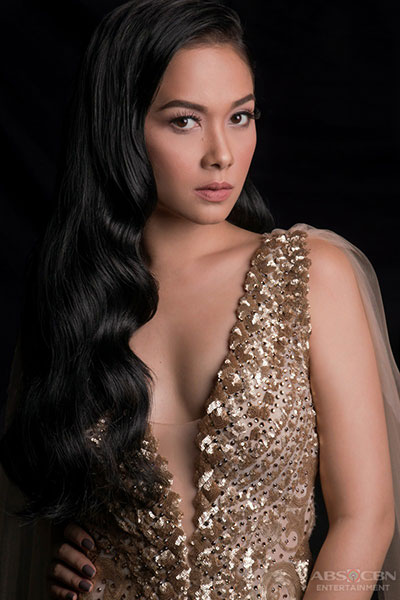 Sunshine Dizon
Since her teenage days, Sunshine Dizon has already been tapped to do bida-kontrabida roles in her teleseryes, such as in Anna Karenina (1996-2002), Umulan Man O Umaraw (2000), and Ikaw Lang Ang Mamahalin (2001).
In the middle of doing Ikaw Lang Ang Mamahalin, however, Sunshine's character was killed.
Back then, Sunshine had a conflict with co-star Angelika dela Cruz, who was playing the lead in the show.
Sunshine would later reveal to PEP.ph (Philippine Entertainment Portal) in a 2018 interview that Angelika was not the reason why she was pulled out of the show.
According to Sunshine, she was only allowed by her former manager Veana Fores to do 13 episodes, and that she does not want Sunshine to play a kontrabida.
In 2005, Sunshine got a breakthrough bida-kontrabida role, when she was tapped to play the role of Pirena in the GMA-7 fantasy series Encantadia.
Her Pirena role earned for Sunshine an Outstanding Lead Actress in a Drama Series award at the 2nd ENPRESS Golden Screen Entertainment TV Awards in 2005.
In 2006, Sunshine also received a Best Actress award at the 3rd Gawad Amerika Awards in 2006.
With Encantadia's success, Sunshine became a household name in portraying bida-kontrabida roles in her teleseryes.
She portrayed a dual role as both the bida and the kontrabida in the 2007 series Impostora.
Sunshine also played Erika, the central character in the 2009 GMA-7 remake of the Korean drama series, All About Eve.
Just recently, Sunshine played the lead role in the hit afternoon series Ika-6 Na Utos, where she played a wife who wants to get back at her husband and his mistress. The series was such a hit that it ran for more than one year on GMA-7.
Sunshine also received Best Actress awards at the 16th Gawad Amerika Awards and OFW Gawad Parangal 2017 for her performance in the Kapuso series.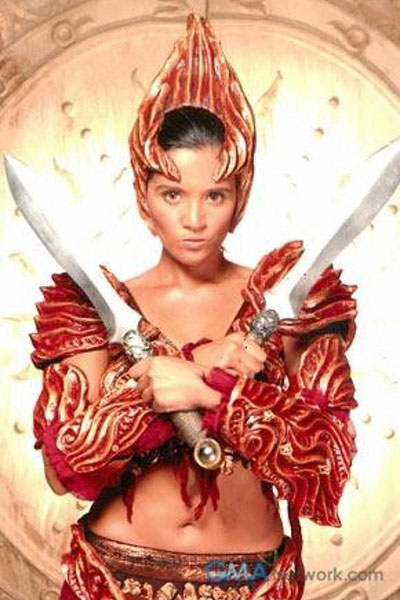 Angelica Panganiban
"Wala nang kokontra, ako na ang bida!"
This was the line used by Angelica Panganiban in the teaser of Rubi, the 2010 Philippine remake of the 2004 Mexican drama of the same title.
When the original Rubi aired on ABS-CBN in 2004, the title character was immediately dubbed as the first "Bida-Kontrabida" in the Philippines. It was because Rubi, the central character in the story, had the characteristics and features of a typical kontrabida. Back then, bida characters were only known to be kind-hearted, simple, and meek.
In 2010, ABS-CBN decided to do a remake, with Angelica playing the lead role. Rubi is a social climber who grew up in the slums. Her past made her wanted to achieve more in life, especially in terms of material wealth.
Angelica's Rubi also became known for her comedic and witty lines, may of which have become part of Pinoy pop culture.
One of Angelica's iconic scenes in Rubi was her confrontation scene with Maribel (Shaina Magdayao), who called her "demonyo."
She then answered, "Wow, may demonyo pa lang ganito kaganda! Sorry ka, hindi ako sa impyerno nakatira, sa langit kasama ng taong iniiyakan mo."
After Maribel left, Rubi told her reflection in a mirror, "Gandang demonyo!" and tossed her hair.
Angelica won the Best Actress in a Daily Soap Opera award at the 7th USTv Students' Choice Awards for her performance in Rubi.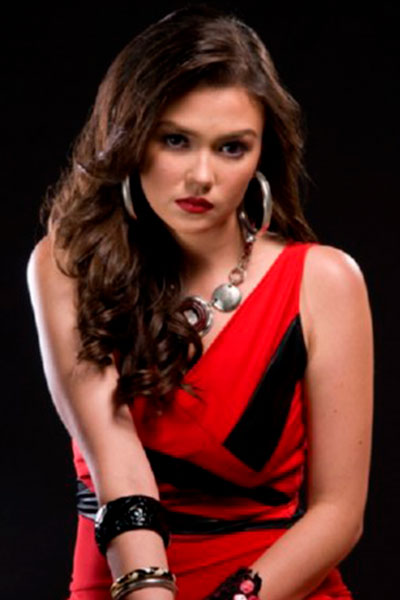 Jennylyn Mercado
Jennylyn Mercado was tapped to play bida-kontrabida in GMA-7's 2014 prime-time series Rhodora X.
Rhodora was diagnosed with Dissociative Identity Disorder (DID), causing her to have three different personalities: the kind-hearted Rhodora, the childlike Rowena, and the evil Roxanne.
Roxanne's evil deeds caused the hardships in the life of Rhodora's family, especially her sister Angela.
Jennylyn's impressive portrayal of three different personalities earned her the Best Actress of the Year award at the 2nd The PEP List Awards in 2015.
She was also nominated at the 6th ENPRESS Golden Screen Television Awards in the Outstanding Performance by an Actress in a Drama Program category.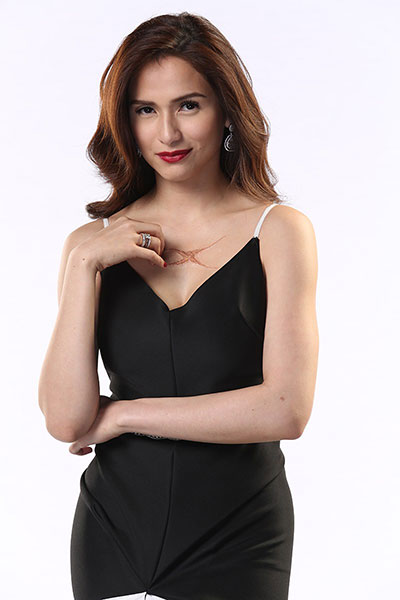 Gretchen Barretto
Gretchen Barretto was immediately given a bida-kontrabida role in her first teleserye where she played the lead, which was Victoria Valera in Magkaribal.
Victoria was a vengeful woman who wanted to avenge the death of her younger sister. She then crossed paths with Gelai (Bea Alonzo) and they became rivals. They were feuding with each other until they found out they were actually sisters.
Gretchen's Victoria is known for her now-iconic line, "You want war? I'll give you war. Sabihin mo lang kung saan at kalian, I'll be there in my red stilettos."
In 2011, Gretchen won the Best Actress award at the PMPC Star Awards for Television for her portrayal as Victoria.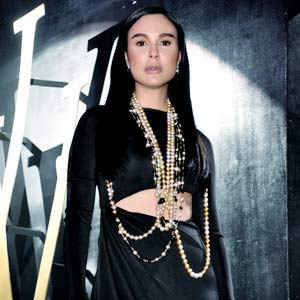 Lovi Poe
Lovi Poe has also been a suki of portraying bida-kontrabida roles in teleseryes of GMA-7. The first time was in 2008, when she headlined the series Kaputol ng Isang Awit, a remake of Sharon Cuneta's classic movie.
Lovi was cast as Joanna Ambrosio, a popular singer who was threatened by the presence of new singer, Sarah Monteza, played by Glaiza de Castro.
The bida-kontrabida role allowed Lovi to earn her first Best Actress nomination at the 2008 PMPC Star Awards for Television.
In 2012, Lovi played the central character in the prime-time series Legacy, as the bida-kontrabida Natasha. She headlined the series with good friends Heart Evangelista and Alessandra de Rossi.
In Legacy, Natasha was the legitimate heiress of the Alcantara clan, who owns the Legacy Corporation. She was the threatened when she found out that she has two other sisters, played by Heart and Alessandra.
Natasha also found out that she was not a real Alcantara, and she was an adopted daughter.
Lovi earned an Outstanding Performance by an Actress nomination at the 2013 Golden Screen TV Awards for her performance in Legacy.