K Brosas defended the results of "Tawag ng Tanghalan" (TNT) Ultimate Resbak this Tuesday, September 11, 2019.
Many netizens reacted and aired their dissatisfaction over the elimination of Mariane Osabel of Mindanao. For this reason, Mariane trended on Twitter Philippines.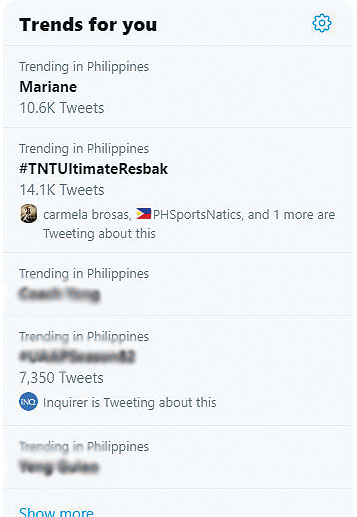 Marian was beaten by fellow contestant Mariko Ledesma from Luzon in the Ultimate Resback edition of the singing contest aired on It's Showtime, ABS-CBN's noontime show.
Ultimate Resbak is a special edition of TNT where past winners, who didn't accumulate enough wins to advance to the grand finals, get another chance to outdo each other and have the chance to be one of the grand finalists.
NETIZENS DISAPPOINTED WITH TNT JUDGES
Many netizens took to Twitter to post demeaning tweets about the hurados, calling them unfair for the score that they gave Mariane.
Louie Ocampo served as punong hurado while the other judges were Karylle, Dulce, Jaya, and K Brosas.
Mariane sang her version of "Run To You" by Whitney Houston, while Mariko performed the upbeat song "(I Can't Get No) Satisfaction" by The Rolling Stones.
In the end, it was Mariko who triumphed in the face-off round.
Mariko, a transgender woman, garnered 83.7% while Mariane got 66.50%.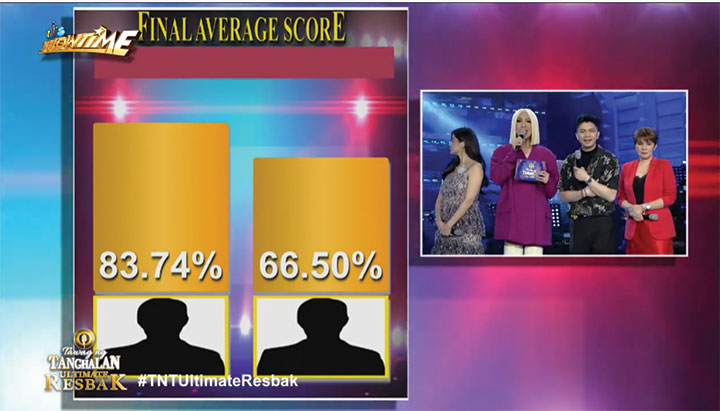 Their scores are the combined text votes and the judges's scores.
Scores from text votes and the judges were also flashed on screen.
Based on text votes, Mariane got 50%, while Mariko only got 33.74%.
Meanwhile, based on the judges's votes, Mariko got 50%, while Mariane only got 16.50%.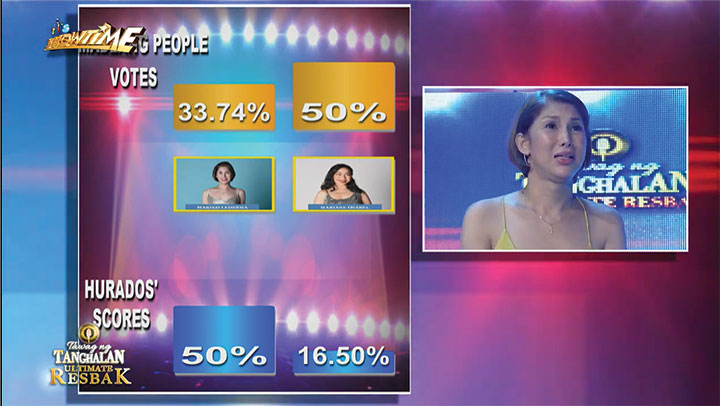 It's the 16.50% score of Mariane from the judges that disappointed netizens.
Many of them questioned the score, saying it was too low, given Mariane's range as a singer.
Here are some of their tweets.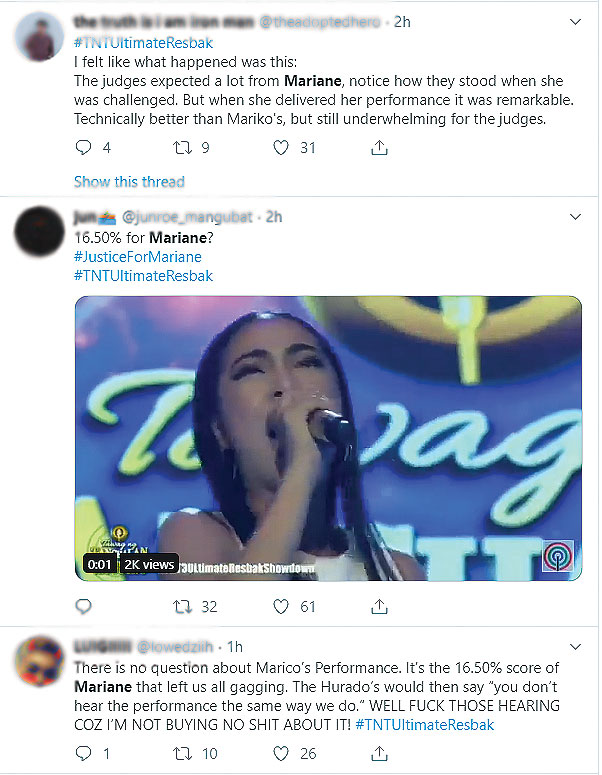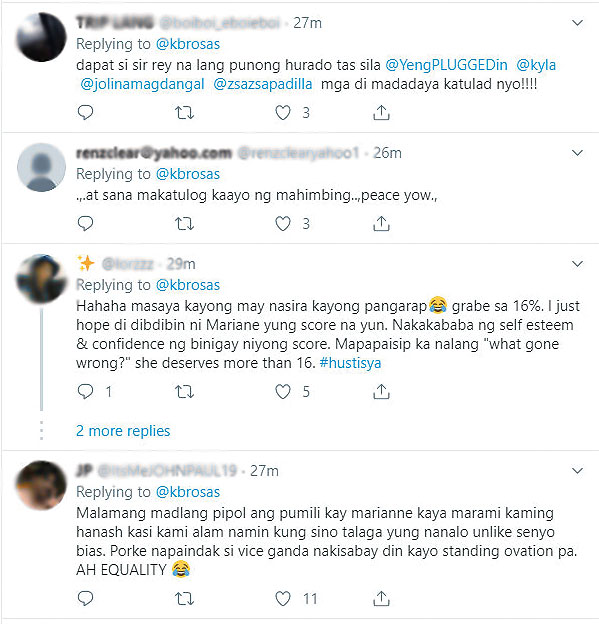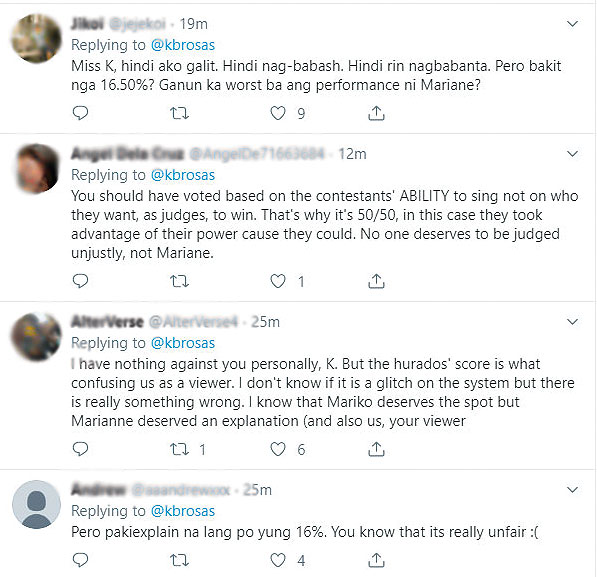 K BROSAS DEFENDS TNT HURADOS
K Brosas, who was one of the judges, responded via Twitter.
In her first tweet, the singer-comedienne said that some netizens always have something bad to say, regardless of the results.
"Daming hanas pag mataas ang TXT VOTES.. chika pa kayo na dapat mas mataas percent ng hurados scores..
"PERO hanas pa din pag Natalo dahil mas mataas ang hurados scores kesa txt votes? Eh ganon po talaga.. At tandaan madaming sikat ngayon na Di naman nag grand winner. Peace! [smile and peace emojis]"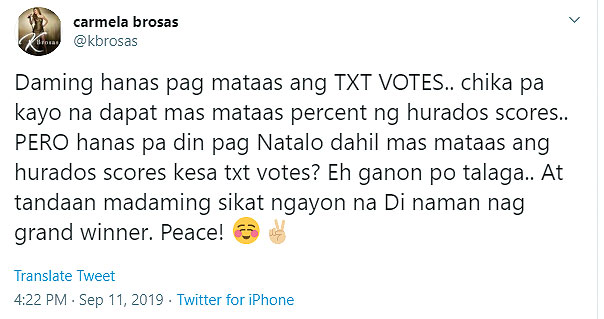 In her second tweet, K revealed that she received threats but she considers this as part of her job.
"Kahit ano pa pong mura nyo SA akin, bash na wala na SA issue, At May pagbabanta pa SA buhay ko, kahit ano pang sabihin nyo, wala na tayong lahat magagawa.. ako work na lang uli tom na walang galit SA dibdib.. kaya kung masaya kayo SA ginagawa nyo At galit, gusto nyo yan eh. [peace and smile emojis]"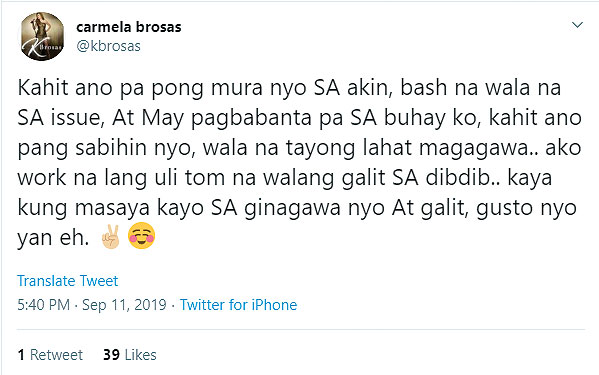 K also retweeted a netizen's post about excellence and consistency.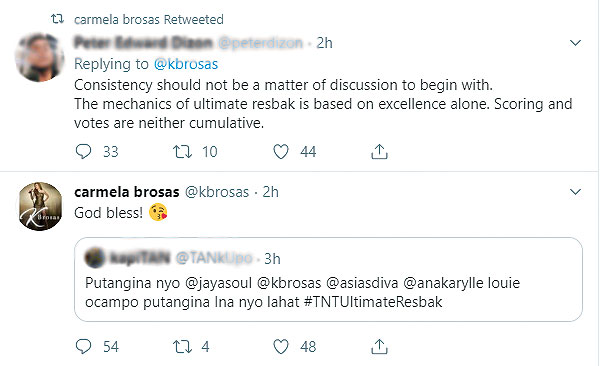 She then posted a third tweet to respond to a netizen who called her "bobo."

Mariko posted a Facebook status to show her disbelief over her triumph. Meanwhile, Mariane thanked those who supported her.