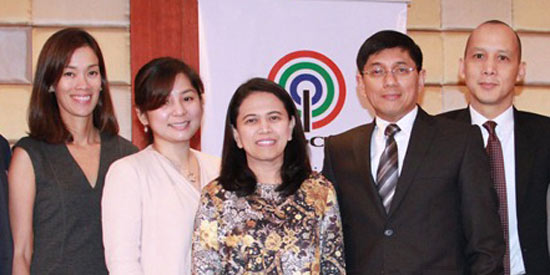 ---

PRESS STATEMENT FROM ABS-CBN:


ABS-CBN Corporation reported PHP25.057 billion in consolidated revenues for the first nine months of 2014, bringing its net income to PHP1.541 billion, approximately 29% higher compared to the same period last year after stripping out the effects of election-related ad spending.

The company posted third quarter revenues of PHP8.7 billion – a 6% increase compared to second quarter revenues this year.
"The performance of the group for the first nine months has been steady. Our consumer business, led by Star Cinema's movie releases which generated more than PHP 2 billion in ticket sales, grew by 7.5%." said Aldrin Cerrado, the company's Chief Financial Officer.

"Channel 2 has maintained its leadership in terms of national audience shares and ratings, and SkyCable's revenues have shown steady growth, with broadband revenues increasing steeply by 38% compared to the same period in 2013," added Cerrado. "I remain confident that we will meet our full-year financial targets."
ADVERTISEMENT - CONTINUE READING BELOW
The company's costs and expenses increased by only 1% compared to the same period last year, while total assets rose to PHP67 billion as of the end of September 2014 from PHP58.0 billion as of end last year. Its equity base rose to PHP26.9 billion from PHP25.9 billion in 2013.
Ron Valdueza, Group CFO and Head of Corporate Services Group 2 stated: "I am extremely pleased with the performance of our new initiatives. ABS-CBNmobile has exceeded its subscriber target, while O Shopping continues to generate over a million pesos in daily sales and has expanded its product offerings. We expect O Shopping to be profitable this year - its first full year of operations. In the meantime, we are excited to roll out our digital set-top boxes, pending the release of the implementing rules and regulations by the government. We are also looking forward to the opening of Kidzania at the Fort Bonifacio Global City next year."
ADVERTISEMENT - CONTINUE READING BELOW
According to Kantar Media, the top ten programs for the first three quarters of 2014 for free-to-air television were all produced by ABS-CBN.