Judy Ann Santos's comeback teleserye, Starla, is finally airing on television one year after its announcement.
ABSC-CBN released its trailer yesterday, September 17, 2019.
The trailer showed the dark past of Judy Ann's character, Teresa. She worked her way up to become a rich businesswoman who now had the power to buy Barrio Maulap, a rural town experiencing a livelihood crisis.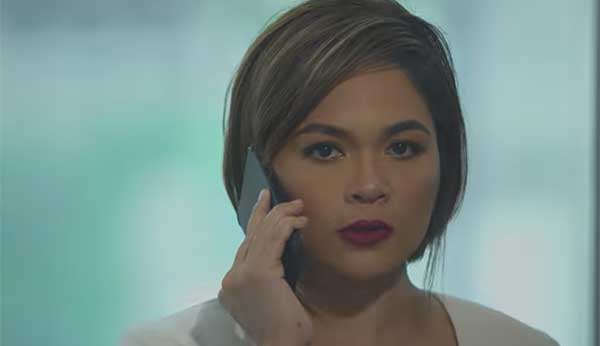 Teresa's eagerness to buy the town comes from the bitter memories she had in the place when she was still a teenager. Back then, she had to deal with the death of her mother (Ana Abad Santos).
While in the process of buying the barrio, Teresa crosses paths again with her estranged father, Greggy (Joel Torre). Teresa vowed never to see him again because she believed that he abandoned her and her mother.
Teresa's plans of buying the barrio becomes problematic when the town starts recovering from its losses. Their fortunes changed because of a young boy named Buboy (Enzo Pelojero). He has been asking help from an alitaptap named Starla (Jana Agoncillo), a wishing star.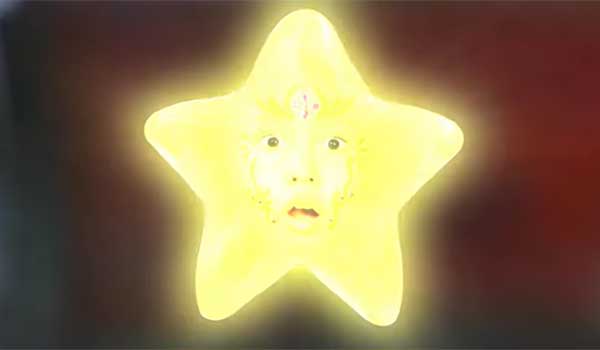 The trailer did not announce the airing date of Starla. However, two shows have already announced that they will end soon.
First is the afternoon series Los Bastardos, which will be replaced by Sandugo on September 30.
The second is Angel Locsin's The General's Daughter, which is down to its last three weeks.
Starla, produced by Dreamscape Entertainment, is directed by Onat Diaz and Darnel Joy Villaflor.
Also part of Starla's cast are Meryll Soriano, Joem Bascon, Anna Luna, Chantal Videla, and Grae Fernandez.
Charo Santos-Concio and Tirso Cruz III have special roles in Starla.
NETIZENS DEMAND FIRST SLOT FOR STARLA
Starla received good feedback and comments from netizens who were able to watch its trailer on YouTube.
Netizens pointed out that the series will teach good values to viewers, especially the kids.
This is why some viewers pointed out that Starla must be aired in the first prime-time slot, after TV Patrol.
This timeslot is currently being occupied by FPJ's Ang Probinsyano, starring Coco Martin. The action-drama series produced by Dreamscape Entertainment has already been airing for four years in the first timeslot.
Some netizens said that since Starla caters to kids, it must be aired in a kid-friendly timeslot, just like the shows May Bukas Pa (2009), 100 Days to Heaven (2011), and Nathaniel (2015).
The child-friendly show that was aired in the second slot was My Dear Heart in 2017, which was placed after Ang Probinsyano.
If Starla will replace The General's Daughter, there is a big chance that Starla would also be placed in the second timeslot, unless management decides to switch it with Ang Probinsyano.
Here are some comments of netizens: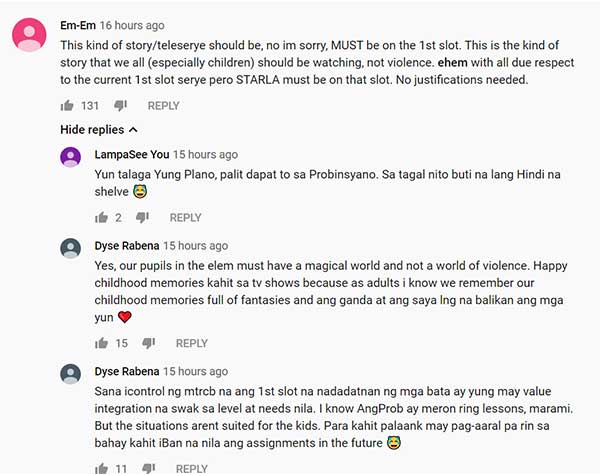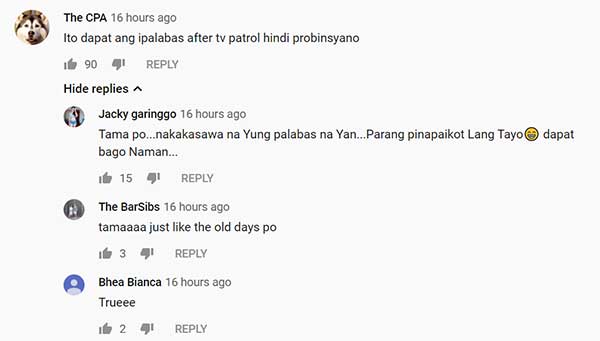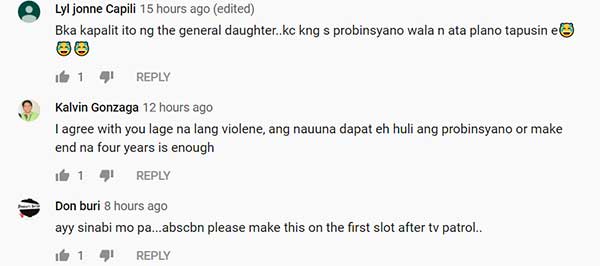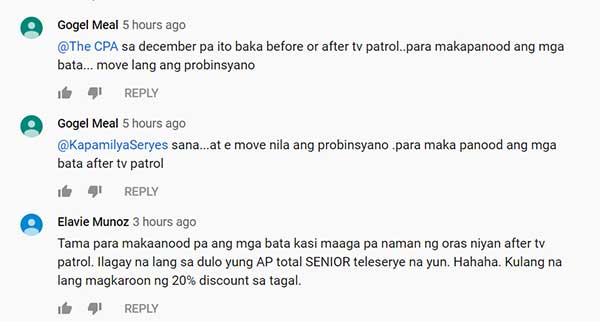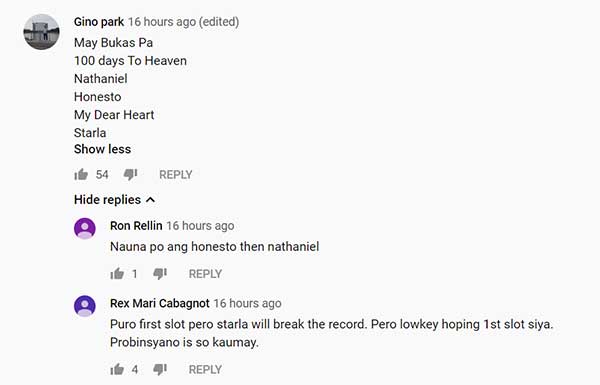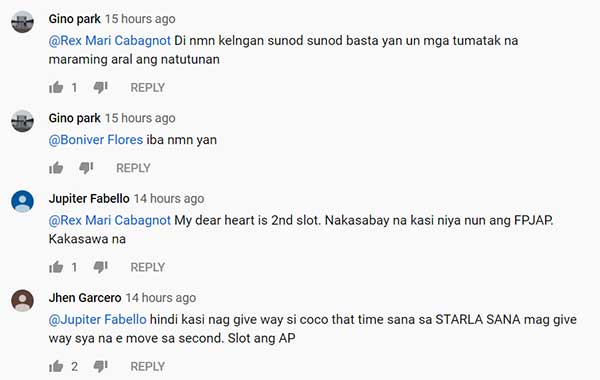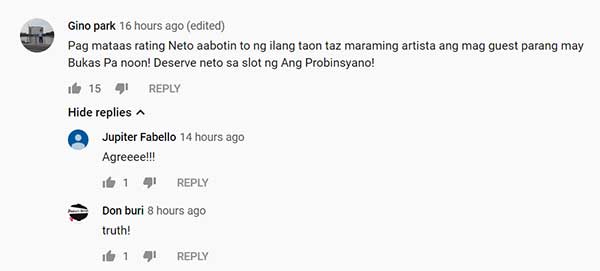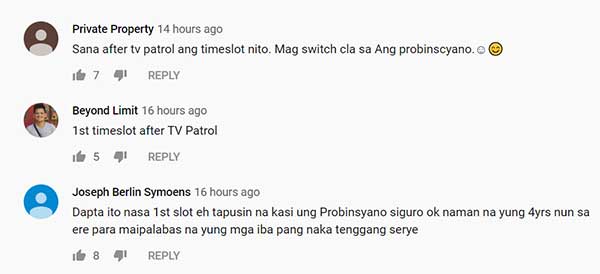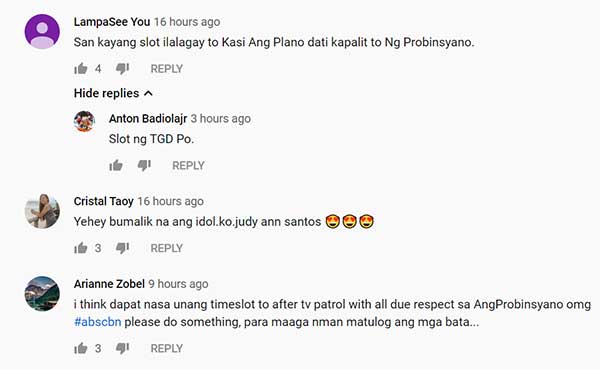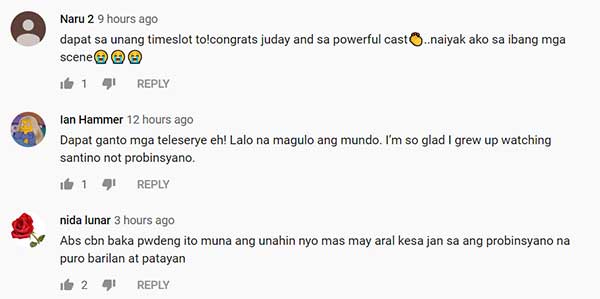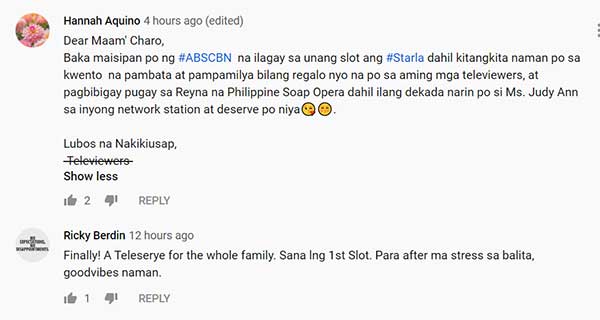 Dreamscape Entertainment has yet to announce the official timeslot of Starla.
Starla is Judy Ann's comeback on prime-time television after five years. Her last teleserye was Huwag Ka Lang Mawawala, shown in 2013.
Judy Ann just recently ended her one-month guest stint in Ang Probinsyano.