Through the years, ABS-CBN and GMA-7 have been incorporating different twists and concepts in the teleseryes they produce.
These include introducing extraordinary characters and depicting various medical conditions.
Because of these concepts, typical Filipino teleserye plots are given unusual twists that add a unique flavor to their stories.
One of the now-commonly-used twist is the use of surrogacy. In this situation, a woman agrees to become pregnant and give birth to a child for another person or a couple.
In teleseryes, this usually happens when a couple cannot conceive a child, and they decide to resort to assisted reproductive technology such as in vitro fertilization.
At present, five teleseryes have already been produced tackling the concept of surrogacy.
PEP.ph (Philippine Entertainment Portal) lists down these Filipino teleseryes and how they used surrogacy as a vital plot twist to their storylines.
Kung Aagawin Mo Ang Langit
September 2011 to February 2012, GMA-7
Kung Aagawin Mo Ang Langit, an afternoon drama aired in GMA-7, top-billed Carla Abellana, Michelle Madrigal, and Mike Tan.
It was the first teleserye to introduce the concept of surrogacy.
The series tackled the story of Ellery (Carla) and Jonas (Mike), a childless couple. Ellery asked her cousin and best friend, Bridgitte (Michelle), to become a surrogate mother and carry their child. Ellery did not know that Bridgitte and Jonas had a past connection, after having a one-night stand.
On the night Bridgitte gave birth, Ellery got into an accident and fell into a coma. When Ellery didn't wake up from her coma after many years, Bridgitte urged Jonas to have his marriage with Ellery annuled due to incapacity of wifely duties. Thinking that Ellery won't wake up anymore, Jonas and Bridgitte decided to get married.
The conflict began when Ellery woke up from her coma seven years later. She found out that her cousin and her husband are already married. To make matters worse, Ellery's child only acknowledged Bridgitte as her real mom.
In the end, Ellery was able to win her family back, and Bridgitte repented for her sins before she died from breast cancer.
Mike Tan's character was supposed to be played by Paulo Avelino, but the latter decided to transfer to ABS-CBN.
Kung Aagawin Mo Ang Langit was aired internationally in three countries: Vietnam (via TodayTV VTC7 and SNTV SCTV6), Malaysia (via Astro Bella), and United States (Kiku TV).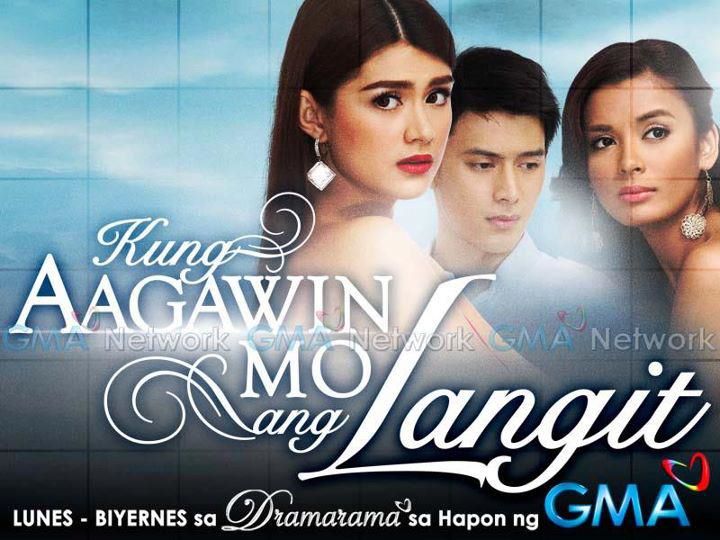 Ina Kapatid AnaK
October 2012 to June 2013, ABS-CBN
Ina Kapatid Anak told the story of Teresa (Cherry Pie Picache), who agreed to become the surrogate mother for her sister Beatrice (Janice de Belen) and Julio (Ariel Rivera). Despite Teresa and Beatrice's close relationship, Beatrice had always been jealous of Teresa, because Teresa and Julio are best friends, and because Teresa likes him.
One time, Beatrice caught Julio helping the pregnant Teresa, allowing them to get close to each other. In response, Beatrice insulted Teresa. Teresa was hurt by Beatrice's allegations and left them while she was still carrying their child.
Years passed and Teresa gave birth to Celyn (Kim Chiu), without letting her know who her biological parents are. On the other hand, Beatrice and Julio adopted Margaux (Maja Salvador).
Celyn and Margaux later crossed paths when they became schoolmates. They had a beautiful friendship, until Margaux found out that Celyn was falling for the former's boyfriend, Ethan (Enchong Dee). To make matters worse, it was revealed that Celyn was the long-lost daughter of Julio and Beatrice.
It was also revealed later in the story that Teresa actually gave birth to twins, and that Margaux was the other baby.
The story ended with Celyn and Margaux, as well as Beatrice and Teresa patching things up.
The original cast of Ina Kapatid Anak included Andi Eigenmann and Jessy Mendiola in the lead roles, with the show airing on the Kapamilya network's afternoon block.
However, different projects were assigned to Andi and Jessy, and the series was given to Kim and Maja, and was aired in the prime-time block.
Halfway through its run, lead stars Kim and Maja got embroiled in a controversy when a confrontation scene between them allegedly got too real and intense. This was the time when Gerald Anderson, Kim's ex-boyfriend, became Maja's real-life boyfriend.
All is well in the present time as Kim and Maja were able to rekindle their friendship.
Ina Kapatid Anak, which aired for eight months, is considered to be one of ABS-CBN's top-rating drama shows during its run.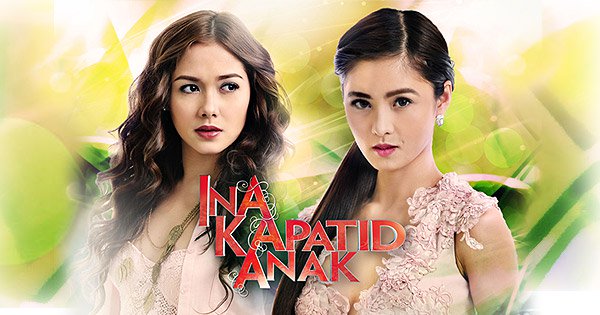 Sa Piling Ni Nanay
June 2016 to January 2017, GMA-7
Sa Piling Ni Nanay top-billed Yasmien Kurdi, Mark Herras, and Katrina Halili. The series was originally titled as Womb for Hire and was placed in GMA-7's afternoon block.
The story revolved around Ysabel (Yasmien), a woman in need of money after her daughter was diagnosed with leukemia. This is the reason why she volunteered to bear the child of Scarlet (Katrina), who has been having a hard time conceiving a baby with her husband, Javier (Benjamin Alves).
In the middle of Ysabel's pregnancy, her own daughter died. Because of too much sadness, she decided to run away with Scarlet's child. Ysabel raised the child as Maya (Sofia Catabay) like her own.
Years passed and Ysabel crossed paths again with Scarlet, and started a legal battle to fight for her rights as Maya's real mother.
The series received high ratings that its original 13-week run was extended to seven months, with Jillian Ward playing as Maya in the other half of the series.
Sa Piling Ni Nanay was also aired in Malaysia, using the title Ysabel.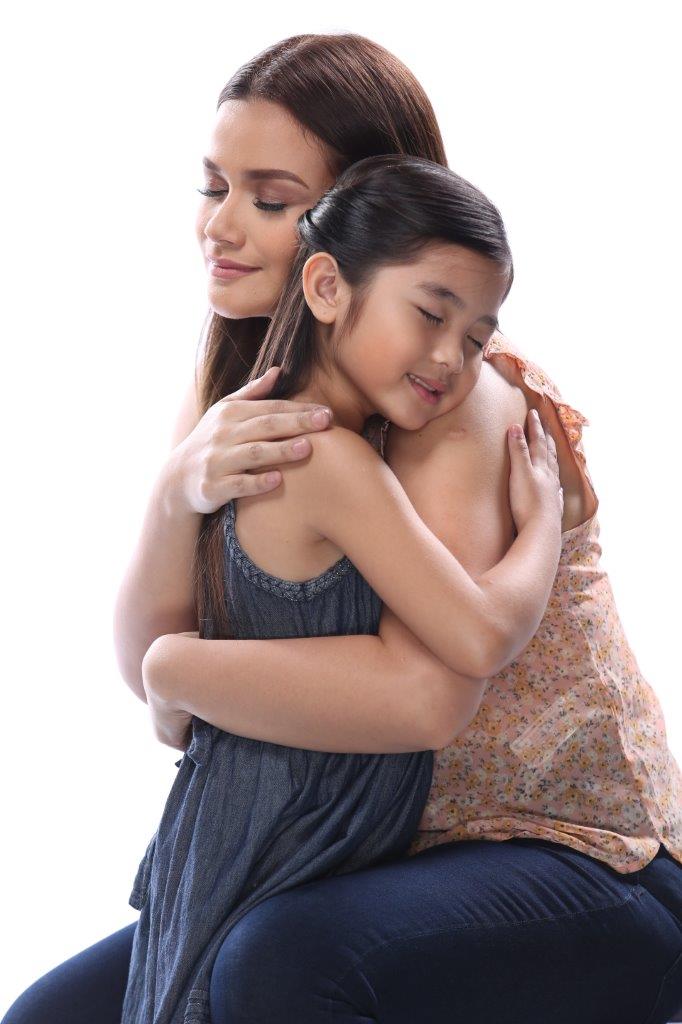 The Blood Sisters
February to August 2018, ABS-CBN
The Blood Sisters top-billed Erich Gonzales as the triplets Erika, Carrie, and Agatha. The story started 27 years ago, when childless couple Debbie (Dina Bonnevie) and Norman (Jestoni Alarcon) hired their househelp Adele (Cherry Pie Picache) as the surrogate mother for their child. However, Adele suffered a miscarriage.
Because Debbie has no viable fertilized eggs left for another in vitro fertilization, Norman was so desperate that he seduced Adele and got her pregnant.
Debbie was led to believe that Adele is still a surrogate mother, and that she is carrying their child.
Adele later changed her mind and decided to run away from the couple, and she eventually gave birth to triplets.
Norman hired men to determine Adele's whereabouts and they found her in Davao City. Norman's men were able to snatch a baby from Adele's mother, while Norman himself took another baby. Thinking that his men snatched the wrong baby, the kidnappers left her in an empty carton.
The three girls grew up having separate lives: Carrie, a rich doctor who was raised by Debbie and Norman; Erika, a single mother who had to work as a stripper to fend for herself and her child; and Agatha, an ambitious woman who grew up with Adele's mother, because Adele had to go to Dubai to raise her.
Aside from telling the story of the triplets, The Blood Sisters also tackled the crime of child harvesting through a baby farm syndicate called Paraiso.
The original storyline of The Blood Sisters involved fraternal twins, with Erich and Louise delos Reyes playing the lead roles.
However, according to director Jojo Saguin, the story was revised, shifting to identical triplets.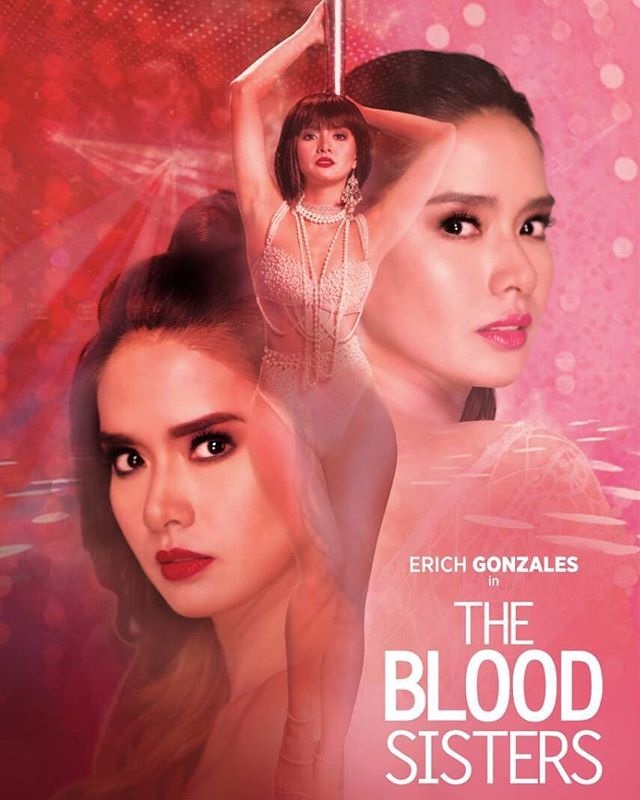 Prima Donnas
August 2019 to present, GMA-7
Prima Donnas is the latest drama series to feature the concept of surrogacy.
Its story revolves around the triplets Mayi (Jillian Ward), Ella (Althea Ablan), and Lenlen (Sofia Pablo), whose real parents are Jaime (Wendell Ramos) and Marta Claveria (Glaiza de Castro).
Jaime and Marta are a childless couple who hired Lilian (Katrina Halili) to become a surrogate mother and carry their child. Unfortunately, before Lilian gave birth, the Claveria family house caught on fire, which was orchestrated by Kendra (Aiko Melendez). The fire caused the death of Marta and leaving Jaime in a coma.
Lilian escaped the fire and raised the triplets as her own. However, Kendra was able to find her and tried to kill her and the kids. As a result, they all got separated.
In the current storyline, Mayi works as the yaya of Brianna (Elijah Alejo), the fake heiress of the Claverias who is actually the love child of Kendra with another guy. Lenlen and Ella were stuck in a syndicate.
The afternoon series, which premiered last August 19, still airs on GMA-7's Afternoon Prime block.