It has become imperative for ABS-CBN and GMA-7 to differentiate its teleseryes by selecting various milieus, mixing genres, and introducing different kinds of characters.
One innovation involves turning a regular teleserye into a musical.
The first musical teleserye in the Philippines was ABS-CBN's Bituin, which aired in September 2002. Coincidentally, most musical-themed dramas in the Philippines were also aired on a September.
However, doing a musical teleserye is risky because not all of these shows become massive hits. Some of them even registered lackluster performances in terms of TV ratings.
PEP.ph (Philippine Entertainment Portal) presents 15 musical teleseryes, and notes which among these shows became hits or suffered from low ratings.
Take note that teleseryes that used music as subplots (Sana'y Wala Nang Wakas, Narito Ang Puso Ko, Sarah The Teen Princess) were not included in this list.
BITUIN (SEPTEMBER 23, 2002 TO MAY 23, 2003)

Bituin marks the first time a TV network incorporated music into a full-length, daily teleserye. Aired on ABS-CBN in September 2002, Bituin was the first drama series of Superstar Nora Aunor.
The story revolved around Laura (Nora), a loving sister to popular singer Carmela (Cherie Gil). Unfortunately, Laura and Carmela's relationship was strained after Carmela suffered a miscarriage, and she blamed Laura for the incident.
Years later, Laura married Badong (Michael de Mesa), a musician, and had two children: Melody (Carol Banawa) and Bernadette (Desiree del Valle). Badong left Laura to work overseas, but he never returned.
When Melody became sick, the penniless Laura went to Carmela to ask for help. Carmela would only help Laura only if the latter would allow her to adopt Bernadette. Laura was left no choice but to sign the adoption papers.
Years later, Carmela and Laura lived with each other under the same roof, together with their daughters.
Not knowing that they are sisters, Melody and Bernadette became close to each other. Carmela urged Bernadette to become a singer, even if the latter cannot sing. On the other hand, Melody, who is gifted with a singer's voice, was forbidden by Laura to sing.
Melody started resenting her mother because of this, especially when she found out that Laura had been giving Bernadette secret voice lessons.
Bernadette then became a singing superstar, by using Melody's voice and claiming it as hers. Later, Melody started making a name for herself in the music industry, which intensified the war between the sisters.
One of the most remarkable scenes in Bituin was when it staged a big concert at the Araneta Coliseum titled "The Voice vs. The Supernova." The event featured a showdown between Carol and Desiree's characters.
Bituin ran for eight months, a bit shorter than the usual run of drama shows aired during that time, which was usually one to two years.
Nora Aunor would later voice out in a YES! Magazine interview that she was disappointed with the way ABS-CBN handled her while doing Bituin.
ABS-CBN answered Nora's claims, saying that it was the Superstar who had bad working habits, which is why Bituin was cut short.
However, all became well between the two parties after Nora appeared in a Maalaala Mo Kaya episode in 2016.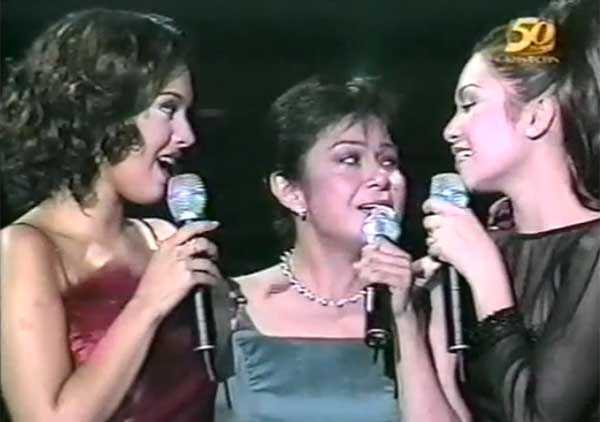 NOW AND FOREVER: TINIG (JANUARY 9, 2006 TO APRIL 12, 2006)
Tinig is the fourth installment of GMA-7's defunct daily afternoon drama anthology, Now and Forever Presents. It was the second TV show of Sheryl Cruz after she made a comeback in showbiz in 2005, and the first time Yasmien Kurdi became the lead in a TV drama.
Tinig tells the story of Selena (Sheryl Cruz), a singer who had to give away her child to resume her singing career. The abandoned child grew up as Ikay (Yasmien Kurdi), an orphan who dreams of making it big in showbiz. She also idolizes Selena, not knowing that she is her mother.
Tinig is considered as the highest-rated Now and Forever series, that it even rated higher than another afternoon series, Daisy Siete, during its run.
At the time, Daisy Siete was the consistent No. 1 show in GMA-7's afternoon block at that time.
Since it is a musical drama, Now and Forever theme song composer and musical scorer Vincent de Jesus composed another theme song for the teleserye, which was aptly titled "Tinig," and was performed by Yasmien.
BITUING WALANG NINGNING (MAY 15, 2006 TO OCTOBER 6, 2006)
In 2006, ABS-CBN did a remake of Sharon Cuneta and Cherie Gil's iconic 1985 movie, Bituing Walang Ningning. For its TV version, Sarah Geronimo and Angelika dela Cruz were chosen to play the roles of Sharon and Cherie, respectively.
The plot of the series was almost similar to the movie. Movie fan Dorina Pineda (Sarah) idolized popular singer Lavinia Arguelles (Angelika), which is why she would always go to her concerts, and offer her sampaguita leis.
Dorina, who is also gifted with a golden voice, decided to join a singing contest, and eventually became a threat to Lavinia's popularity.
Sarah and Angelika also did their own version of the iconic scene in the Bituing Walang Ningning movie, where Lavinia blurted out the line, "You're nothing, but a second-rate, trying hard copycat!"
Another difference from the movie was that Dorina had a real mother (played by Zsa Zsa Padilla).
ABS-CBN's recording arm, Star Music, produced an album containing the official soundtrack of Bituing Walang Ningning. It had versions of hit OPM classics such as "Sana'y Maghintay Ang Walang Hanggan," "Miss Na Miss Kita," and "Dito Ba," and "Nasaan Ka Man."
The show also staged a big event that was aired in the finale week of Bituing Walang Ningning. Titled "Clash of the Divas," the concert was held at the Araneta Coliseum.
Though Bituing Walang Ningning wasn't able to defeat its rival programs in GMA-7 during its run, the series was the highest-rated teleserye of ABS-CBN during its run, and was able to register a 34.8% rating during its final episode, finally beating its Kapuso rival program, Atlantika.
Bituing Walang Ningning ended its run on October 6, 2006, and was replaced by Bea Alonzo and John Lloyd Cruz's Maging Sino Ka Man.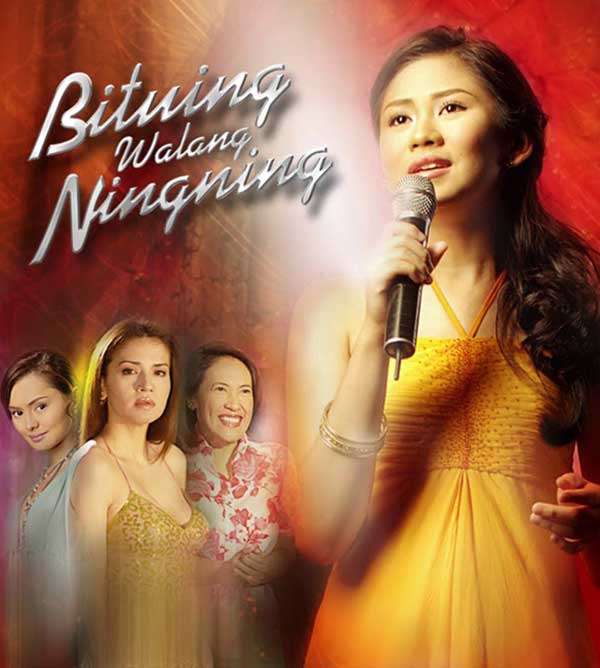 BAKEKANG (SEPTEMBER 11, 2006 TO MARCH 30, 2007)
Bakekang was a remake of Nora Aunor's 1978 film, which was based on a comics serial by Carlo J. Caparas. It tackles the story of an ugly girl named Bakekang, who is also a movie fan.
A lot of names surfaced as to who would portray the role of Bakekang, including Pauleen Luna, Diana Zubiri, and Sheryl Cruz. Eventually, it was announced that Sunshine Dizon would be doing the much-coveted role. Sunshine's character in another series, Captain Barbell, had to be killed for her to pursue the project.
Sheryl, who was also written to be considered to play Bakekang, portrayed the kontrabida Valeria, a popular singer and movie star.
Eunice Lagusad and Krystal Reyes portrayed Bakekang's daughters, Charming and Kristal. The grown-up Charming and Kristal were portrayed by Yasmien Kurdi and Lovi Poe, respectively. This was Lovi's first project.
The TV series revolved around Bakekang, a movie fan who was always ridiculed because of her face. She fell in love with actor Kristoff (Jay Manalo), which caused her to be rivals with popular singer-actress Valeria (Sheryl Cruz).
Years later, Bakekang gave birth to twins: a beautiful girl named Kristal (Lovi), and Charming (Yasmien), the daughter who got Bakekang's looks.
Bakekang, being a movie fan, urged Kristal to become a singer on television. Bakekang succeeded, but this led her to become a stage mother to Kristal.
Charming, who seemed invisible in the family, always tried to please her mother, but Bakekang resented her because of her looks.
Three original songs were also composed for Bakekang: its main theme song, "Ang Mundo Ko'y Ikaw," "Tayong Dalawa," and "Ngayong Wala Ka Na."
Originally intended to run for 18 weeks, Bakekang registered high ratings, prompting the Kapuso network to extend its run for six months.
Sunshine and Sheryl are currently working on an upcoming afternoon series titled Magkaagaw.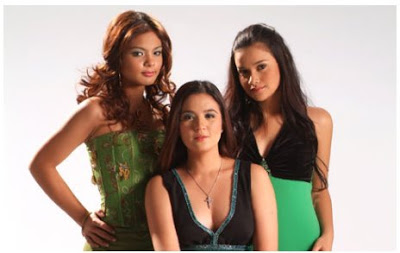 PANGARAP NA BITUIN (SEPTEMBER 3, 2007 TO DECEMBER 7, 2007)
After Bituing Walang Ningning, Sarah Geronimo was given another musical for her next TV project, but this time, an original material.
It was titled Pangarap na Bituin, wherein she shared top billing with Rica Peralejo, and Maja Salvador.
In the series, Sarah portrayed Emerald, who was looking for her missing sisters, Sapphire (Rica) and Ruby (Maja), after a tragedy.
Using her gift and passion for music, Emerald became a singer, and succeeded in reuniting with her sisters.
Sharing a common dream of becoming popular singers, Sapphire, Emerald, and Ruby formed a group called The Jewel Sisters.
However, their popularity caused a rift among the sisters. Sapphire started to get jealous of Emerald's popularity, while Ruby became more insecure.
It was later revealed that Sapphire was only pretending to be Emerald and Ruby's missing sister, because it was a plot staged by their fake mother, Lena (Rio Locsin). Apparently, the real Sapphire (Nikki Gil) was confined in a mental institution, after being traumatized because of the earthquake tragedy that separated the sisters.
Pangarap na Bituin ended with a concert of the real Jewel Sisters, singing their own song called "The Jewel Song."
Star Music also released an album of its soundtrack, including Sarah's revivals of the songs "Pangarap na Bituin," "Pangarap Ko Ang Ibigin Ka," and "Kung Ako Na Lang Sana."
On its final episode, Pangarap na Bituin managed to place fifth in the most-watched programs, with 29.6%.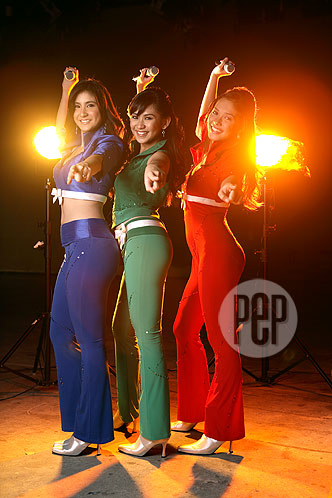 KAPUTOL NG ISANG AWIT (MARCH 3, 2008 TO JUNE 13, 2008)
Kaputol ng Isang Awit, the seventh installment of GMA-7's defunct umbrella series, Sine Novela presents, is a remake of a 1991 film starring Sharon Cuneta and Gary Valenciano.
For the remake, two girls played the lead roles: Glaiza de Castro and Lovi Poe.
The original story of Kaputol ng Isang Awit is about two siblings, Sarah (Sharon) and Johnny (Gary), who were separated after a tragedy. They were brought together again by music.
In the TV version, Sarah (Glaiza) was a struggling musician who was forbidden by his grandfather (Leo Martinez) from playing the guitar. He believed that music brought misfortunes to their family, and the reason why his daughter Vina (Snooky Serna) became catatonic, and his other granddaughter went missing.
Sarah worked as a back-up singer to up-and-coming singer Joanna Ambrosio (Lovi Poe), and became an instant threat to her. Eventually, they became rivals.
Sarah and Joanna later found out that they were sisters separated from birth. This paved the way for them to fix their relationship.
Jolina Magdangal was initially considered to play the role of Sarah, but she had to give up the series to be a judge of Pinoy Idol, GMA-7's 2008 version of its Idol franchise.
One of the all-time highest-rated afternoon series of GMA-7, Kaputol ng Isang Awit managed to become the most-watched TV program during its final episode on June 13, with 26.2%. It managed to beat top-rating shows Daisy Siete, Eat Bulaga!, and Wowowee.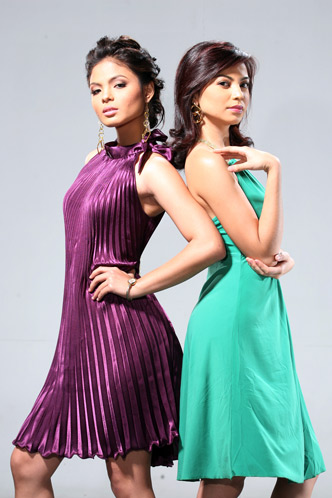 DIVA (MARCH 1, 2010 TO JULY 30, 2010)
Dubbed as the first "Kantaserye" of GMA-7, Diva is a comedy-musical series starring Asia's Songbird, Regine Velasquez.
Originally, the plot of the show was supposed to be a Bituing Walang Ningning-type of story, but Regine pointed out that she didn't want to do a drama project. For this reason, the show's writers infused comedy in the musical series.
Diva is about Sampaguita a.k.a. Sam (Regine Velasquez), a hideous-looking woman who dreams of becoming a famous singer someday.
Sam's singing prowess and good-natured personality will lead her to find a spot in the entertainment industry despite her unpleasant looks, as a ghost singer to Lady (Rufa Mae Quinto).
Sam eventually transforms into Melody, a beautiful woman who becomes a popular singer and the rival of Lady's former assistant-turned-singer, Tiffany (Glaiza de Castro).
Diva is considered as one of the most successful musical teleseryes in terms of TV ratings. Despite being placed in the third prime-time slot, it managed to place second in the most-watched TV shows in July 30, with its rating of 14.4%, according to AGB Mega Manila data.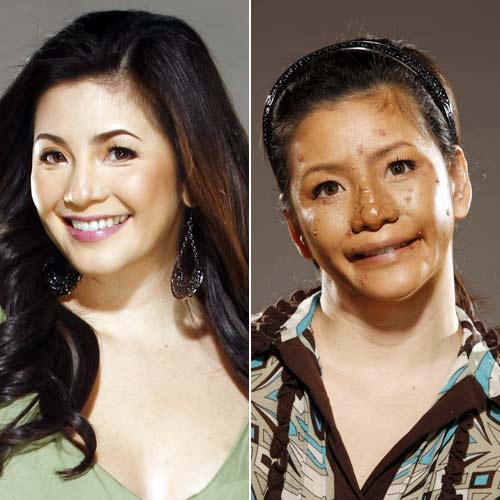 iDOL (SEPTEMBER 6, 2010 TO OCTOBER 22, 2010)
iDOL served as Sarah Geronimo's comeback on Primetime Bida after Pangarap na Bituin, which was aired in 2007. Though iDOL is another musical-drama, its story and treatment veered towards comedy/light drama, unlike her past projects that were tearjerkers.
iDOL is about Billie (Sarah), a singing idol whose parents become indebted with P20 million. For this reason, she was forced to leave showbiz. Her family relocated to a remote place where she became known as Jean.
This became a controversial project for Sarah because despite its huge budget for promotional events (including a flash mob), the series had lackluster performance in terms of ratings.
On October 9, 2010, it was announced that iDOL won't finish its 10 to 13 week run due to production constraints and costs. The ABS-CBN series ended on its seventh week on air.
Sarah, in an interview with PEP.ph, admitted that iDOL did not perform well in the ratings game. However, she clarified that aside from low ratings, the availability of artists also made it impossible for them to tape episodes.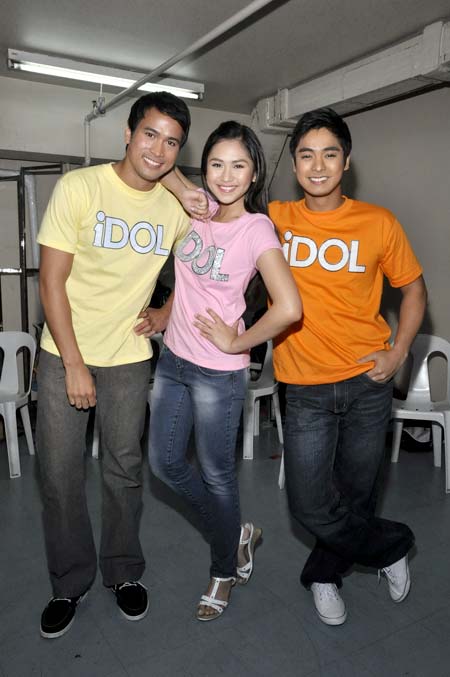 LITTLE STAR (OCTOBER 25, 2010 TO FEBRUARY 11, 2011)
Little Star is a GMA-7 afternoon drama series starring Jennylyn Mercado, Lovi Poe, Mark Anthony Fernandez, and child actor Nicky Castro.
It revolves around Helen (Jennylyn), a loving mother to Nino (Nicky Castro), who dreams of becoming a singer. Little did Nino know that his real mother is Gwyneth (Lovi Poe), a popular singer who decided to give her child away so he would not interfere with her career.
The theme song of the series is also titled "Little Star," a song that was first released by Pops Fernandez. Ciara Sotto revived the song for the teleserye's soundtrack.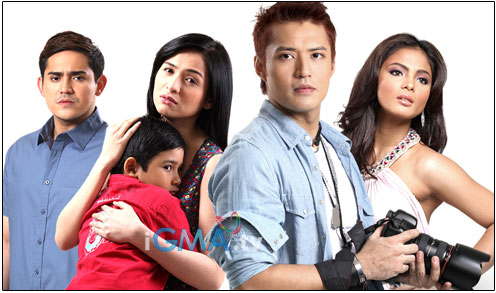 BIRITERA (FEBRUARY 6, 2012 TO MAY 18, 2012)
Biritera is a GMA-7 prime-time series featuring Dennis Trillo, Angelika dela Cruz, Glaiza de Castro, and child singer Roseanne Magan.
The story is about popular musician Andrei (Dennis), the vocalist of a band who is tasked to judge a singing contest called "Biritera." He comes across aspiring child singer Roseanne (Roseanne), and formed an instant bond with her. Andrei later discovers that Roseanne is his missing sister.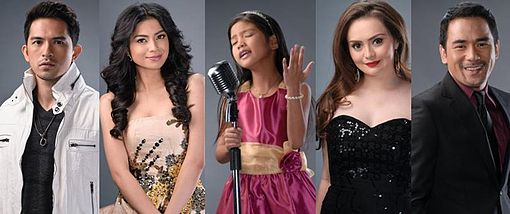 MAY ISANG PANGARAP (JANUARY 21, 2013 TO MAY 17, 2013)
May Isang Pangarap is an afternoon series that aired on ABS-CBN. It starred Vina Morales and Carmina Villarroel, as well as child singers Larah Sabroso and Julia Base.
The series tells the story of Carina (Vina), a popular singer who is searching for her missing daughter. She meets Julia (Julia), a poor child who escaped her abusive father. Carina adopts Julia and develops her career as a singer.
On the other hand, Lara (Larah) grows up with her father Otep (Rico Blanco), not knowing that popular singer Carina is her mother. When Otep died, she was left under the care of Nessa (Carmina), who treated her like a real daughter.
Lara becomes a fan of Julia, but they became rivals when Lara started penetrating the music industry, causing Lara to earn the ire of Carina. Carina later discovers that Lara is her missing daughter.
May Isang Pangarap was originally intended to air on ABS-CBN's Primetime Bida block before TV Patrol. However, the network decided to switch its airing date and timeslot with another then-upcoming afternoon series, Kahit Konting Pagtingin, starring Angeline Quinto, which was supposed to air after It's Showtime.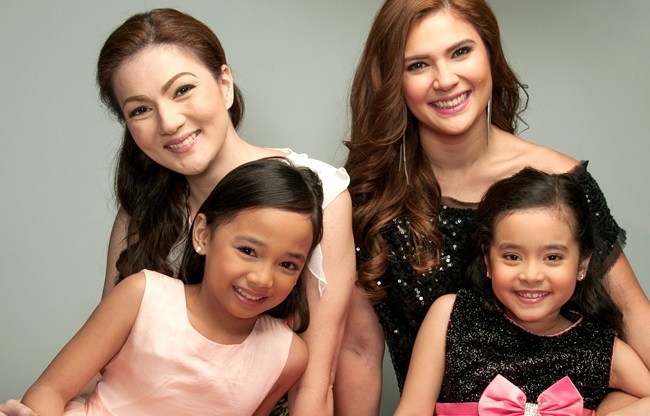 KAHIT NASAAN KA MAN (SEPTEMBER 23, 2013 TO NOVEMBER 15, 2013)
In late 2013, Julie Anne San Jose was supposed to do a weekly suspense series titled Dormitoryo, together with Lauren Young.
GMA-7 later announced that Julie Anne was being pulled out of the project, and that Lauren would top-bill the series.
It turned out that the Kapuso network tapped Julie to top-bill its musical series, Kahit Nasaan Ka Man. It tells the story of Pauline (Julie), a blind woman who dreams of becoming a singer.
In the series, Julie was paired with Kristoffer Martin. People were expecting Julie to be paired with Elmo Magalona, her perennial love team at that time, but GMA-7 decided to put Elmo in the remake of Villa Quintana.
Kahit Nasaan Ka Man aired for eight weeks, or less than one season, as originally planned since it only served as filler for Dingdong Dantes's series, Genesis.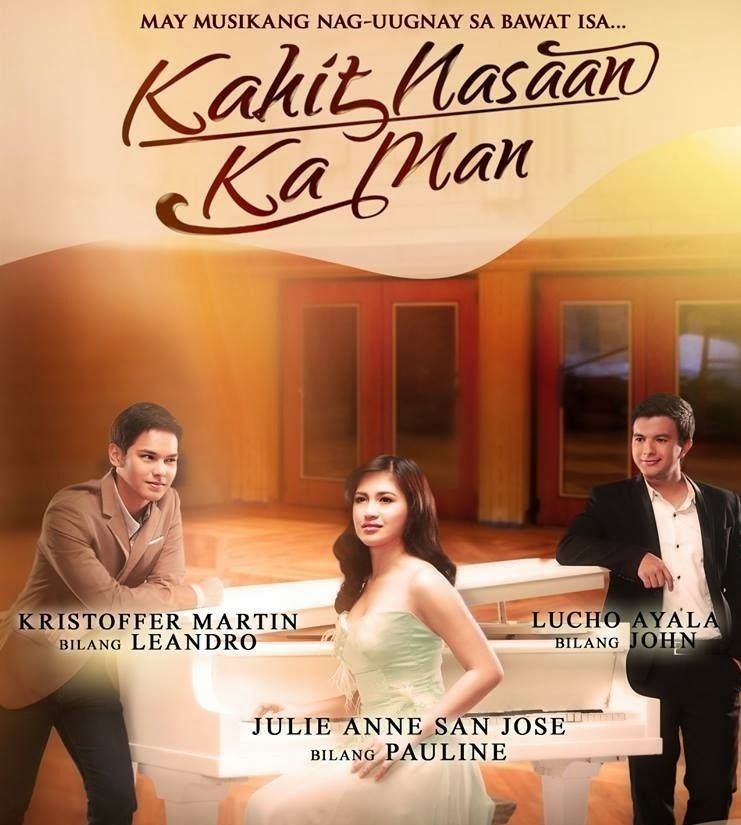 BORN FOR YOU (JUNE 20, 2016 TO SEPTEMBER 16, 2016)
Born For You is the first project of Elmo Magalona in the Kapamilya network. Elmo was paired with Janella Salvador, giving rise to the ElNella love team.
The series, which was set in Japan during its first few weeks, depicts the story of Sam Kazuko (Janella), an aspiring singer who works as a tour guide in Japan. She crosses paths with popular celebrity Kevin Sebastian (Elmo).
Sam returns to the Philippines to achieve her dreams. As a stepping stone, she becomes the personal assistant of Kevin, while doing her job as a singing delivery girl. Sam's hard work pays off. She becomes a singer just as she becomes romantically involved with Kevin.
Born For You is the first Kapamilya project of Ayen Munji-Laurel, who was associated with GMA-7 for several years.
Ariel Rivera's character in another Kapamilya series, Doble Kara, had to be killed off for him to be a part of this series.
Born For You had its own soundtrack, with Janella and Elmo performing their version of David Pomeranz's "Born For You" and Yeng Constantino's "Ikaw."
American singer David Pomeranz also recorded a new version of "Born For You" for the Kapamilya series.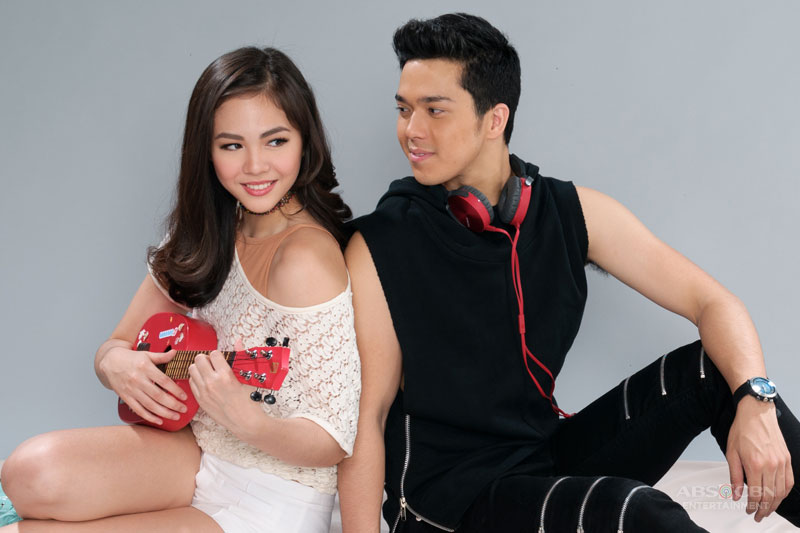 MY GUITAR PRINCESS (MAY 7, 2018 TO JULY 13, 2018)
My Guitar Princess, produced by GMA News and Public Affairs, top-billed Julie Anne San Jose, Gil Cuerva, and Kiko Estrada.
The series, which was aired before Eat Bulaga!, told the story of Celina (Julie), the daughter of a household helper (Sheryl Cruz) who forbids her from singing.
Celina becomes viral as the "Guitar Princess" after uploading covers on YouTube by only showing her guitar, and hiding her face with bangs.
My Guitar Princess had an all-original soundtrack performed by Julie, including its main soundtrack titled "Walang Kapalit."
However, the show only had a limited run of 10 weeks, the usual run of a GMA News and Public Affairs-produced series.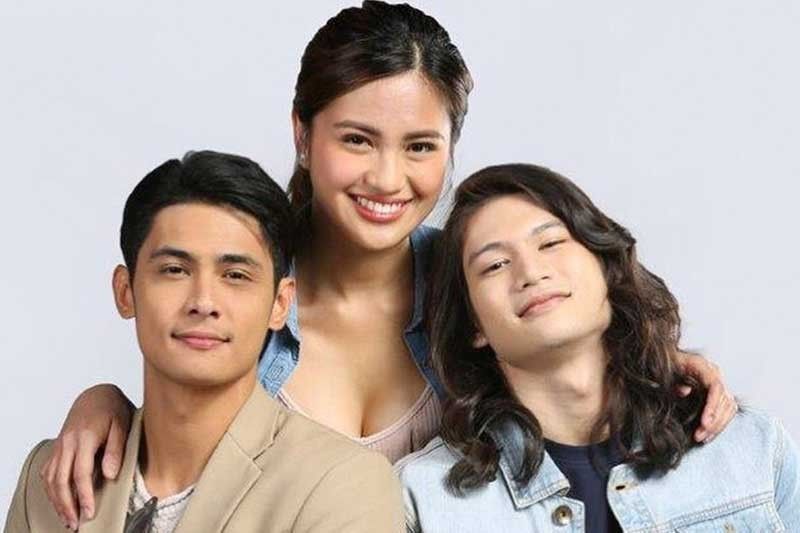 INAGAW NA BITUIN (FEBRUARY 11, 2019 TO MAY 17, 2019)
Inagaw na Bituin is the latest teleserye to have a musical theme.
Starring Kyline Alcantara and Therese Malvar, the afternoon show is dubbed as the first "Kantaserye" in the afternoon block of GMA-7.
'90s teen stars Sunshine Dizon, Angelu de Leon, Angelika dela Cruz, Gabby Eigenmann, and Marvin Agustin played important roles in the TV series.
Inagaw na Bituin is the story of Belinda (Sunshine), a popular singer whose career was destroyed by her own sister Lucy (Angelika) who plotted the kidnapping of Belinda's daughter Anna (Kyline).
Due to the trauma of the kidnapping, Anna loses her memory and becomes Elsa, the adopted daughter of Aurora (Angelu). Knowing that Elsa is the missing daughter of Belinda, Aurora forbade her daughter from singing.
Still, Elsa pursued a singing career with her sister, Melody (Melbelline Caluag), and joined the televised singing search "The Brightest Star."
Through this contest, Elsa and Melody became the rivals of Ariella (Therese), the daughter of Lucy.
GMA-7 produced two original songs for Inagaw na Bituin: "Kinang" and "Ako'y Isang Bituin." Both songs were performed by Kyline.
Inagaw na Bituin became controversial because it was reported that the series was almost cut short to 10 weeks because of its low ratings.
Originally placed in the second Afternoon Prime slot, GMA-7 decided to put it in the third slot, where it managed to run until its 16th week on air.