South Korean heartthrob Jung Hae In is back in Manila for another bonding session with his Filipino fans.
The 31-year-old actor arrived on Friday morning, September 27, a day ahead of his One Summer Night fan meet. Organized by Wilbros Live, Hae In's fan meet is scheduled to happen on Saturday night, September 28, 2019, at the New Frontier Theater in Cubao, Quezon City.
Hae In met up with the local media including PEP.ph (Philippine Entertainment Portal) at the Marco Polo Hotel in Pasig City hours after his arrival in the country for a press conference.
Hae In expressed how excited he is to be back in the country. With the help of Sam Oh, he said, "I'm so happy to be back again in Manila after last year's visit and I'm very happy for the opportunity to sit down for an interview on top of that."
The Something In The Rain star was asked to describe his Filipino fans.
He said, as translated by Sam, "First of all, as an actor, I am so happy and honored that I have fans around the world who are interested in my work and they make sure to watch my work.
"In the Philippines, I notice that the fans are a little on the shy side... They're also very warm. As I step into the airport, I can see that everyone is smiling...
"It makes me smile as well when I see the fans smiling. I'm always thankful for the very positive, warm energy that my Filipino fans have."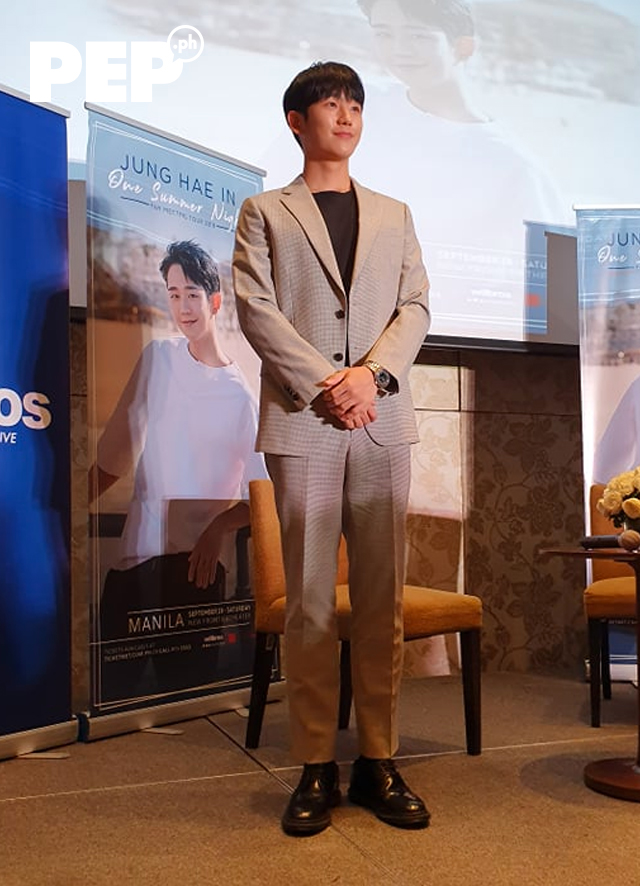 Sam asked Hae In to recall the activities he did during his visit last year but the Korean star said he was unable to do anything else after the fan meet.
He said, "Last time when I was here, I did a fan meeting and my schedule was very tight so I didn't get to do much. After wrapping up the fan meeting, I had to go back to Korea immediately."
Given the chance, Hae In would love to visit some of the top beaches in the Philippines.
He told the press, "I would love to go to Cebu or Boracay. These are very famous spots in the Philippines but I have a feeling that my schedule will not allow it again this time."
What can fans expect from his fan meet this time around?
Hae In answered, "In this year's fan meeting, I will be sharing more behind-the-scenes stories from projects I've been working on and I'm excited to share with you my singing skills, which has been upgraded very slightly."