Tony Toni, Slick Rick and Sam YG are going to town on their television spinoff, Boys Ride Out.

Imagine the three DJs interviewing guests in a roving studio onboard a specially designed vehicle. They talk, have fun and jam while they cruise around the metro with their chosen guests. They are accompanied by guitarist RJ Jacinto, a former scholar of ABS-CBN's reality show Pinoy Dream Academy. He actually thinks of the songs to play upon seeing their featured guests.

Their previous guests have included Antoinette Taus, Rhian Ramos and Ramon Bautista.

Feast your eyes on the Boys Night Out DJs of Magic 89.9 on Channel 9 (9TV) every Saturday at 9 pm with replays on Sundays at 11 am and Wednesdays at 10:30 pm. These dudes have a ticket to ride and nothing to hide as they answer ten questions about their show and their biz.
1. What is Boys Ride Out all about?
Slick Rick – Boys Ride Out is actually a different side of Boys Night Out because people know us on radio. It's just a trip to see us in a moving aquarium, in a studio that goes around. People get to see us do what we regularly do, where we interview people. Usually they just hear us on radio and now they see how we react because we're not just sitting there. We do have a lot of body movement.
Sam YG – Yun yung importante, yung they see body movements. In Boys Night Out, we're always in the studio so it's time for us to ride out. To get out of the studio, to see what's out there. Instead of us inviting guests to drop by the studio, we go to them. We're going to get you from your house…
Tony Toni – And we'll drop you off too…
Sam YG – Ayaw mo pa ba nu'n? LS. Libreng sakay. Minsan may nagtatanong "pasakay naman hanggang labasan."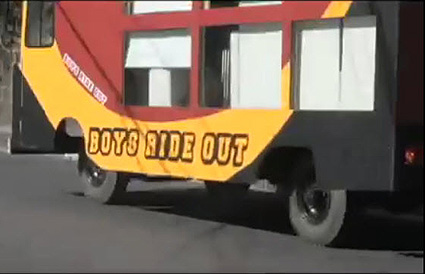 2. Are you guys more conscious about your appearance now that you're seen on TV?
Tony Toni – I have a problem when the call time is early. As you very well know, our radio show is until 10 p.m. We also do other things. So the early mornings are very difficult especially direct sunlight because if you see the vehicle, it's glass. It gets really hot. So that's one of the factors of it being a mobile TV stage. If it rains, it rains. If it's sunny, it's damn hot inside the vehicle.
Slick Rick – But if it rains, it gets really cold.
Tony Toni – We don't have a makeup artist with us so we do our own. If we look tired, it's something we can't hide. Unlike here in the radio booth, we can hide that. You can't really see our faces or what we're wearing but on TV it's much different.
Sam YG – Dinadamihan na lang naming yung camera at yung mga diva lights para yung angle namin makuha. Kasi on radio, wala naming angle angle, e. When you look to the left, when you look to the right, we all sound the same. So for us to get our proper angles, naglalagay lang kami ng maraming camera.
Slick Rick – And what also helps are sunglasses. Sunglasses help a lot. I think, so far, in most of the episodes, the one wearing the most sunglasses is Tony.
Tony Toni – Yeah, shades are my best friend.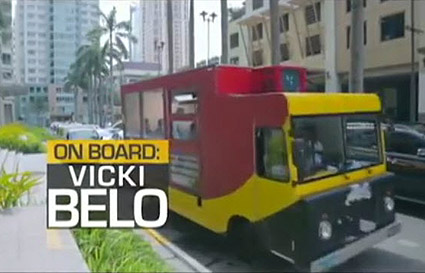 3. Is the show as naughty as Boys Night Out?
Tony Toni – It's very tame. We can actually be given a KBP [Kapisanan ng Brodkaster ng Pilipinas] award for the show. It's just that we're known as Boys Night Out so I don't think the governing body would accept that so it's really just us trying to get to know the other side of our guests. We're very makulit. In terms of green jokes, the whole network is trying to inform and inspire so it's really hard for us to come out of our shell. We're trying to hide and suppress the green jokes. We kinda have to hold back our punch lines. It has to come out a little because it wouldn't be us. There has to be some Boys Night Out because who wants to watch three tame guys? That's the X-factor of Boys Ride Out. It is supposed to be different without having to go X-rated. He [pointing to Sam YG] hugs the girls. Because the vehicle moves, right? So whenever it moves…
Slick Rick – It's called 'chancing', the art of taking a chance.
Tony Toni – That's one of the perks of being on a mobile stage…
Sam YG – Without a seatbelt.
Tony Toni – Safety is very important. So if a girl, konting ganon, moves to the left, Sam's all ready to catch her. Depends on what side Sam's on.
Sam YG – Kasi baka magfall siya so ako magka-catch. But jokes-wise, content-wise, I would say it's toned down but it's a different side of Boys Night Out. I would say hindi naman siya toned down na ibang iba. Of course, our characters are our characters. You can't take that away from us. We're trying also to show na walang stereotype na kami ay sobrang good boys. Siguro pinapakita na may pagka-bad boy naman kami ng konti.
Slick Rick – Pwede.
Sam YG – Yung mga tattoo namin pinapakita namin or yung mga piercings namin, pinapakita naming lahat. People think ang babait namin, na wala kaming kasamaan sa katawan. Mayron din naman. Pero when we taped yung episode where we showed our tattoos and piercings, nasira yung camera. Try namin ulit.
4. Who's on TOP, er, what topics will you cover?
Tony Toni – We try to get to know the person in terms of what they do on an everyday basis, also aside from their respective careers, whatever their field is, we try to know a little fun stuff about them, what they like to do, how they are with their families, how they are in terms of fashion, gaming style, dating, how they feel about sex or one night stands, stuff like that. It all depends on who the guest is. Same sex marriages, dating style before. Depends on the guest also. We can't say the guest is also typecast, stereotyped depending on their answers. We'll also, of course, tweak the questions. We want to get to know them better aside from what they're known for. We try to break it down to the Boys Night Out level, barkada level as we call it, na lahat tayo, whenever you're riding in the van of Boys Ride Out, we're like a barkada.
Slick Rick – You know, with your walls down, tell us who you really are, what floats your boat, stuff like that. It just really flows. We don't have a script. I guess the good thing about it is we are able to ask questions that we want to ask and no one regulates us. So it's good.
5. What are you guys most SEXcited about in doing the show?
Tony Toni – Females.
Slick Rick – Siyempre, females.
Tony Toni – That's what gets us SEXcited: Females. So three guys in a moving vehicle, we need a girl. So that's where the real excitement is and you can tell that when a girl comes on board, we're more enthusiastic.
Sam YG – We're kulit.
Tony Toni – It's like hormones are going off the wall. So it's definitely the females. Girls are more expressive, more outspoken, like Vicki Belo. She talked about sex, blowjobs, she talked about how to suck dicks. It was really crazy. I don't know how we'll edit that. I don't know how that episode will come out. It was a very X-rated episode for primetime. I don't how they'll show that. But with other girls, it was very good. We had Xandra Rocha, she was actually more afraid to come on the show, more than anything because she's very conservative, very reserved kinda lady. So when she heard she was going on the show, she had second thoughts about doing the interview but we got her on there and she was like, "Ok, all right, you guys can be controlled pala." We had Petra Mahalimuhak. Ok naman, it turned out really well. The week that just passed, we had Rhian Ramos, Antoinette Taus. We were pretty tame.
6. What should your fans SEXpect from the show in the future?
Tony Toni – No sex, haha! It's not that kind of show.
Sam YG – When you think of a boy in a vehicle, you think Bang Bus, Bang Bus!
Tony Toni – No, no, there's no sex.
Slick Rick – Actually, that's a thought but we're just there to have fun.
Tony Toni – Not yet. Baka sa second season.
Slick Rick – That could be the internet evening show. But we're always open to meeting new people that have not been on the show but have been fans of the show. Like last week when we interviewed Bea Rose Santiago and she's been listening to us but she's never seen us. It was nice. She was like "oh, I always listen to you guys." I guess that whole interaction of seeing us talking, the whole dynamics of Boys Night Out in a Boys Ride Out.
Sam YG – You can expect the flavor of Boys Night Out to be there, definitely. That's why we're doing the show. But one, it's a different side of Boys Night Out. Two, SEXpect to find out things about our guests that you probably never knew before or questions that would probably not be asked on national TV. We dare to ask these questions and hopefully we'd be able to draw information that you guys probably never even knew about these people. Their real lives, who they are behind the camera, behind what they do. You can SEXpect that, even their sex lives. Who knows?
7. What is the HARDest part in shooting the show?
Tony Toni – Right now, probably the hardest part are the morning calls. If we do get up early, we're not used to being on television. So if we have to shoot in the morning, we wake up at 7 or 7:30 a.m. and we have to be done by 5 p.m. because we have a radio show at night. We're doing like, from morning to night. It really depends on the schedule. Ideally twice a week would be great because we're doing once a week, every Wednesday or so. It really depends on the schedule of the guest. It actually two schedules, our schedule and their schedule. It's pretty taxing. Ideally, this was supposed to be a night show but our schedule wasn't going to permit it. It's not like we could pick them up after the radio show, grabe, 11 o'clock? Tapos shoot until 1 am?
Sam YG – Minsan the hardest part yung pressure. Pag masyadong marami yung pressure ng gulong, magiging hard yung ride. Minsan you have to check yung mekaniko ng bus. Sobra pala sa pressure, tire pressure so nahihirapan kami. The ride gets stiff.
Slick Rick – Something that's tough is in-between the guests, is that when travelling from one guest to another. Sometimes there's a long break. Because sometimes we shoot segments in, say a restaurant and at the restaurant we eat and then after we eat, we have to go to the next guest. Sometimes we get sleepy. The thing is you can't sleep inside because Tony is going to take pictures of you snoring. So that's why everyone is alert.
Sam YG – Baka ma Tony-Toni ka.
Tony Toni – Or you just wear glasses.
8. Why are you guys so LONG, uh, what accounts for the radio show's longevity?
Tony Toni – I think we're relevant and also traffic is our companion. It's fortunate we were given the slot 6-10 p.m. and the fact that we're nationwide. So I think, if you keep yourself relevant and come up with totally different ideas, I think we really bring in the audience. We don't run out of things to talk about because we each bring our personal life to the show. And also our management here, the staff, is very supportive. When we were first getting so many violations, KBP lawsuits left and right, the company was very adamant about protecting us and keeping us on the network, on the station. It's actually a lot of work. Trying to rebrand, trying to make yourself relevant to the industry.
Slick Rick – People don't realize that we do a lot of research. We don't really stay in an office. We go out. We have to see what's happening.
Sam YG – We go out. We need to be seen.
Slick Rick – We have to stay relevant. And I guess the reason why, as a show, we've been together for so long, is that we respect each other from where we come from, from what we've done and where we want to go. We have a vision. We have a goal as a group.
9. Do you guys have HOT experiences in the booth, um, do you have heated arguments for real?
Tony Toni – I think when we come up with topics, we come up with different things, our ideas, we always debate. There are three of us so it's always the best of two. I think that always wins. There are two votes to one and we go along with that. It's the easiest way to actually resolve anything especially decision making when it comes to the show. I think we've been in this industry for so long so there's a certain kind of respect. We all know what we need to do for a great show. No one is greater than the show. The show is the show and when it's on, when it's showtime, that's it. The focus is the show. You could be sick, you could be dying but the show must go on. That's basically it. The show must go on.
10. What message do you have for your fans?
Tony Toni - Keep watching. We're usually heard, not seen so hopefully they can bear with our faces and our conversations during the day. Usually it's shot during the day. Hopefully we're not boring them because it's a much tamer. It's not as crazy as Boys Night Out. I think that's what they expect. They expect it to be crazy, wild TV.
Slick Rick – I don't think the Philippines is ready yet.
Tony Toni – They're ready. It's just that MTRCB [Movie and Television Review and Classification Board] isn't ready for it.
Slick Rick – Yeah, that's true. We can go wild.
Tony Toni – The Philippines is ready! Have you seen the sex scandals?
Sam YG – The happenings.
Tony Toni - The Philippines is ready. The MTRCB has too much control. Look what happened to all the B movies, the bomba movies. The titillating films.
Slick Rick – ST [Sex Trip].
Tony Toni – Nawala!
Slick Rick – We lost all our ST stars!
Sam YG – We need some new ST stars. We need to bring back the ST.
Tony Toni – I ask the listeners to vote for our Boys Ride Out to be the new MTRCB heads. No holds barred television. Anything goes.
Sam YG – Sit back, relax and enjoy the ride. Boys Ride Out.