To celebrate 10 years on the air, It's Showtime Magpasikat had groups of its hosts take to the stage with production numbers while competing for cash prizes.
As expected, this stirred not only the studio audiences but set the internet on fire. Various levels of agility and creativity were on display as the It's Showtime hosts, cast members, and winners of its various contests.
After the emotional, enthralling performances, in the final tally, the judges made the following decision:
Magpasikat 2019 Grand Champion: Team Vice with the Miss Q&A Queens
2nd place: Team Vhong-Mariel with the Hashtags
3rd place: Team Anne-Amy with the Bidaman
As grand champion, Vice Ganda's team won P1 million and the money will be donated for the benefit of alopecia patients.
Meanwhile, the team in second place won P700,000 and the team in third place got P600,000. The other two groups received P500,000 each. All of them will donate the cash awards to their chosen charities.
The event was not without controversy, however, as many netizens posted opinions that Karylle and Ryan Bang's group should have been awarded as grand champion.
Here is a rundown of the entries:
PRESENTING: Team Jugs, Teddy, and Jhong Hilario
The trio were joined by Ion Perez, Ate Jackie Girl, and Sanrio--and returning former show hosts in their presentation that paid tribute to the 1980s.
First, an announcement requested the audience members to put on their 3D glasses--one of the iconic things from that decade. Then, reminiscent of the old American TV series "Star Trek", the introduction took the audience to space. A segment hosted by Kim Atienza talked about different things from the '80s: from technology, fashion, loveteams, movies to music.
Afterwards, Jhong Hilario, who has been watching Kuya Kim's show, is disturbed by Ate Girl Jackie and Ion Perez who come in carrying boxes: one contains VHS tapes and another contains a VHS player that they have unearthed while cleaning up. These things are alien to Ion and Jackie, and so Jhong has to hook up the machine to the TV in order to show them how the system works. The screen opens with merrymaking the text "We Make People Happy" is revealed onscreen.
Then, with an "80s Showtime" behind them, the hosts are speaking in an unknown and strange-sounding language, with their movements jerky. It takes time to realize that they are speaking backwards. They introduce the first performance by Ate Girl Jackie, who is dressed reminiscent of Madonna, as the pop superstar's photo looms above the performance.
Next, the hosts introduce the performance by Ion, who starts off with a photo of Vice Ganda in the shape of a heart, which is then torn up, along with his clothes--revealing his well-formed abs.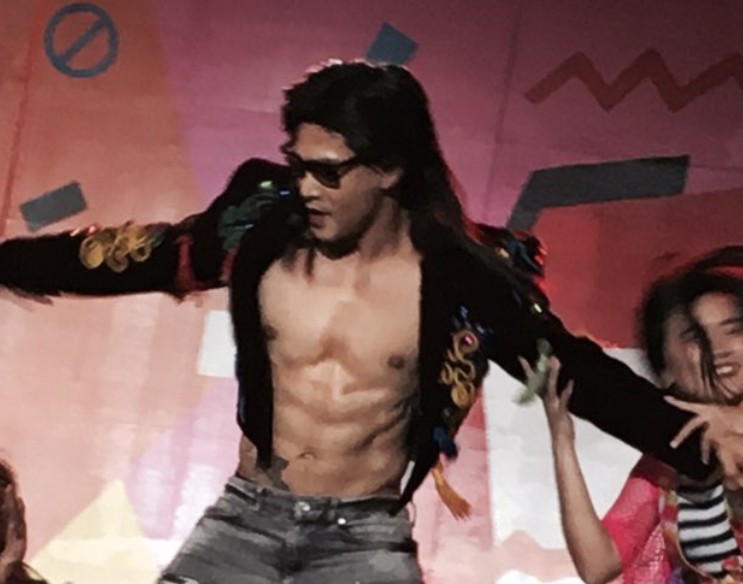 He dances to, based on the photo of Randy Santiago displayed, the sunglasses-wearing singer's song.
Next, Sanrio sings and dances to a Boy George hit, "Chameleon."
This is followed by a spirited performance by Jhong as Michael Jackson--with an imitation of his iconic moonwalk. The scene goes back to the three sitting in front of the TV. Ion and Jackie complain about the strange sounds and Jhong jokes that he was in such a hurry that he forgot to take off Michael Jackson's shoe. He calls a mechanic to fix the machine.
And who should knock on their door with a knock-knock joke and singing reminiscent of the Electrolux jingle, but Kuya Kim as "Indiana Jones".
They banter with him until he introduces a world wrestling heavyweight in the person of...Eric Tai as Hulk Hogan (or Hulk Logan).
Soon, they call in a loveteam from the 80s--at least, two persons holding up masks of one of the most well-known couples from the era: Gabby Concepcion and Sharon Cuneta. They soon are revealed as Billy Crawford and Coleen Garcia.
After horseplaying among the present and former hosts, Ion falls to the floor and he calls out: "Gandara, tulong! Gandara, tulong!" The camera shows a reaction shot of Vice, smiling widely.
After Jhong tells Kuya Kim the problem with the VHS, he opens the tape cartridge, removes the magnetic strip inside, flips it, and insists that it will solve the problem. He puts it into the VHS player.
Kuya Kim asks (in Filipino): "What if we can turn back time?" Jhong introduces, then plays the VHS. The scenes from the earlier TV show playback as normal and understandable now.
Jugs and Teddy introduce Jhong, who dances some of Michael Jackson's moves. Then, they start introducing contestants, starting with Sanrio, who sings and dances to Boy George's hit, "Chameleon".
Afterwards, Ion dances to Randy Santiago's "Bababaero", then sings and dances to "Lintik na Pag-Ibig". The performance of Ate Girl Jackie follows. She sings and dances Madonna's 80s hit, "Like A Virgin".
The popping balloons and other decorations reveal: "We Make People Happy" onscreen.
Slowly, the stage is crowded with various performers singing and dancing the "It's Showtime" theme wearing '80s fashion, some dancers hold up signs with "10" in red, signifying the 10th year celebration.
Cameos onstage include some Pinoy '80s celebrities: the real Carmi Martin, then dancers holding up masks of Roderick Paulate, cast members of the Bagets movie Aga Muhlach, William Martinez, and Herbert Bautista, and Maricel Soriano.
Finally, the real Randy Santiago comes out to sing the chorus of "Bababaero". The riotous singing and dancing of the theme song continues until the end, when they all jump!
PRESENTING: Team Vhong Navarro-Mariel Rodriguez
Team Vhong-Mariel takes us to the future, beginning with a "Star Wars"-inspired opening prologue that tells us that it is 30 years from now and science and technology is so advanced that the invention of a mandroid is possible.
Its mission: to remove boredom at a very low price. The inventor is Cybored Industries.
Mariel delivers a message onscreen, talking about the mandroid's mission of bringing happiness. The stage is filled with three groups of dancers dressed in silver latex and, as different lights are shown on them, they make a combination of green and red, then blue and silver, then all red.
Carnival music ushers in the mandroid, who says that he has come for senior citizens, in order to entertain them. He starts to show off some shadow puppetry. But this does not impress his audience.
Then, the song "Kasama Kang Tumanda" plays. The shadows come to life as a bird flies away to reveal dancers onstage, with a colorful pop art background. Members of Hashtags dance to techno music.
Then, people covered in sheets holding puppets with masks inspired by Greek and Roman theater perform.
Soon, an onscreen background shows water coming down. Then, an actual shower rains down as Dawn Chang and Zeus Collins perform a passionate, contemporary dance number--she in bodyfitting white, and he, only in white pants. The mandroid, proceeds to dance under the shower.
While this happens, a hologram of an old, bespectacled Vhong shows up onscreen. He starts reminiscing about how the show started with one objective: to entertain people who believe and support them. And that despite all the difficulties, they remain strong. Then the reunion turns bittersweet as it is revealed that this is merely a recording of the man who has passed.
But he says: "Even if I'm gone, you will remain in my heart." He calls on the senior citizens to come together for a group hug. The view from above shows the circle growing bigger as the dancers all join the group hug.
The mandroid joins the fingers of his hands to form a heart. Then, the group hug is revealed to form a heart. At the end of the performance, Vhong is obviously holding back tears.
PRESENTING: Team Karylle-Ryan Bang
The presentation begins with a video of Ryan Bang being left by a girl he likes.
He laments how he has not been successful at finding love. Interspersed with shots of his sad walk are short statements from Yeng Constantino, Kaye Abad, and Alex Gonzaga--none of whom became Ryan's girlfriend.
Then, Ryan sees a father and son playing together and he remembers learning how to play football with his father.
In Korean dialogue with Filipino subtitles, the story is revealed: he wants to give up, but his father encourages him to keep at it.
In the studio, Karylle sings about their relationship: "You're my byeol, bituin ko, my star". They jump through a wormhole (revealed through a video projected in the background) into the future.
The year 2029, to be exact. In this scenario, there is an "It's Showtime: Korea" and Ryan is a K-Pop superstar.
The Tawag ng Tanghalan singers take to the stage to deliver amazing renditions of K-Pop songs like "Kill This Love" and "Boy with Love". They bring the house down with their singing and dancing.
Then, Ryan, dressed in black, performs a dance number to BTS' "Idol". He then sits on the side of the stage and speaks in Korean.
After his spiel (that is not translated), he proceeds to say in Filipino that he wrote a rap to inspire people.
During his performance, he talks about how he came to the Philippines, how he was bullied, how joining Pinoy Big Brother changed his life, and how Vice Ganda became like a mother to him.
It is his tribute to his life in the Philippines. During the performance, Karylle cheers him on in the background. The chorus of the rap is: "Ano mang pagsubok ay ingiti mo lang lagi". The production number ends with all the singers positioned in a pyramid, singing "Pabuhat".
PRESENTING: Team Anne Curtis-Amy Austria
Acrobatics was the name of the game for Team Anne-Amy.
The presentation began with Amy narrating--looking back at the beginnings of "It's Showtime".
Aside from archival video, a graphic onscreen showed a seed sprouting into a plant. This visual would continue and grow, binding the performances and the video together: showing how the program has grown and continues to grow, just like a tree. Amy says: It began with a simple objective: to bring happiness.
The them is of a circus, beginning with little girls, led by The Voice Kids' Lovern Apa singing "I Want Something Just Like This".
Amy surprised the audience with close-to-the-ground acrobatics--including a headstand!
Anne continues the narration, citing the challenges the show has faced over the years. Bidaman winners dance topless and, with "The Show Must Go On" playing, doing acrobatics involving a giant wheel.
They climb on it and some of them turn round and round with it. Then, as narration of a tree growing is shown, the stage is set for Anne Curtis' entrance. Anne does freeplay acrobatics with a wheel across the stage with a partner, while "Time After Time" plays.
Anne narrates emotionally: "The branches go in different directions but the roots remain as one." Anne descends from above onto the stage in a sphere decorated with plant-like elements, and she sings "Forever Young", spinning. She is joined in the singing by the children.
An emotional Anne shouts congratulations to 10 years of "It's Showtime".
PRESENTING: Team Vice Ganda
The setting is unknown yet familiar. The stage is set for the entrance of Vice Ganda--who is lowered onto the stage in a cradle-like harness that has been made to look like vines.
Surrounded by forest nymphs, seemingly disoriented, Vice Ganda sings: "I'm a Creep".
As he continues to sing, a butterfly lands on her hand. From behind, Dawn Zulueta, in a red gown appears. She takes Vice away. Then, as the first strains of the song "Whip My Hair" play, Vice starts to sing and dance in a red leather dress with red hair.
Throughout the course of the song, he changes in quick succession: in a short, blue dress with blue hair; a gold sequined dress with yellow hair; and a pink sparkly dress with pink hair.
All goes quiet as the screen shows a collage of different social media reactions to Vice's different hairstyles over the years--most of them, derogatory. The stage lights come on to reveal Vice surrounded by long blonde braids that look like they are attached to her head, but which dancers hold up and move around, as she sings "I'm a Survivor".
He has on a pink and blue ensemble with a gold blazer. As he makes it to centerstage, holograms of Vice with different looks and as different characters join and interact with the "live" Vice. Eventually, they dance in unison.
The climax is when all of the holograms stand side by side as the song ends with a loud: "I'm a survivor!" Then, the stage is filled with people dressed in white and wearing blonde wigs.
Once again, as the lights go on, Vice is standing at centerstage, with what seems to be a multicolored skirt. But soon, it turns out, they are costumed Q&A Queens who walk to different parts of the stage, then to the audience area.
While wearing a metallic, colorful wig and sparkling dress, Vice sings Lady Gaga's "Hair". At some point, she shouts to the crowd: If I win, I will give each of you 1 million! ...Nails! Charot!"
While on a harness, Vice is hoisted upside down and up into the air and above the audience. Suddenly, it seems that all the audience members are wearing blonde wigs. Vice continues to sing and do tricks while suspended on a harness.
Then, after a moment of silence, a little girl wearing a hooded jacket in the audience area starts singing "I'm a Creep". When she gets to the part "What am I doing here", she removes her hood to reveal that she has no hair. Dawn Zulueta hugs her. She is surrounded by bald men and women.
The child cries as Vice approaches her and says: "You belong here, you're part of this world. You're beautiful. You just need one person to love and appreciate and love you back. Your Ate Vice is here and for as long as I live, you will have an Ate."
Vice and the little girl go back and forth with the lyrics. Vice: "You're as free as your hair..." Girl "I've had enough, I'm not a freak. I don't need to fight to stay cool on the streets. I've had enough, enough, enough. And this is my prayer. I swear I'm as free as my hair."
Then, in the middle of the song, Vice surprises everyone by removing his wig and revealing his real, short hair while singing "I'm as free as my hair...We're as free as our hair!"
Go Meme Vice! You are as free as your hair! #MagpasikatVice2019 pic.twitter.com/LvHbfhHSpr

— ItsShowtimeNa (@itsShowtimeNa) October 26, 2019
May pabitin si Meme Vice!#MagpasikatVice2019 pic.twitter.com/ksoD7U6zaZ

— ItsShowtimeNa (@itsShowtimeNa) October 26, 2019