Remember when actresses such as Jennylyn Mercado, Kris Aquino, Claudine Barretto, and Kristine Hermosa top-billed horror-themed drama series in their respective networks?
Through the years, ABS-CBN and GMA-7 have been experimenting with elements to be mixed with the typical teleserye storyline.
This allowed them to incorporate suspense and horror in teleseryes, where supernatural elements interact with the human world.
In this list, PEP.ph (Philippine Entertainment Portal) lists down the actresses featured in horror-themed teleseryes in the past.
Jennylyn Mercado, Sunshine Dizon, Jean Garcia in La Vendetta
La Vendetta, dubbed as the first suspense-drama teleserye, was launched by GMA-7 on October 29, 2007. GMA-7 chose Jennylyn Mercado, Sunshine Dizon, and Jean Garcia to play the sisters who are the lead characters in this drama series.
La Vendetta served as Jennylyn's prime-time comeback after her career got affected when her manager Becky Aguila had problems with GMA-7.
Sheryl Cruz was the first choice to play the eldest among the three sisters, but she already said yes to becoming a part of an ABS-CBN show. For this reason, Jean was chosen as her replacement.
La Vendetta revolves around Eloisa (Sunshine) and her quest in finding the killer of her youngest sister, Almira (Jennylyn), who continues to haunt their household. Eloisa, who was first mistakenly blamed for the death of Almira, believed that Almira's haunting is her cry for justice. Amanda (Jean) was one of the suspects.
The series ran for 12 weeks, its intended run on GMA-7's primetime block.
According to its creators, the concept of a suspense-drama series was already planned way back in 2005, but had to be postponed due to the "boom" of fantaseryes, or fantasy-themed TV shows.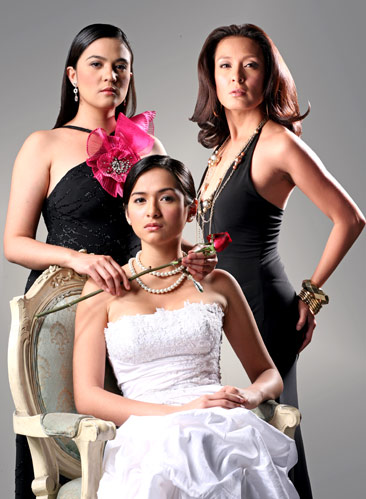 Kris Aquino, Jodi Sta. Maria, and Susan Roces in SineSerye presents Patayin Sa Sindak Si Barbara
Patayin Sa Sindak si Barbara was the first offering of SineSerye presents The Susan Roces Cinema Collection in 2008. It was a remake of Susan Roces's 1974 film, Patayin Mo Sa Sindak Si Barbara, where she played the title role.
In the 2008 version, Kris Aquino played the role of Barbara, while Jodi Sta. Maria portrayed her sister, Ruth.
The story is about Barbara, who is haunted by her half-sister, Ruth, after believing that Barbara is having an affair with Ruth's husband, Fritz (Albert Martinez). Ruth then possesses a doll named Chelsea to use for her vengeance against Barbara and Nick.
Susan also had a special role in the 2008 remake as Amanda, the biological mother of Ruth.
Originally intended to run a full season on a Saturday timeslot, ABS-CBN decided to air Patayin Sa Sindak Si Barbara daily in three weeks in January 2008.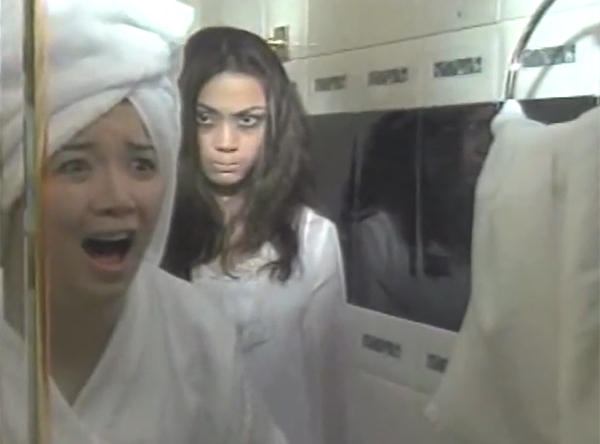 Iza Calzado in E.S.P.: EXTRAORDINARY SUSPENSE PROGRAM
E.S.P. is GMA-7's defunct weekly horror-drama series aired every Thursday, starring Iza Calzado. It replaced the first run of Magpakailanman in its timeslot.
E.S.P., or Extraordinary Suspense Program, tells the story of Cassandra (Iza), an investigative reporter who waa accused of a crime that she did not commit.
She then meets an accident that opened her extra-sensory perception or sixth sense. This allowed her to see ghosts and solve problems of ordinary people while finding out the truth about the crime being blamed on her.
Also part of this weekly series, which aired from February to May 2008, were Ricky Davao and Alfred Vargas.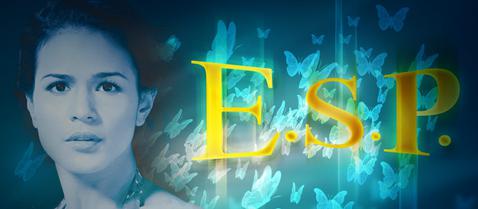 Claudine Barretto in SineSerye presents Maligno
After the success of Patayin Sa Sindak si Barbara, ABS-CBN aired another Susan Roces horror movie adaptation, this time, her 1977 movie Maligno.
Maligno served as Claudine Barretto's comeback teleserye after giving birth to her first-born son, Santino, in 2007. The show, which aired in April 2008, also top-billed Diether Ocampo, Rafael Rosell, Kim Chiu, and Gerald Anderson.
Maligno tells the story of Angela Cortez (Claudine), a known newscaster in the Philippines. She finds out that she is destined to become the carrier of the devil's son. One night, she got raped by Lucas Satander (Rafael Rosell), a devil who is obssessed with her and is destined to become the father of the devil's son. The act got Angela pregnant and gave birth to Angelo (Carlo Lacana).
At the end of the story, Angela was successful in freeing her and her son from the devil's curse.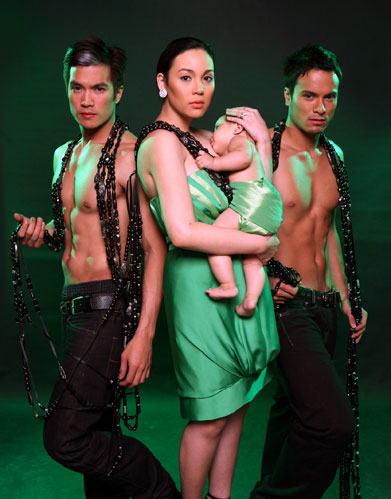 KRISTINE HERMOSA IN KOMIKS PRESENTS Nasaan Ka, Maruja
Maruja is a classic comic novel by Mars Ravelo that tells the immortal love of Maruja and the love of her life, Gabriel. A tragic incident separates Maruja and Gabriel, which also caused the death of Maruja.
Years later, Maruja was reincarnaed as Cristy, who had always dreamed of Gabriel. After connecting the memories that she had, Cristy reunites with an aged and dying Gabriel.
The comic novel was turned into a movie in 1967 starring Susan Roces as Maruja and Romeo Vasquez as Gabriel. It had a thriller-suspense version in 1978 with Susan Roces reprising the Maruja role.
In 2007, it was announced that SineSerye will do an adaptation of Maruja under the Susan Roces Cinema Collection. Titled Gumising Ka, Maruja, it was supposed to top-bill Ruffa Gutierrez and Sheryl Cruz. However, the project did not push through.
In 2009, ABS-CBN announced that Kristine Hermosa will be top-billing the remake of Maruja under Komiks Presents, which features the works of Mars Ravelo. Titled Nasaan Ka, Maruja, the story also infused horror in the modern retelling of Maruja and Gabriel's love story.
Because of high ratings, the original 13-week Komiks run was extended to 15 weeks for Nasaan Ka, Maruja.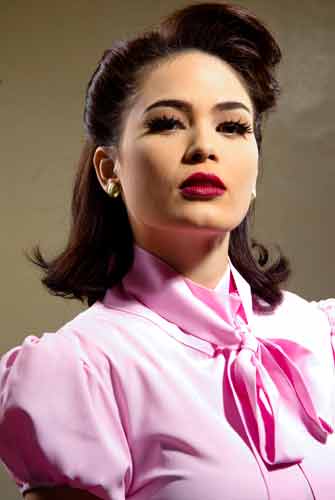 MARICEL SORIANO IN SINESERYE PRESENTS FLORINDA
Florinda is the third installment under SineSerye presents The Susan Roces Cinema Collection. It was a remake of Susan Roces's 1973 film. For the TV remake, Maricel Soriano was chosen to take the title role.
The story revolves around Florinda, who is healing her heartbreak after her fiance, Ramil (Jay Manalo), did not attend their wedding. While looking for her missing fiance, she lives in Ramil's ancestral home where she experiences supernatural occurences. Florinda feels the ghostly presence is Ramil's mother (Carla Martinez), who strongly opposed Ramil's relationship with Florinda.
The cast of Florinda started taping their series in early 2008, but the show was only aired in September 2009. According to Maricel, management was looking for the right timeslot for Florinda, causing the series to be delayed in airing.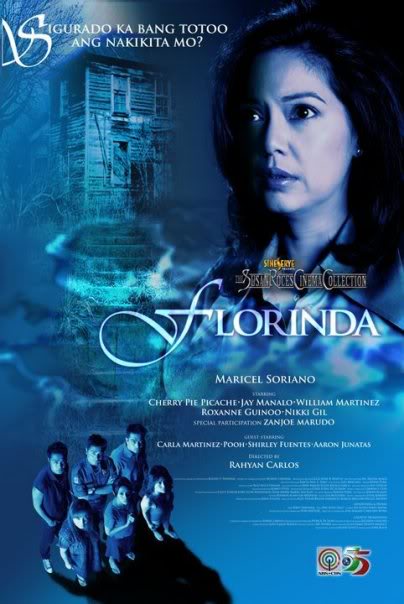 Lauren Young, JOYCE CHING, WINWYN MARQUEZ in Dormitoryo
In 2013, GMA-7 launched Dormitoryo, a horror-themed teen series in its Sunday afternoon block.
Originally, Julie Anne San Jose was tapped to headline the project with Lauren Young as her kontrabida. However, GMA-7 decided to pull Julie out of the project to headline the prime-time series Kahit Nasaan Ka Man. As a result, Lauren was assigned to play the lead, while Joyce Ching played the kontrabida.
The story of Dormitoryo is about Hazel (Lauren), who is on a quest of find the killer of her sister, Maika (Winwyn). She then enrolls and stays in Maika's school and dormitory to continue with her investigation. Along the way, she meets Maika's ex-boyrfriend Burn (Enzo Pineda) and Maika's nemesis, Airiz (Joyce).
Dormitoryo ran for 14 episodes from September 22 to December 22, 2013.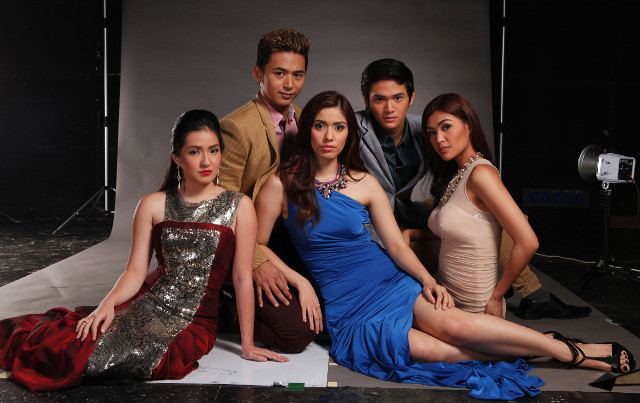 BIANCA UMALI, KYLINE ALCANTARA, AND PAULINE MENDOZA IN KAMBAL, KARIBAL
Kambal, Karibal is a 2017 prime-time series starring Bianca Umali, Kyline Alcantara, and Pauline Mendoza, with Jeric Gonzales and Miguel Tanfelix.
Originally titled Santa Santita, the story of Kambal, Karibal is about twins Crisan (Bianca) and Crisel (Pauline), who were separated after Crisel died from illness. Even then, the sisters continued their strong bond, with Crisan interacting with Crisel's spirit.
However, both of them fell in love with the same man, Diego (Miguel). With Crisan getting jealous over Crisel, Crisan finds a body that can host her spirit. Crisan then inhabits the body of Crisan's mortal enemy, Cheska (Kyline), and plotted to steal vDiego away from Crisan.
The series, originally intended as a filler show in GMA-7's prime-time block, registered high ratings that it was extended from eight weeks to eight months.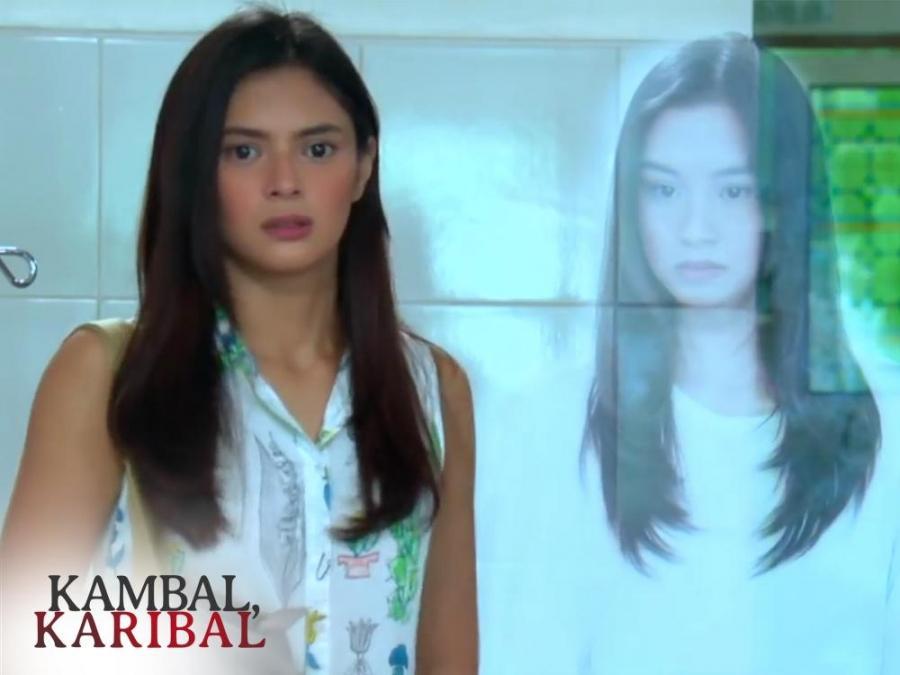 Kris Bernal, Megan Young, Kim Domingo, and Rayver Cruz in Hanggang sa Dulo ng Buhay Ko
Hanggang Sa Dulo ng Buhay Ko is an afternoon series aired on GMA-7 starring Kris Bernal, Megan Young, Kim Domingo, and Rayver Cruz.
A love-triangle-themed drama series mixed with horror, the series tells the story of married couple Yvie (Megan Young) and Matteo (Rayver Cruz). They are being haunted by the evil spirit of Naomi (Kris Bernal), who is obssessed with Matteo. Naomi uses the body of Yvie's cousin, Katya (Kim Domingo), to seduce Matteo.
The series started airing on July 22 and ended on October 19, 2019.