Janella Salvador sustained rope marks on her neck after shooting a rope-strangling scene in the ABS-CBN prime-time series The Killer Bride.
She showed the bruises on her neck through photos she uploaded on Twitter after the scene was aired on TV last November 4.
Janella wrote in her tweet, "the aftermath of tonight's episode— masyado akong in character, pinasikipan ko pa yung rope."
In the episode, Emma's (Janella) life was put in danger after a person covered in a white blanket started attacking her and Luna (Alexa Ilacad).
The unknown assailant pushed Luna down the building, but she was able to hold on to a railing.
Emma was captured by the assailant who strangled her using a rope.
As she fought for her life, Emma was able to remove the blanket. She saw that her assailant is Mang Andres (Soliman Cruz), the folk healer of Las Espadas who was confined in a mental institution.
Elias (Joshua Garcia) arrived just in time to save Luna and Emma from Mang Andres's rampage.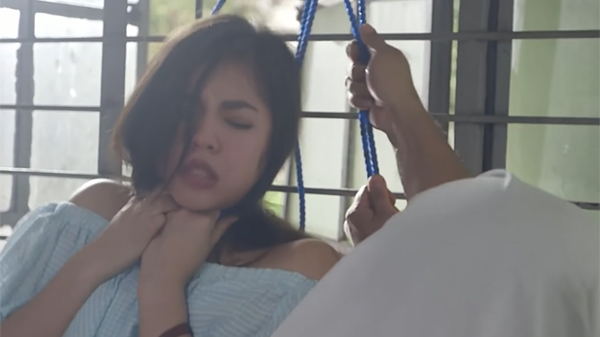 Janella's post, which currently has 33.7K likes and 1.6K retweets, received positive tweets and reactions from fans of her show and her love team with Joshua Garcia.
Here are some of their comments:
WHO IS THE REAL KILLER BRIDE?
The November 4 episode revealed the identity of the killer bride, the person behind the hauntings in Las Espadas.
The story of The Killer Bride began with the belief that Camila dela Torre (played by Maja Salvador) died from a fire incident. She was believed to be the town's killer bride, as she exacted revenge on the people who wronged her.
Emma arrived in Las Espadas, claiming that she is being possessed by Camila's spirit.
It was later revealed that Camila is still alive, and she hired Emma to work for her and pretend that Emma is being possessed.
Camila also wears the costume of the killer bride, and haunts people who might ruin her plans, including Marvin (Kokoy de Santos), and Ivan (Angelo Patrimonio).
However, Camila is not the same killer bride who kidnapped Emma and almost killed her.
It turns out that the real killer bride, who is resorting to violence, is Camila's long-lost friend, Agnes (Mara Lopez), whose motives are yet to be revealed.