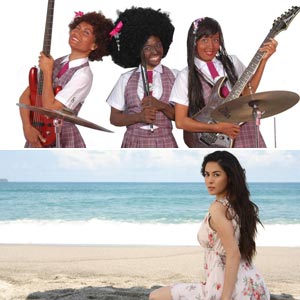 ---
The holiday lull brought no significant change in the television ratings game for the period of December 26 to 31. This was according to the overnight survey conducted by AGB Nielsen Media Research Philippines amonge Mega Manila households during the said period.
For December 26, Daisy Siete immediately buckled down to business as the Rochelle Pangilinan-led group garnered a 21.4 percent rating to nose out Eat Bulaga's 20.6 percent. As expected, Paolo Bediones and Rufa Mae Quinto's Whammy! Push Your Luck was not far behind with its 19.7 percent performance.
Basking on the strength of its 19.2 percent clip, Yasmien Kurdi's Pasan Ko ang Daigdig settled for the fourth spot, followed by Wowowee which amassed a total rating of 18.3 percent. Two ABS-CBN programs, in the meantime, cornered the No. 6 and No. 7 slots, respectively, through Kapamilya, Deal or No Deal [16.5 percent] and Pilipinas, Game KNB? [16 percent].
The primetime top five casts remained solid as always. Still not letting up, Marimar continues to be out of Richard Gutierrez's grasp. A day after Christmas, Marian Rivera and Dingdong Dantes secured a safe 43.1 percent grade as compared to Kamandag's 39.8 percent. Dennis Trillo's Zaido remained firmly planted at the third spot with a 32.4 percent rating.
Vhong Navarro's Lastikman occupied the sixth slot while TV Patrol World's 22.1 percent pushed it to No.7. The soon to end Celebrity Edition of Pinoy Big Brother followed the news program with a 20.3 percent performance.
Thursday, December 27, looked pretty much the same as the previous date although Pasan Ko ang Daigdig snatched the third spot away from Whammy! Push Your Luck. For the said date, the television version of the Sharon Cuneta classic garnered a 19.3 percent rating to squeeze past the 19.0 percent rating garnered by Rufa Mae Quinto and Paolo Bediones.
ADVERTISEMENT - CONTINUE READING BELOW
In the primetime race, Maging Sino Ka Man improved its figure by a few notches although it still remained at the No. 10 spot. This time, the drama series bannered by John Lloyd Cruz and Bea Alonzo upped its rating percentage, 21.2 percent compared to the 18.3 percent rating it generated the previous evening.
Friday was still Daisy Siete's lucky day. This time putting more distance, the Sexbomb girls widened their lead against Eat Bulaga! by four points. Throwing more solid punches as the Christmas week ended, Daisy Siete collected a 21.6 percent rating versus Eat Bulaga's 18.6 percent.
The trio of Gelli de Belen, Janice de Belen and Carmina Villarroel on the other hand saved the best for last as Sis managed to barge into the No. 10 spot together with Come Back Soon-Ae, both shows sporting identical 11.8 percent rating.
Zaido meantime was upstaged by La Vendetta to claim the third spot in the primetime category. Putting one over Dennis Trillo and company, the drama-suspense GMA series collected a 32.1 percent rating, a slim margin indeed as Zaido was hanging by a hairline via its 32.0 percent grade.
Putting the weekdays behind, Eat Bulaga exacted revenge on Saturday, December 29. Tallying a strong 25.0 percent rating, the country's longest running noontime show bludgeoned the daytime competition as most shows failed to reach the 20 percent mark.
Trailing Eat Bulaga was Cinema FPJ, which pulled off a 16.8 percent rating, followed closely by Wowowee's 16.7 percent performance. Taking a noticeable dip, StarTalk and Entertainment Live occupied the last two spots in the race with the trio of Butch Francisco, Lorna Tolentino and Lolit Solis earning an 11.9 percent, with Toni Gonzaga, Luis Manzano and Bianca Gonzales tallying a close 11.5 percent.
ADVERTISEMENT - CONTINUE READING BELOW
Weekend primetime race still belonged to Michael V's Bitoy's Funniest Videos. Maintaining its mastery of Kapuso Mo, Jessica Soho, Bitoy's snared 32.0 percent as compared to Jessica Soho's 30.9 percent.
Two ABS-CBN shows were locked in the fifth spot. TV Patrol World and Pinoy Big Brother Celebrity Edition 2 just won't give each other the inch, resulting in a similar 21.7 percent rating.
Even German Moreno's late show, Walang Tulugan, refused to be left behind with its 3.5 percent rating, good enough to nail the last spot in the evening race.
SOP ruled the Sunday daytime slot, even if it only showed clips from its previous episodes. It posted a rating of 13.1 percent, closely followed by Takeshi's Castle with 12.8.
Showbiz Central once again topped the battle of showbiz talk shows with 12.4 percent, good for No. 3, versus The Buzz's 9.1 percent (No. 7).
In the primetime race, Mel & Joey's year-end special was the most watched TV program with 24.6 percent. Coming in second and third are Kap's Amazing Stories (23.2 percent) and Tok! Tok! Tok! Isang Milyon Pasok (23.1 percent).
With most of the people busy to welcome 2008, the ratings of the primetime programs last New Year's eve, December 31, were all down.
Marimar was still the No. 1 show but it only managed to get 29.8 percent rating. Six other GMA-7 shows occupied the second and sixth spots, including Saksi (22.5 percent, No. 5), which was aired earlier than it usual timeslot and Kapuso's New Year special, Celebrate to '08 (19 percent, No. 6).
Here are the top ten shows for daytime and primetime programming from December 26 to 31:
ADVERTISEMENT - CONTINUE READING BELOW
December 26 (Wednesday)
Daytime:
Daisy Siete (GMA-7) - 21.4%
Eat Bulaga! (GMA-7) - 20.6%
Whammy! Push Your Luck (GMA-7) - 19.7%
Pasan Ko ang Daigdig (GMA-7) - 19.2%
Wowowee (ABS-CBN) - 18.3%
Kapamilya, Deal Or No Deal (ABS-CBN) - 16.5%
Pilipinas, Game KNB? (ABS-CBN) - 16%
Takeshi's Castle (GMA-7) - 15.2%
Pinoy Movie Hits (ABS-CBN) - 14.4%
My Only Love (GMA-7) - 14.2%
Primetime:
Marimar (GMA-7) - 43.1%
Kamandag (GMA-7) - 39.8%
Zaido (GMA-7) - 32.4%
24 Oras (GMA-7) - 29.6%
La Vendetta (GMA-7) - 27.8%
Lastikman (ABS-CBN) - 23.1%
TV Patrol World (ABS-CBN) - 22.1%
Pinoy Big Brother Celebrity Edition (ABS-CBN) - 20.3%
Hwang Jini (GMA-7) - 18.9%
Maging Sino Ka Man (ABS-CBN) - 18.3%
December 27 (Thursday)
Daytime:
Daisy Siete (GMA-7) - 22.6%
Eat Bulaga! (GMA-7) - 20.7%
Pasan Ko ang Daigdig (GMA-7) - 19.3%
Whammy! Push Your Luck (GMA-7) - 19%
Wowowee (ABS-CBN) - 16.8%
My Only Love (GMA-7) - 16.6%
Pilipinas, Game KNB? (ABS-CBN) - 16.5%
Kapamilya, Deal Or No Deal (ABS-CBN) - 16.2%
Come Back Soon-Ae (GMA-7) - 15.5%
Takeshi's Castle (GMA-7) - 15%
Primetime:
Marimar (GMA-7) - 41.1%
Kamandag (GMA-7) - 38%
Zaido (GMA-7) - 33.8%
24 Oras (GMA-7) - 31.7%
La Vendetta (GMA-7) - 28.8%
Pinoy Big Brother Celebrity Edition (ABS-CBN) - 23.4%
Lastikman (ABS-CBN) - 23%
Hwang Jini (GMA-7) - 22%
TV Patrol World (ABS-CBN) - 21.7%
Maging Sino Ka Man (ABS-CBN) - 21.2%
December 29 (Friday)
Daytime:
Daisy Siete (GMA-7) - 21.6%
Eat Bulaga! (GMA-7) - 18.6%
Pasan Ko ang Daigdig (GMA-7) - 18.5%
Whammy! Push Your Luck (GMA-7) - 18.4%
Kapamilya, Deal Or No Deal (ABS-CBN) - 16.3%
Wowowee (ABS-CBN) - 16%
Pilipinas, Game KNB? (ABS-CBN) - 15%
Takeshi's Castle (GMA-7) - 14%
My Only Love (GMA-7) - 13.9%
SiS (GMA-7) / Come Back Soon-Ae (GMA-7) - 11.8%
Primetime:
Marimar (GMA-7) - 41.3%
Kamandag (GMA-7) - 37%
La Vendetta (GMA-7) - 32.1%
Zaido (GMA-7) - 32%
24 Oras (GMA-7) - 29.4%
Hwang Jini (GMA-7) - 25.3%
Lastikman (ABS-CBN) - 22.8%
Pinoy Big Brother Celebrity Edition (ABS-CBN) - 21.6%
TV Patrol World (ABS-CBN) - 21.4%
Maging Sino Ka Man (ABS-CBN) - 18.1%
December 29 (Saturday)
Daytime:
Eat Bulaga! (GMA-7) - 25%
Cinema FPJ (ABS-CBN) - 16.8%
Wowowee (ABS-CBN) - 16.7%
Takeshi's Castle (GMA-7) - 16.3%
Pinoy Records (GMA-7) - 15.8%
Wish Ko Lang (GMA-7) - 13.9%
Pilipinas, Game KNB? (ABS-CBN) - 12.5%
StarTalk (GMA-7) - 11.9%
Entertainment Live (ABS-CBN) - 11.5%
Primetime:
Bitoy's Funniest Videos (GMA-7) - 32%
Kapuso Mo, Jessica Soho (GMA-7) - 30.9%
Kakasa Ka Ba Sa Grade 5? (GMA-7) - 27.4%
Imbestigador (GMA-7) - 26.3%
TV Patrol World (ABS-CBN) / Pinoy Big Brother Celebrity Edition (ABS-CBN) - 21.7%
1 vs. 100 (ABS-CBN) - 17.3%
XXX (ABS-CBN) / Nuts Entertainment (GMA-7) - 15.3%
Sine Totoo (GMA-7) - 11.4%
Sports Unlimited (ABS-CBN) - 11.3%
Walang Tulugan: Master Showman Presents (GMA-7) - 3.5%
December 30 (Sunday)
Daytime:
SOP (GMA-7) - 13.1%
Takeshi's Castle (GMA-7) - 12.8%
Showbiz Central (GMA-7) - 16.7%
Movies in the Making (GMA-7) - 10.6%
ASAP '07 (ABS-CBN) - 10.5%
Boys Nxt Door (GMA-7) - 10.3%
The Buzz (ABS-CBN) - 9.1%
Your Song (ABS-CBN) - 8%
Ka Pete Na! Totaly Outrageous Behavior (ABS-CBN) - 6.5%
Love Spell Presents Cindy-Rella (ABS-CBN) - 6.4%

Primetime:
Mel & Joeys (GMA-7) - 24.6%
Kap's Amazing Stories (GMA-7) - 23.2%
Tok! Tok! Tok! Isang Milyon Pasok (GMA-7) - 23.1%
All Star K (GMA-7) - 22.1%
Goin' Bulilit (ABS-CBN) - 19.4%
Pinoy Big Brother Celebrity Edition (ABS-CBN) - 19.2%
Rated K (ABS-CBN) - 18.6%
Ful Haus (GMA-7) - 18%
Sharon (ABS-CBN) - 17.8%
SNBO (GMA-7) - 15.7%
December 31 (Monday)
Daytime:
Daisy Siete (GMA-7) - 20.7%
Eat Bulaga! (GMA-7) - 16.5%
Wowowee (ABS-CBN) - 14.5%
Whammy! Push Your Luck (GMA-7) / Pasan Ko ang Daigdig (GMA-7) - 13.9%
Pilipinas, Game KNB? (ABS-CBN) - 12.8%
Kapamilya, Deal Or No Deal (ABS-CBN) / Takeshi's Castle (GMA-7) - 12.1%
My Only Love (GMA-7) - 11.2%
Come Back Soon-Ae (GMA-7) - 10.8%
SiS (GMA-7) - 9.7%
Prinsesa ng Banyera (ABS-CBN) - 8.4%
Primetime:
Marimar (GMA-7) - 29.8%
Kamandag (GMA-7) - 27.1%
La Vendetta (GMA-7) - 25.1%
24 Oras (GMA-7) - 23.26%
Saksi (GMA-7) - 22.5
Zaido (GMA-7) - 22.4%
Celebrate To '08 (GMA07) - 19%
TV Patrol World (ABS-CBN) - 17%
Pinoy Big Brother Celebrity Edition (ABS-CBN) - 16.3%
Lastikman (ABS-CBN) - 15.1%
Source: AGB Nielsen Media Research Philippines