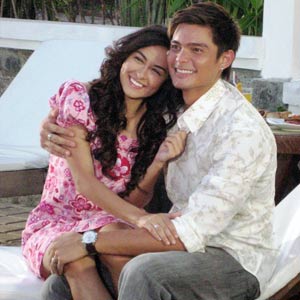 ---
It seems that nothing much has changed this New Year as faras the ratings game is concerned. Marimar is still the No. 1 overall program according to the overnight ratings conducted by AGB Nielsen Philippinesamong Mega Manila households.
Marimar welcomed the Year of the Rat with a decent 38.8percent rating last January 1. The rating of the Marian Rivera telenovela improvedthe following day, January 2, with 39.4 percent clip.
Richard Gutierrez's Kamandag and the metal series Zaido werealso consistent in their No. 2 and No. 3 positions, respectively. Kamandagposted a rating of 36.3 percent on Jan. 1 and 38 percent on Jan. 2. Zaido, onthe other hand, got 30.5 percent last Tuesday and 34 percent last Wednesday.
The suspense-thriller series La Vendetta took the No. 4 spotlast Tuesday with 28.2 percent, but 24 Oras grabbed that same spot last Wednesdaywith 31.8 percent.
Meanwhile, Lastikman was the highest-rated ABS-CBN primetime show onJan. 1 and 2, with TV Patrol World a close second.
GMA-7's new Koreanovela, Coffee Prince, premiered on NewYear's Day with an impressive 20.7 percent rating, good for No. 8 position.Although its rating improved the following day, 21.9 percent, it slipped to No.9 behind Pinoy Big Brother Celebrity Edition's 22.9 percent.
Meanwhile, the daytime race is a bit unpredictable asKapamilya, Deal or No Deal took the No. 1 spot on Jan. 1 with 17.4 percent. ButDaisy Siete regained the top spot the following day with 21.4 percent.
Here are the Top 10 daytime and primetime programs fromJanuary 1 to 2 based on overnight ratings conducted by AGB Nielsen among MegaManila households.
January 1 (Tuesday)
Daytime:
Kapamilya, Deal Or No Deal (ABS-CBN) - 17.4%
Daisy Siete (GMA-7) - 17.1%
Eat Bulaga! (GMA-7) / Whammy! Push Your Luck (GMA-7) - 16.3%
Wowowee (ABS-CBN) - 14.2%
Pasan Ko Ang Daigdig (GMA-7) - 13.8%
Pinoy Movie Hits (ABS-CBN) - 13.4%
My Only Love (GMA-7) - 12.1%
Takeshi's Castle (GMA-7) - 11.9%
Pilipinas, Game KNB? (ABS-CBN) / Prinsesa Ng Banyera (ABS-CBN) - 11.7%
SiS (GMA-7) - 11.6%
Primetime
Marimar (GMA-7) - 38.8%
Kamandag (GMA-7) - 36.3%
Zaido (GMA-7) - 30.5%
La Vendetta (GMA-7) - 28.2%
24 Oras (GMA-7) - 27.9%
Lastikman (ABS-CBN) - 23.3%
TV Patrol World (ABS-CBN) - 22.8%
Coffee Prince (GMA-7) - 20.7%
Maging Sino Ka Man (ABS-CBN) - 19.5%
Ysabella (ABS-CBN) - 16%
January 2 (Wednesday)
Daytime:
Daisy Siete (GMA-7) - 21.4%
Eat Bulaga! (GMA-7) - 20.5%
Whammy! Push Your Luck (GMA-7) - 18.1%
Kapamilya, Deal Or No Deal (ABS-CBN) - 17.1%
Wowowee (ABS-CBN) - 16.8%
Pasan Ko Ang Daigdig (GMA-7) - 16.7%
Pilipinas, Game KNB? (ABS-CBN) - 14.5%
Takeshi's Castle (GMA-7) - 14.3%
My Only Love (GMA-7) / Pinoy Movie Hits (ABS-CBN) - 12.8%
Come Back Soon-Ae (GMA-7) - 12.5%
Primetime:
Marimar (GMA-7) - 39.4%
Kamandag (GMA-7) - 38%
Zaido (GMA-7) - 34%
24 Oras (GMA-7) - 27.9%
La Vendetta (GMA-7) - 26.8%
Lastikman (ABS-CBN) - 26.3%
TV Patrol World (ABS-CBN) - 25.8%
Pinoy Big Brother Celebrity Edition (ABS-CBN) - 22.9%
Coffee Prince (GMA-7) - 21.9%
Maging Sino Ka Man (ABS-CBN) - 21.4%
Source: AGB Nielsen Philippines