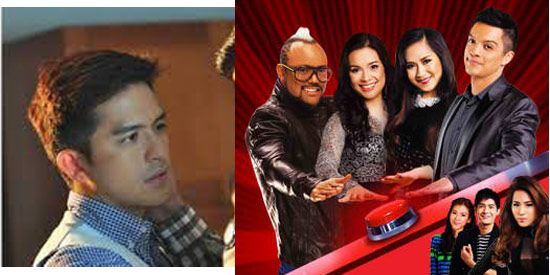 ---

The nominations for the 19th Asian Television Awards have been announced and there are eight entries competing from the Philippines.

Dennis Trillo is competing in the Best Actor category, making him the only Filipino nominated for an acting award this year. The GMA-7 actor earned a nomination for his portrayal of a homosexual in the gay-themed teleserye My Husband's Lover.

He is competing against He Shengming of Love of OB & GYNS (China), Ban Tieh-Hsiang of My Super Dad (Taiwan), Zhai Tianlin (China) and Pierre Png who is nominated twice for Zero Calling and The Journey: A Voyage (Singapore).

This marks the second time that Dennis is nominated in the Asian TV Awards since he was shortlisted in the Best Actor category in 2007 for Unico Hijo, the Lenten Special of TAPE Inc.

(Read: Dennis Trillo nominated Best Drama Actor in 12th Asian TV Awards)


The director of My Husband's Lover, Dominic Zapata, also scored a nomination for helming this TV series about a man in love with another man who happens to be married.

The other nominees in the Best Director category are Tony Tilse of Serangoon Road (Singapore), Aditya Thayi of I Wouldn't Go In There - Hong Kong: Haunted School (Hong Kong), Lee Thean-jeen & Ler Jiyuan of Zero Calling (Singapore), Donovan Chan of Hidden Cities Extreme Season 2 - Vietnam (Singapore) and Kate Siney & Jenny Ewig of Access 360° World Heritage Series 2 - Sagrada Familia (Hong Kong).

In the Best News Programme category, ABS-CBN, GMA-7 and GMA News TV each have an entry.

ABS-CBN is represented by TV Patrol: Haiyan's Fury, GMA-7 has Saksi: Wrath of Typhoon Yolanda while GMA News TV has News TV Quick Response Team: Krisis sa Zamboanga.

The other competitors are: BBC World News (Singapore) with Newsday - The Search for MH370, New Delhi Television Limited NDTV 24x7 (India) with Cyclone Phailin Coverage, Channel NewsAsia (Singapore) with Surviving Haiyan, and CNN International (Hong Kong) with News Stream.

Another Pinoy nominated this year is TJ Manotoc who is competing in the Best Sports Presenter/Commentator category. He is nominated for the ABS-CBN sports show The Score.

TJ is competing against Richard Lenton of Singapore (nominated twice for Football 360 and Game On), Tio Nugroho of Singapore (for Live Saturday), Dez Corkhill of Malaysia (for ISTAF SuperSeries Final Day), Andrew "ET" Ettingshausen of Singapore (for Ultimate Fish: PNG Bass).

The Kapamilya Network is fielding an entry to the category for Best Adaptation of an Existing Format. The Voice of the Philippines, hosted by Toni Gonzaga, is competing against other franchises aired in other Asian countries. It features Lea Salonga, Sarah Geronimo, Bamboo and Apl de Ap as coaches.

Its competitors include The Brain (China), Junior MasterChef Swaad Ke Ustaad (Singapore), Trinny & Susannah's Makeover Mission India - Murphy and Kanika (Singapore), Asia's Next Top Model Cycle 2 (Hong Kong), MasterChef - Pakistan (Singapore) and The Apprentice Asia.

In the Best Infotainment Programme category, the documentary Pinoy Hoops: A National Obsession earned a nomination for National Geographic Channel Philippines.

It is competing against The Place We Live In - The Mongolian City Sewers by MediaCorp, Channel 8 (Singapore), City Time Traveller (Singapore), KungFu Motion (Taiwan), Creative Heroes (Singapore) and I Wouldn't Go In There - Philippines: Haunted Hospital (Hong Kong).

Launched in 1996, the Asian Television Awards has grown to be recognized as one of the most prestigious industry awards.

A total of 239 nominees, across 38 categories in 13 countries have made the cut to compete in this year's edition.

The winners of the Asian TV Awards will be announced during the awarding ceremony to be held at the Marina Bay Sands, Singapore on December 11, 2014.
ADVERTISEMENT - CONTINUE READING BELOW