The hosts of F, ABS-CBN's defunct lifestyle program, had a reunion 20 years after the show made its debut on TV.
Host Daphne Oseña-Paez posted a then-and-now photo with her F co-hosts Angel Aquino and Cher Calvin on her official Facebook page yesterday, December 22.
According to Daphne, the reunion happened that day.
Daphne wrote in her caption: "Before I go to bed, I just want to share that this happened tonight. One night only, the F girls together.
"Did you know that F first aired 20 years ago? 1999.
"What is your favourite F memory?"
Angel also posted photos of the reunion on her Instagram account today, December 23.
According to Angel's post, it took ten years before they held another reunion.
The last time they were seen together was in 2009, when they reunited for a TV special sponsored by a beauty brand.
She captioned her post: "22December19. We were tired, we were hungry but we were unstoppably happy!
"It's been a decade since we last got together and if everything works out, we might not have to wait another 10 years to see one another again! It's a milestone the 3 of us have been waiting for..
"@chercalvin we're so happy and excited for you! Thank you for sharing the beautiful news with us in person so that we were able to see you SPARKLE this Christmas!!!
"@daphneop thank you for getting us all together and you made it more special by bringing our F baby — @fifisophia !!! We were so happy to see her all grown up and beautiful and so talented! A certified F girl!
"Aah... It was a Fun and Fab night with my F women.. it's time to dream of the next big party with you guys.. I can already hear wedding bells!!!"
Cher, who is now a news presenter in KTLA television in Los Angeles, is currently in the Philippines for a visit.
The "beautiful news" that Angel wrote in her caption is that Cher is engaged to her longtime boyfriend.
Cher and Daphne also left comments on Angel's Instagram post.
Cher wrote: "My heart is full Ange and Daph!! An unexpected and unbreakable sisterhood that F brought us together and by the grace of god and determination we were complete again!!!
"I'm glad my dad also got to see how we enjoy each other so much and just laugh laugh laugh... and our inaank is so gifted! She will soar! Love you all so much!! Best Xmas ever!!!"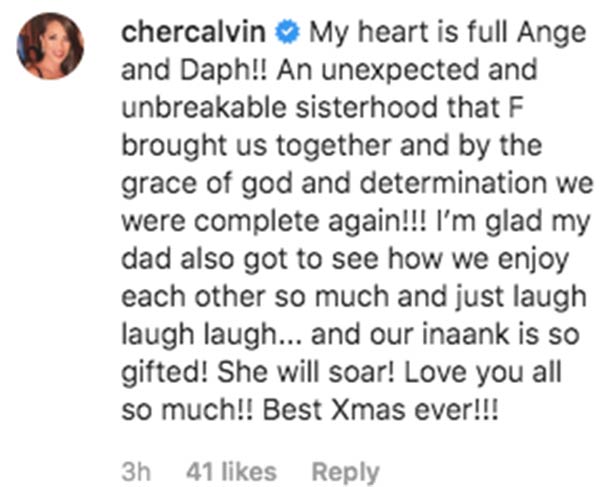 Daphne commented, "My heart is still smiling. You both make me laugh so much. I'm so glad Soph got to see her ninangs together... and see us talk about the past, present, and future. First hand life lessons from the F girls haha.
"So glad Tito Roger was with us. I love you ladies so much. And I am so grateful we have each other. Hard to put into words but the feelings are so full and deep. Big lingering hugs @imangelaquino @chercalvin"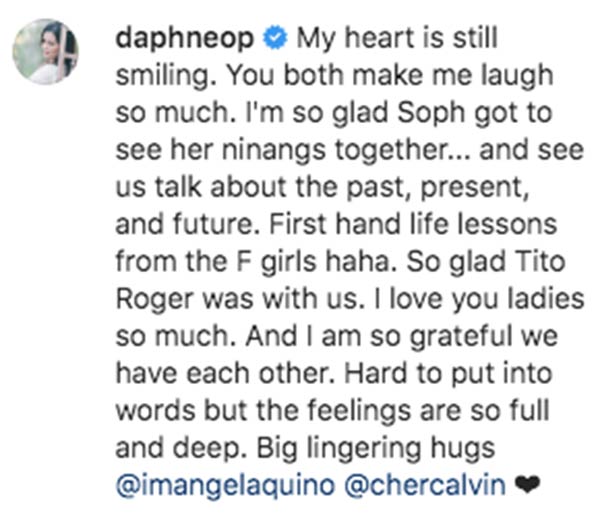 F started airing on ABS-CBN's late-night block on April 17, 1999.
Daphne, Angel, and Cher worked together until 2003 when Cher decided to pursue a career in the United States. Cher was replaced by Amanda Griffin.
In February 2006, after almost seven years on the air, ABS-CBN decided to pull the plug on F when its viewership decreased.
In September 2009, Daphne, Angel, and Cher reunited for a TV special to celebrate the ten years of F.