It's confirmed: GMA-7 is set to do a live-action adaptation of the popular Japanese anime television series, Voltes V.
A teaser was launched during GMA-7's New Year Countdown last December 31, 2019.
The one-minute teaser showed the iconic super electromagnetic machine Voltes V.
The teaser also showed Voltes V's headquarters called Camp Big Falcon.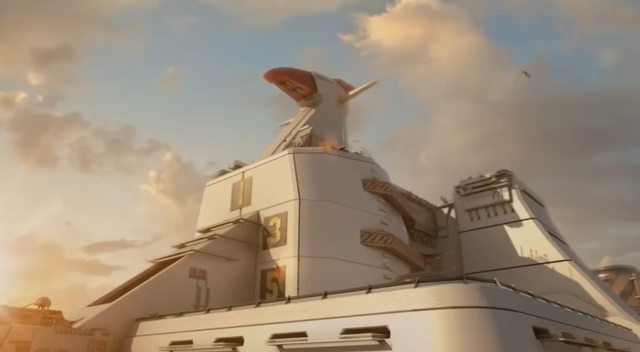 Viewers were able to see a glimpse of Boazanian prince Zardoz, the main nemesis of the story.
The teaser then revealed that the GMA-7 show is titled Voltes V: Legacy.
Voltes V used to air on GMA-7 in the late '70s. However, in April 1979, before GMA-7 aired its finale, former President Ferdinand Marcos issued a directive to ban Voltes V and other similarly-themed anime series due to concerns about "excessive violence."
However, there were speculations that the series was banned due to its underlying themes of rebellion and revolution.
Years later, Voltes V returned to television in various networks: PTV-4 and ABS-CBN in 1986, IBC-13 in 1989, and RPN-9 from 1988-1990.
GMA-7 aired Voltes V again in 1999. Since it was taken off the air by then-President Marcos, Filipino viewers were unable to see how the anime ended. The last five unaired episodes were compiled and released theatrically by GMA Films.
Voltes V aired again on GMA-7 in 2017, featuring the voices of Kapuso stars Ken Chan, Bea Binene, Jak Roberto, Hiro Peralta, and Derrick Monasterio.
In late 2019, there were reports indicating that GMA-7 would produce its own version of Voltes V. Ruru Madrid, Mikee Quintos, and Kyline Alcantara are rumored to be possible cast members.
It was also reported that Voltes V will serve as the debut project of StarStruck 7 Ultimate Survivors Shayne Sava and Kim de Leon.
PRODUCTION OF VOLTES V IN THE PHILIPPINES
GMA-7 director Mark Reyes, who helmed the iconic Kapuso fantasy series Encantadia, is in charge of the Voltes V project in the Philippines.
Direk Mark, the director of the ongoing drama series Beautiful Justice, has been actively posting promotional materials about Voltes V on his Instagram account.
His first post indicated that GMA-7's teaser about Voltes V would be revealed on December 31, 2019. He admitted that he has been working on the project for the past five years.
He wrote in the caption, "After 5 years... #finally #dreamproject #herewego"
Earlier today, January 2, Direk Mark posted comments about the Philippine adaptation of Voltes 5.
He wrote, "Those that support V5 Legacy are called the 'V-lievers!' And those who don't are the 'Bash-anians!'"
"V-lievers" is a wordplay for the letter V and the word believers, while "Bash-anians" is a play on the words bashers and the Boazanians, or the enemies of the Voltes V.
Meanwhile, on the discussion website reddit, a netizen with the username timawa13 claimed that s/he knows someone from the production team behind the Filipino live-action version of Voltes V.
According to the reddit user, Voltes V's target release is in 2021 and Riot Inc. will handle the computer graphics. Riot, Inc. also handled the effects of the 2005 version of Encantadia.
The netizen also claimed that the episodes of Voltes V will be shot in full before they start airing each season.
Here is the netizen's full post on reddit:
"So I know someone who's involved in making GMA's Voltes V. Basically:
"-The one who is handling the CGI and post-production is a local team called Riot Inc. They did the CGI and post of last year's Max's Kaleidoscope World TVC and Cinemalaya 2016's satirical commercial.
"-Target release is 2021.
"-GMA and Riot will produce it seasonally. Meaning, like TV series abroad, they'll finish everything first before releasing them.
"-That Voltes V is gonna be produced seasonally is the condition for Riot's involvement so as to maintain quality. Otherwise, Riot wouldn't have agreed to get on-board.
"-Number of episodes are yet to be ironed out, but rest assured it's not gonna be unnecessarily stretched out and in effect spread thin."
However, GMA-7 has yet to confirm if this reddit post is true or not, since details about the project are still under wraps.
Riot Inc.'s Facebook page recently reposted GMA-7's teaser on its social media account.
NETIZENS REACT TO VOLTES V
One netizen is hopeful that GMA-7 will produce Voltes V just as it was described by the reddit user.
Netizens used their Twitter accounts to express their opinions about the teaser.
Most netizens were impressed by the trailer, and remained hopeful that GMA-7 will come up with a great version.
Because of its impressive trailer, some netizens predicted that Voltes V might be FPJ's Ang Probinsyano's biggest rival in the ratings game:
On the other hand, there were those who expressed doubts about GMA-7's Voltes V. Still, they hope that the Kapuso network will be able to live up to people's expectations.
GMA-7 has yet to officially announce details about its upcoming live-action version of Voltes V.